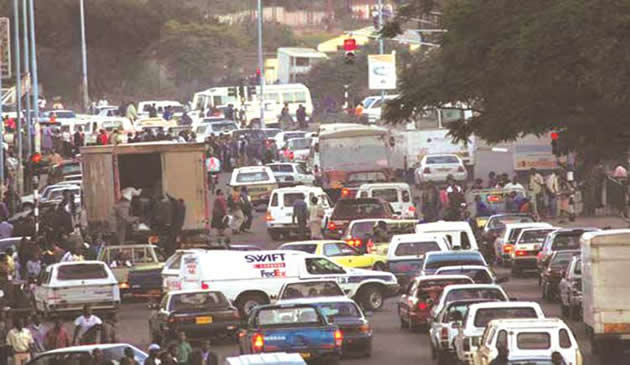 SEKE ROAD gets nasty, especially at peak hours in the morning and evening.
The road is unnavigable with impatient drivers, especially commuter omnibus drivers, who are a menace.
The lawlessness by drivers is also experienced on other routes in the city.
Unfortunately, in the mayhem they create on the roads, the Sunshine City ceases to shine.
There is need to restore order on our roads. Creation of alternative road systems and widening of roads is urgently required.
Traffic congestion has become a leading cause of stress, one just has to wind down their window to hear all sort of unprintable words shouted by motorists.
Wikipedia describes traffic congestion as a condition on transport networks that occur as use increases, and is characterised by slower speeds, longer trip times and increased vehicular queuing.
When vehicles are stationary, with no breathing space, for long periods of time, this is colloquially known as a traffic jam or traffic snarl-up and leads to drivers becoming frustrated while in extreme cases others engage in road rage.
While the availability of the Zimbabwe Republic Police on the roads has helped ease the traffic jams, there are some spots where they are unavailable, resulting in jams.
Experts at the ZimReal Property Investment Forum recently called on Harare city planners to come up with a clear plan for the central business district (CBD).
Town planning advisor Inocencia Tigere said there is an urgent need to review the outdated planning regulation regarding development of the CBD.
"Our governing plan is from the late 1990s. We need to look at mixed-uses and take inspiration from China and South Africa," said Tigere.
Local Government, Public Works and National Housing Minister July Moyo said plans to develop a new city in the northern part of Harare were underway.
"We have developed and Government has approved a new city concept design. The new city will be north of Harare covering 18 000 hectares of institutional, residential, commercial and high technology incubators," said Minister Moyo.
"Driving economic growth through real estate investment cannot happen without the active involvement and participation of key players like pension fund management firms, financial institutions and the banking sector, especially in the capital-intensive fields of property and infrastructure development.
"By nature, these developments are capital-intensive and the evolution of the sector will purely continue to hinge heavily on the competition of space and the liquidity of all these financial institutions."
City of Harare's spokesperson Michael Chideme said decongesting the town would be key to easing traffic jams.
"The City of Harare has plans to improve the road network but the inhibiting factor is finance. We have plans to have freeways, ring roads and expand the roads to ease congestion on our roads.
"Creation of industrial parks and more shopping malls outside the CBD will definitely ease the congestion being experienced," said Chideme.
Stakeholders have called on shopping malls in places such as Msasa and High Glen, which can serve peole in Willowvale, Budiriro and Glenview, to be brought back into play.
"People do not need to get into the CBD for services. They should access them in their respective communities which have infrastructure created to lessen the burden of getting into town," said Jeffrey Mhundwa.
Well-travelled Sylvia Kunaka said our cities still had a colonial flair and were yet to join the rest of the world in the 21st Century.
"The way our cities are built in the same as old European cities, but we must take note from fast growing nations like Dubai, Singapore and South Africa where people do not need to get into 'town' for shopping but go to shopping malls nearer their residences easing pressure on their CBDs," said Kunaka.
Charging motorists getting into town using private vehicles could also help in reducing traffic in the CBD.
"It has become common to have four people coming from the same house, all working in the CBD, using four vehicles to get into town," said Kunaka.
The World Economic Forum website writes: "The Stockholm's electronic road pricing scheme charges motorists for entering the central city on weekdays, between 06.30 and 18.30. Exemptions apply to buses, taxis, eco-fuel cars, emergency vehicles and drivers coming and going from the isolated island of Lidingö.
During the first two years, peak-period traffic volumes within the tolling zone fell by 25 percent (removing
1 million vehicles from the road a day), and daily toll revenues reached about $300,000.
The revenues from congestion tolls have been used to improve other transport and transit services."
It adds that: "Parking management and traffic control cameras are two aspects that Barcelona has tried to improve urban mobility with smart technology.
The sensors at parking spots and video with analytics provide real-time data on parking availability, which are transmitted through the city's WiFi infrastructure, linking devices belonging the end user and local authorities.
Traffic control cameras are connected by fibre optics to the transport authority to monitor traffic in real time, providing the control centre means to increase or reduce the frequency of green lights according to the traffic conditions."
Transport for London's online journey planner provides instant advice on routes in the UK capital, with users able to opt for multiple modes of transport, including walking, tube train, bus, overground train, river transport and bicycle.
The key to the success of the integrated journey planner is the willingness of operators to share information and to provide it to the general public.
According to economic experts congested roads are a strain on the environment, the economy and the overall quality of life. Finding smart ways to keep cities growing and sustainable, is key to quality life in urban centres.