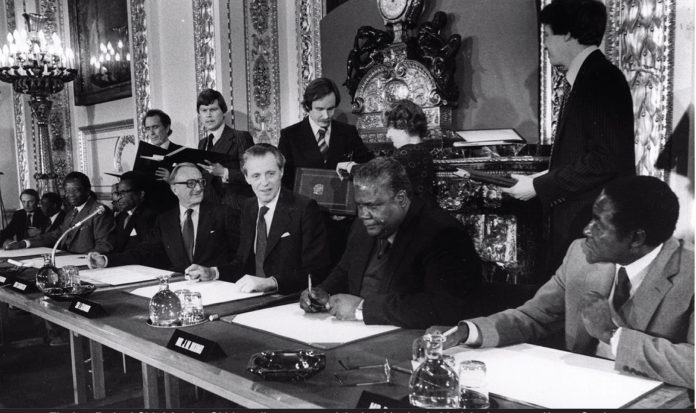 JULY 16 2018 marks the 40th anniversary of the Pasichigare-Gondola attack (July 16 1978) when Rhodesian terrorists tracked the children who survived the Chimoio massacre to finish them off.
Rhodesians were never reconciled to the fact that some children survived both the most horrific Nyadzonia and Chimoio massacres.
Chindunduma gave them sleepless nights.
These were children who refused to live under subjugation, under British bondage and for that reason, chose to abandon the comfort of home to confront the Rhodesians.
Rhodies knew this and were never at peace. The fact that they relentlessly hunted and killed children gives a very different complexion of who they were.
That they were merciless murderers of children was one of the critical factors that decided my joining the liberation struggle in the aftermath of the Chimoio attack on November 23 1977.
Their cold-blooded murder of children made me realise this was an enemy who would never understand any other language but that of the gun.I did not know that in a few months, I would be in one of the attacks in which the Rhodesian terrorists would still be in hot pursuit of the survivors of the Chimoio attack.
This day, remembering the children of Chindunduma and their commitment to liberate their country, despite relentless massacres, makes one so sad that we have not raised our children of today the way of Chindunduma so that they too would understand their destiny as Zimbabweans; their calling as heirs of this revolution that brought their country home.
Particularly, I recall the late Cde Alexander 'Gora' Kanengoni, in 2015, getting so disturbed that our children were rewriting our history in our own life-time; that something was threatening the very foundation of our society.
The rewriting arose when some Midlands State University students at the Zvishavane Campus objected to the fact that the armed struggle liberated our Zimbabwe, but rather the Lancaster House Conference held in London between September and December 1979.
I remember him looking at me with shock and dismay, that this could have taken place in our own lifetime, the lifetime of the freedom fighters who had engaged in the armed struggle to free our country.
"What will happen after we are gone?" he asked.
"These are university students and university education should reflect the best education in the land but how is it possible our young are so removed from such critical education.
"How can students born in this land of the great freedom fighters who looked death in the face for the sake of their country and their people miss the mark so gravely?
"Their own mothers and fathers, grandmothers and grandfathers, aunts and uncles are cognisant of this reality, so how can our children be so lost on such a grave matter."
Godobori Godobori and other Patriot reporters have shed light on this issue.
They have revealed that the so-called 'Peace Studies' Programme in our universities has been hatched to make our students amenable to regime change agendas, targeted specifically at ending ZANU PF's rule because it makes it impossible for the West to loot and plunder the nation's resources.
In subsequent publications, The Patriot revealed that university students were being bankrolled to push for regime change.
The Patriot reported that: "According to a plan revealed on the Eve of the SAPES Conference and endorsed by principal regime change donors, 'brave' students will be identified and recruited mainly from two anti-Zimbabwe organisations, the Zimbabwe National Students Union (ZINASU) and the Students Solidarity Trust (SST) to take the Government of Zimbabwe 'head on' through massive demonstrations.
Following the SAPES meeting, students were identified as one of the major 'disgruntled' groups to spearhead demonstrations against the Government in order to create a crisis situation.
This, according to National Endowment for Democracy (NED) and Chatham House, was a pre-requisite for external intervention.
The demonstrating students will be paid US$500 if they are detained and a staggering US$5 000 if they stand trial."
Thus, this seeming confusion in our young is not natural.
It is cultured.
They are coached to see things a certain way so that our independence would be in name only, the way it is with former French colonies, not meaningful, particularly with respect to our wealth – our unbelievable mineral wealth.
Cde Kanengoni and his compatriots were youths when they abandoned everything to join the liberation struggle.
Young Kanengoni had just received his first salary as a temporary teacher when he decided to abandon it all and leave for the war, but not before he used the money to buy his father a suit and a music record for both parents to enjoy.
That was the character of the big gracious Cde Kanengoni.
Our enemies thus do not misunderstand nor underestimate the power of the youth.
They know the youth are a dynamic force that can make a big difference and that is why they target them.
In the past, our youths joined the liberation struggle, while those of today find it normal to receive cash from our enemies to betray their motherland.
They are coached and equipped so that they can be infiltrated into key institutions and wreak havoc.
This defamation and denigration of us has been going on for a long time.
It has never been a secret and it has always been about our land which the British and their relatives have coveted for so long.
This is how they have always seen our land Zimbabwe, as they write below:
"She's lying up there like a beautiful woman with legs apart – waiting for the first man to come along and take her, she doesn't care who it is – black or white, just as long as he comes soon." – (Call it Rhodesia by W.A. Dillinger, Mayflower Dell, London 1966).
If our children think the whiteman has any other agenda for Zimbabwe, the above passage should open their eyes.
To the whiteman, Zimbabwe is a land to be raped in the crassest sense of the word.
The passage illustrates how crass the whiteman was, and still is, about our land and people.
Zimbabwe to them was a 'harlot' waiting for the first man to take her.
She was there to be raped and this is how depraved their thinking was, and still is.
These were the feelings, attitudes and values inside the whiteman's heart when he raided and looted Zimbabwe's wealth.
This is the evil that shrouded the colonisation of our country. Our children should know where the rains began to beat us!