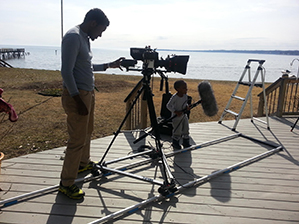 PARALLEL to technical aspects of the digitisation exercise being carried out on a nationwide basis by the Ministry of Media, Information and Broadcasting Services, the same Ministry has also been conducting awareness campaigns focusing on what digitisation is likely to mean for our broadcasting sector as a whole.
For instance, in 2016, awareness campaigns were conducted in Harare, Bulawayo, Mutare and Masvingo, while in 2017 awareness campaigns have already been carried out in Gweru and Lupane.
And there are indications that more campaigns will be conducted in more places in the near future.
The aim of these campaigns is simple; to reach out to all those who work in the cultural-cum-creative sector and to sensitise them about the need to produce good quality local content which will be required in huge quantities by the 12 broadcast channels which will be operating in the country, courtesy of digitisation programme that is being implemented right now.
One of the key issues to emerge from all the campaigns conducted so far is that of training.
Many of those working in the creative sector have expressed their eagerness to get trained in film and television production.
This issue of training is increasingly coming to the fore as a matter which demands our immediate attention if a viable film and television industry is to be established in Zimbabwe.
In order for us to understand why training is a critical issue, a few historical remarks are in order here.
Soon after the attainment of independence in 1980, deliberate attempts to promote the film sector were made by the then Ministry of Information, Posts and Telecommunications.
The ministry invited well established Hollywood studios such as Canon and Universal Pictures to use the newly independent country as an ideal location for shooting films.
The arguments were that,unlike North America, Zimbabwe is endowed with a good climate throughout the year, a varied and sometimes dramatic landscape and that its people host a rich range of cultural traditions.
The key assumption behind this official invitation was that the mere presence of Hollywood filmmaking activities in the country would expose locals to a credible filmmaking tradition and thus inspire them to get involved in the sector and gain appropriate skills through exposure and participation.
From a training point of view, it meant that locals were expected to acquire film making skills and practices on the job and to emulate production values associated with Hollywood. Very little attention was paid to the cultural and financial implications of relying on Hollywood as a film production model.
Although quite a number of locals got involved and participated largely as 'extras' in the making of King Solomon's Mines (1985) as well as that of Cry Freedom (1987), there was no formal structure put in place to address the training aspect in concrete and specific terms.
One can only speculate that some 'osmosis' process was expected do the trick and inspire many locals to take up filmmaking as a career.
Quite a number did but not that many.
This more or less innocent and rather loosely defined approach to the promotion of film development continued during the early 1980s with occasional financial investments on specific film productions being made by Government until after the production of Cry Freedom; the Government investment in the film turned out to be costly in financial terms as the film incurred substantial losses.
Thereafter, the Government lost interest in promoting the development of film as an industry and more or less left the film sector to its own devices.
From 1988 to 2002, the film sector struggled without much state assistance or encouragement.
Those filmmakers who had been trained outside the country, individuals such as Olley Maruma, Tsitsi Dangarebga, Nakai Matema, Rumbi Katedza and Marian Kunonga had to rely on donor funding for their film productions.
This is also the period when huge chunks of the entertainment menu broadcast by the Zimbabwe Broadcasting Corporation (ZBC) depended to a large extent on foreign content, most of it from Hollywood.
The ZBC then hosted media products such as Santa Barbara, Dallas, The Night Rider, Beauty and the Beast, among other productions, and accorded them pride of place in its broadcast schedule.
It is no wonder these foreign programmes became household names, in the process domesticating the Western world view and its values as our views and values.
In other words, both the struggling filmmakers and the national broadcaster, ZBC, operated in an environment in which there was no well-defined and well-articulated policy to promote film development and local broadcasting itself.
Even our main local news bulletins provided slots for British and American channels to beam their news content into our living rooms.
This unusual state of affairs implies that we could only relate to the events which took place in the larger world from a Western perspective.
From 1992 right up to 2002, training of filmmakers was left in the hands of The Film and Video Project for Southern Africa which was largely sponsored by UNESCO and hosted by the then Ministry of Information.
This project trained 239 students with most of them from Zimbabwe, and quite a number from South Africa, Zambia, Mozambique, Angola, Malawi, Lesotho and Swaziland.
The training which took place relied heavily on the workshop approach and usually took a few days or a week or two at most.
And the limitations of such an approach are obvious.
The general tendency was to focus more on the technical aspects of filmmaking and less on the cultural dimension of the cinematic story.
The training done by the UNESCO-sponsored project produced quite a substantial number of filmmakers, but unfortunately for Zimbabwe, a large number of these left for South Africa and for other greener pastures overseas. This exodus of trained film makers worsened after Europe and US, at the behest of Britain, imposed economic sanctions on our country in response to our Land Reform Programme.
Even the regional and UNESCO-driven film training project which had stepped in and trained many from 1992 to 2002 collapsed as the donor funds and the goodwill which had sustained the film and video training project dried up.
The fact that the film sector operated for long without formal institutional structures to nurture and promote it speaks volumes about the under-developed character of the film sector in Zimbabwe.
Those who were passionate about film struggled on their own to acquire skills related to the technical and creative aspects of filmmaking.
These often started off their filming careers by using the video camera to record weddings and funerals.
It is this unsatisfactory situation in the film sector which partly motivated the Ministry of Media, Information and Broadcasting Services to establish the Zimbabwe Film and Television School of Southern Africa (ZIFTESSA) in 2008.
The film school is now offering courses catering for the two-and-a-half-year national diploma programme on a full-time basis and the one-and-a-half-year national certificate programme on a part-time basis.
Recently, the film school with financial support from the Broadcasting Authority of Zimbabwe (BAZ) and the blessing of the ZimDigital communication platform has embarked on an ambitious nationwide training programme on a crash-course basis.
A team of film lecturers comprising Kudakwashe Moyo, Nox Chatiza, Obey Marimo and Brian Mhlanga have conducted workshops in Chiredzi, where they trained 54 people, Mutare (34), Masvingo (47), Bulawayo (53) and Harare (57). This kind of training is meant to be a preliminary fire-fighting response to the tremendous need which exists out there to train our artistes so they start off their production careers on a sound footing.