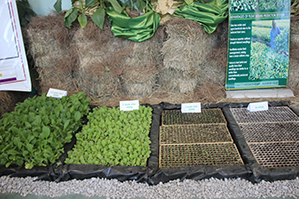 THE Tobacco Research Board has unveiled three new tobacco seed varieties with a multi-disease resistant capacity as preparations for the 2014/ 2015 tobacco season intensify.
The three varieties T74, T75 and T76 have in the past seasons been on what is referred to as limited release.
Before a tobacco seed variety is released on the open market it first undergoes limited release where it is only availed to a few farmers under a limited hectarage.
During the limited release stage TRB will be collating feedback from the farmers.
A farmer who buys the seed on the limited release will be recommended to continue using the variety for the 10 years it will be under limited release.
An official manning the TRB stand at the Harare Agricultural Show said the three new varieties had already undergone limited release and in the coming season will be available on the open market.
The seed varieties, he said, had a potential of yielding 4,5 tonnes of tobacco per hectare, up from the 2 tonnes per hectare being produced with varieties on the market.
On dry land one hectare would normally produce three tonnes but the figure has gone down to two-and-a-half tonnes.
"The board will continue to research and produce more varieties in line with the country's aim to improve tobacco production," said the official.
"The three-seed varieties we are releasing have proved to be resistant to nine common diseases that affect tobacco such as the tobacco mosaic virus.
"The board also ensured there is a seed variety that is resistant to root knots and nematodes, following the phasing out of nematicides the quality of leaf for some small-scale farmers have been affected by nematodes."
The official said other varieties such as T71 and T72 were still under limited release.
Meanwhile, the Tobacco Industry and Marketing Board has indicated that nearly one million grammes of tobacco seed covering 165 000 hectares have been sold for the 2014/2015 season.
Tobacco growers who irrigate their crop begin transplanting seedlings from seedbeds to the fields on September 1.
The tobacco cycle starts in June when farmers prepare their seedbeds, in September planting begins mainly for farmers who irrigate their crop.
Rain fed tobacco is planted starting in October to early December, depending on the region in which the farmer is located.
In a statement, TIMB said seed sales as at August 22 have gone down by 1,9 percent compared to the same period last year when 1 008 million grammes, enough for 168 163 hectares, had been sold.
The number of tobacco growers has also increased, said the board.
"At least 13 000 new tobacco farmers have been registered ahead of the 2015 cropping season."
"To date 67 560 farmers have registered for the 2015 season, with communal farmers leading the list at 31 212, followed by 25 269 A1 farmers, 5 787 A2 farmers and 2 292 small-scale commercial farmers."
Most resettled farmers have ventured into tobacco production which used to be a preserve of the white minority.
The tobacco sub-sector has grown over the years with production levels rising from a low of 48,8 million kilogrammes (kg) in 2008 to 60 million kg in 2009.
In 2010 the country produced 123 million and 132,5 million kg in 2011and 144, 5 million kg valued at $527, 6 million kg in 2012.
In 2013 local production stood at 165 million kg.
This year production increased to 215, 7 million kg valued at US$682 million kg.
Tobacco is one of the country's major agricultural exports, accounting for 20 percent of Gross Domestic Product.
The sector accounts for 40 percent of exports and supplies 63 percent of raw materials for agro industries
Locally produced tobacco has remained popular on the international market.
Zimbabwe exports 98 percent of semi-finished tobacco products, with the rest being consumed locally.
Countries such as China, United Kingdom, the United Arab Emirates, Indonesia, Germany and Belgium are some of the importers of local tobacco.
In Africa, Zimbabwe's tobacco is sold to South Africa, Angola, Malawi, Tanzania, Lesotho, Botswana and Congo.