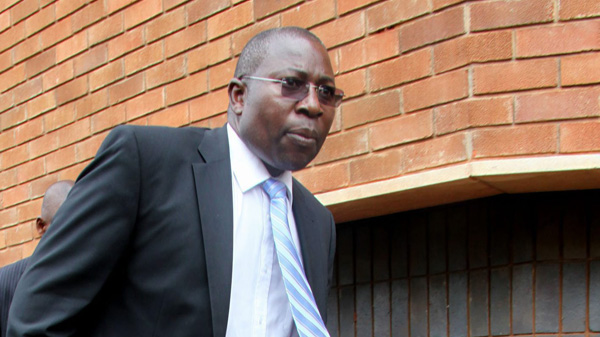 THE treacherous call for a coup against the country's leadership by the beleaguered MDC-T secretary-general Tendai Biti in Harare last week is a culmination of a cocktail of problems confronting both the Western-funded and founded party and the man himself.
The MDC-T, which is currently reeling from serious infighting which last week saw the party deputy treasurer General Elton Mangoma openly confronting his leader Morgan Tsvangirai over his refusal to step down, is teetering on the brink of extinction.
And it has never been in doubt that there is a tragic trait framed around chronic bouts of anger and deep-rooted hatred of the country's leadership in Biti's character that manifests itself in violent politics and now threats of a coup as a solution to Zimbabwe's economic crisis.
Proffering his alarmist prognosis of the country's economic challenges at a panel discussion on the government's new economic blueprint, the Zimbabwe Agenda for Sustainable Socio-Economic Transformation (Zim-ASSET) last week, Biti claimed that a coup was the solution to the crisis.
One needs to look back to the July 31 2013 harmonised elections in which ZANU PF handed the MDC-T a defeat of catastrophic proportions to understand Biti's anger and fury and why he desperately believes that Zimbabwe should go down on its knees to beg Western countries for aid.
"We have to humble ourselves and go down on our knees to those people (Western governments and institutions)," said Biti.
It becomes almost laughable when the former Finance Minister tells the nation that the ZANU PF Government practises what he says is 'politics of exclusion', but this is no laughing matter when an official calls for a coup against his government.
How a government and leadership that has initiated and implemented policies designed to uplift the masses deemed to be practising politics of exclusion is a mystery.
But coming from Biti and the MDC-T it is not surprising, these were people who formed part of the country's previous government where they failed to bring anything meaningful to the economy.
By his own admission at the discussion, Biti was just a lucky man who inherited an economy on the rebound.
"Basic economics tells us that when an economy goes on a downward spiral, the next thing is that it goes on a rebound, I am not a genius, I just took over an economy that was on the rebound, it was inevitable," said Biti.
Biti, who is reportedly among those eyeing Tsvangirai's post, recently received a major setback in his bid to take over the reigns based on recommendations from officials from Western embassies in Harare.
The Western diplomats have cited a reason pertaining to Biti's personal life in the recommendation, sources said this week. This, sources said, has left Biti devastated hence his vociferous diatribe against the ZANU PF Government and anyone he considers crossing his path.
At the discussion, Biti, who minutes earlier had been the subject of laughter from the gallery when he inadvertently fell backwards from one of the executive rocking chairs reserved for the panellists on the podium, accused President Robert Mugabe of what he said was failure to steer the economy.
"We are paralysed by a crisis of leadership; that you can have the chief executive officer of the country at 90," said Biti.
"I know that there has been debate about the President's health, but in my respectful submission, being 90 is illness on its own.
"This is a Government that is founded on vicious circles of exclusion, slogans of hatred, slogans of attrition personified in the head of state.
"The man goes to the United Nations, the man goes, 'shame, shame, shame, shame, shame'.
"You go to the Heroes' Acre, when you read the speech you just wonder who has been the target of this speech."
ZANU PF, whose economic policies have drawn immeasurable accolades across the globe, was subjected to Biti's now infamous vitriol.
"The biggest problem with ZANU PF is that they don't understand money and the economy," said Biti.
"They are functionally illiterate.
"They think that money grows on trees.
"People just believe in spending, spending, spending.
"It's like a broiler chicken.
"The broiler just eats. It doesn't know why it's eating.
"It eats itself to death.
"It's consumption for the sake of consumption.
"It's oblivious of where the food is coming from.
"It just eats 24 hours a day.
"So they have got a broiler chicken syndrome, they are oblivious kuti mari inobva kupi."
This, Biti said, are ingredients for a possible coup and Zimbabwe was headed for one, he claimed.
"Those of you who have studied coups on the African continent you will find one common thing that is evident in those coups," he said. "Number one, there would be no leadership.
"It doesn't mean there is no head of State at the state palace.
"He would be there, but he is dead.
"He can't offer directions to the economic problems that are affecting the country.
"He is indifferent.
"It's almost like he is living in another country and reading about our problems on Facebook.
"If you have that, you have got a challenge.
"We have that in Zimbabwe.
"Number two — coups will occur where there is exclusion, where particular people, person, tribes or whatever feel that democratic processes are no longer working and tirikudzvinyirirwa so we have no choice but to resort to undemocratic processes.
"Thirdly where coups occur, the economy is not functioning.
"So we have the ingredients of serious social dislocation in this country."
Given its history of both intra and inter party violence, it is important for the country's security forces to keep a close eye on Biti's statements.