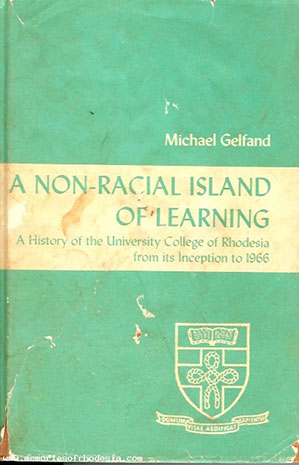 TRIBUTE to a man who deserves to be buried at an academic hero's acre, that is, if there is such an institution in the world!
Professor Terence Osborn Ranger was a man of academic brilliance who contributed immensely to Zimbabwe's social and political history.
The Zimbabwean academic community, especially those who studied African history and those who interacted with him, feel robbed and saddened by the death of a man who contributed so much to the academic world.
Professor Ranger passed on in his sleep on Friday January 2 2015.
Should we mourn in vain?
No, we should not mourn in vain, but celebrate the life of a professor and a historian who documented Zimbabwe's social and political history; a man who campaigned against the oppression of black Africans in brutal Rhodesia.
Born in Britain in 1929, Professor Ranger first went to then Rhodesia in 1957, where he taught Early Modern and Late Mediaeval British and European history at the University College of Rhodesia and Nyasaland.
A British liberal, (as he described himself in an interview with Diana Jeater in 2009), Professor Ranger opposed white supremacism and the oppression of black people in Rhodesia.
In 1963 he was deported by the racist Rhodesian government and went to work in Tanzania.
Dr Fay Chung, in her book, Re-living the Second Chimurenga, mentions how Professor Ranger was instrumental in fighting the colour bar at the racist colonial university during her student days.
She writes, "The leading intellectual light at the university was the history professor, Terence Ranger.
"He, together with other anti-racist lecturers and students, organised peaceful protests against the colour bar.
"One violent incident that occurred was at the Salisbury swimming pool.
"For some reason, swimming pools, like bathrooms, were particularly sacred to whites, and an incident took place involving Terence Ranger being pushed into the swimming pool by some irate white racists." (Chung, 2006: 41).
I became first acquainted with Professor Ranger's work as an Economic History student at the University of Zimbabwe between 1992 and 1994.
It was not possible to write an essay on Zimbabwe's precolonial history without citing his work or including him in the reference list.
And I did not only cite Professor Ranger in my essays, because he became one of our external examiners who came to the University of Zimbabwe once a year to mark our history papers.
For us History students it was uplifting to know that our academic work was being marked and rated by an Oxford University professor!
Vakuru vakati mombe yatsika musheshe yanwa.
I was to meet and interact with Professor Ranger more often between 1995 and 1999 when I worked at the National Archives of Zimbabwe.
I felt elated when I first met him in the National Archives reading room sometime in 1995.
I went to greet him, and told him that I was one of the students whose history papers he had marked in the previous three years.
Cheeky me!
I would interact with Professor Ranger again in the UK in 2008 after I had joined the Britain Zimbabwe Society (which he founded in 1980).
I had just written and published an anthology of Zimbabwean Folktales, so I emailed Professor Ranger asking him to write a review.
I wasn't expecting him to respond, but a few days later I received an email from him giving me his address so that I could post my book to him.
A few days later I received another email from him expressing his gratitude and saying that he and his wife Shelagh had enjoyed the folktales.
He said he would write a review when he felt better.
Many Zimbabweans commenting on social media describe how his passing on has left a deep vacuum to the Zimbabwean community/history.
Joyce Jenje-Makwenda, an Independent Researcher and ethnomusicologist based in Zimbabwe, said about Professor Ranger: "Professor Terrence Ranger left immense heritage for us.
"He contributed to our social and political history.
"He was a very educated person, but didn't look down on others.
"As someone with a lot to his name, he always acknowledged others especially upcoming researchers.
"I first met Professor Ranger in 1995, at the University of Zimbabwe where I had been invited by the Department of African Languages to give a lecture about Zimbabwean popular music.
"He was one of the people in the audience.
"He listened to my lecture and asked me questions afterwards.
"I was surprised that he still remembered me when he invited me as a special guest, to talk about my research at Oxford University in 2006.
"I met many great people at Oxford University, Zimbabweans and some of the world's leading academics.
"Professor Ranger did not attend my speech because he was ill, and I made it a point to go and see him at his home to thank him for inviting me.
"I am glad I went to see him because that's the last time I saw him.
"He was a great man, a humble man whose life should be celebrated."
David Antonio, commenting on Newzimbabwe.com, wrote: "Friends, it is with great sadness that I have learnt of the death of Prof Ranger.
"So many of us owe our success to him.
"I will forever remember a few years ago when I went to show him my family and his house was full of pictures of his African children including myself, Basil Nyabadza, Obert Mpofu, the writer Tsitsi.
"I will forever cherish my moments with him in Zimbabwe.
"One white man who has the honour of being deported by the Smith regime for supporting the blacks.
"The effort of one man has changed the lives of so many including myself.
"Rest in Peace Prof Ranger.
"I am one who always had the privilege to chat to you whenever!"
Professor Ranger may be physically departed from planet Earth, but his legacy shall live on.
He will remain with us and our future generations forever!
Some of his works include: Revolt in Southern Rhodesia, 1896-97: A study in African resistance (1967); Peasant Consciousness and Guerrilla War in Zimbabwe: A Comparative Study (1984); The Historical Study of African Religion (1972); Aspects of Central African History(1968); Evangelical Christianity and Democracy in Africa (2002); Dance and Society in Eastern Africa, 1890-1970: The Beningoma (1975); Themes in the Christian History of Central Africa (1975); The African voice in Southern Rhodesia, 1898-1930 (1970); State and church in Southern Rhodesia, 1919 to 1939 (1960); Soldiers in Zimbabwe's Liberation War (with Ngwabi Bhebe,1995), and Writing Revolt: An Engagement With African Nationalism, 1957-67 (2013).