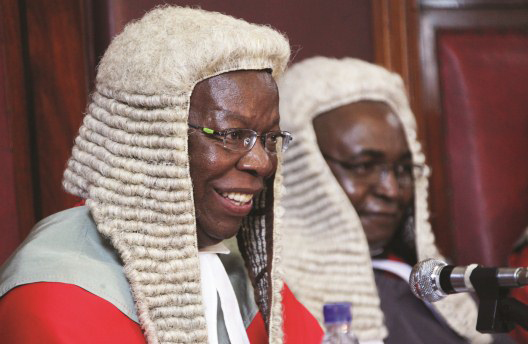 ON May 3, one of the brightest lights in the Zimbabwean legal fraternity, the late Retired Chief Justice Godfrey Chidyausiku, was switched off.
But the sun has not set on the Chidyausikus alone, Zimbabweans also mourn this gallant son of the soil.
The elephant has fallen; the legal guru has departed.
Mwana wavaChihera azorora.
The late Retired Chief Justice Chidyausiku succummbed to liver and kidney problems.
His departure has shaken the nation.
Why?
Because he was a true national hero and a true lawyer.
He pointed out without hesitation where there was a mistake and where a correction was needed.
He led the country in the path of fairness.
He was never confused by public opinion but stood resolute behind the law.
He was demonised for upholding the law but he remembered the excruciating pain of the liberation struggle.
He was patient amid great suffering, calm amid the transforming processes that were taking place in the country.
No word of passion or complaint fell from his lips.
He was forgetful of himself but very solicitous of the comfort and happiness of his country and welfare of the people.
He realised that law was not only a profession but life itself.
He did not behave like a small boy motivated by power and greed. 
He loved his country.  
He was one of the legal brains behind the Lancaster House Conference where he brushed shoulders with Justice Simbi Mubako, the late Edison Zvobgo and Vice-President Emmerson Mnangagwa, to name but a few. 
Chief Justice Chidyausiku was born in Domboshava on February 23 1947.
He trained as a lawyer in 1968 and graduated in 1972.
He was one of the first black people to be in Parliament in the 1970s under the Harare African Roll Constituency.
He stepped down when his activism became known.
He was appointed Deputy Minister of Local Government and Housing after independence and later became the Deputy Minister of Justice.
He was later called to serve as the Attorney General and finally served in the High Court as a judge. 
In 2001, he succeeded Chief Justice Anthony Gubbay.  
He served faithfully, maintaining an unblemished record.
Like all good men, his bold decisions made him friends and enemies in equal measure.
He did not compromise the law as he delivered and 'erred' on the side of the law. 
Faced with seemingly insurmountable challenges he was patient, calm, courageous and wise.
The people of Zimbabwe attribute the safety of the nation and liberty itself to women and men like the late Retired Chief Justice Chidyausiku.
The longest serving Chief Justice after independence rendered the nation inestimable service.
Great lawyers like Ashton Musunga,Tawanda Chitapi, Muganhu Wilson Manase, Samukange, mukoma George, the late Chikumbirike, the great Chirunda and Chihambakwe Muswe, to name but a few, learnt great lessons from this fountain of legal ethics.
He gave a ruling which earned him friends and enemies when he ruled that the Land Reform Programe was legal and that the people of Zimbabwe should not pay for their land.
He took a bold and brave stance when he defied all odds and ruled on the side of the people, the side of the law.
When the bench was infested with people who were bent on reversing the gains of independence, he stood up for the people.
When the justice system was being manipulated to protect a few, he ensured right prevailed over wrong.
By his labour, skill and valour, the country has been established on a permanent foundation and the people saved from a state of anarchy and bloodshed.
The hero whom we this day, with tears and lamentations, consign to the grave led the unity of the nation and upon his death all opposing powers sang with one voice.  
As time advances, the worth of his great services to his country and mankind will be more clearly seen and highly appreciated. Coming generations will rise up and bless the gallant soldier for his fortunate birth.
He who gained eternal laurels in defence of the black populace, the Government and liberty; who made this and all succeeding ages his debtors, was simple in his tastes, unaffected and unostentatious in his manners, confiding and tender in spirit, inflexible in integrity and of iron will; one of the most remarkable lawyers of his age.
During the thunder of battle, when immense interests were at stake, he was calm and undaunted, never doubting victory.
Appearing before him was a cleansing ceremony. 
Unkind or disparaging words were strangers to his lips. 
He had a soul too lofty and magnanimous, even in the hours of supreme exultation and victory to utter one word of humiliation to a fallen captive.
Let him sleep in the nation's heart, embalmed in a country's love.
As the eye of coming generations turns back to pay its tribute to the gallant and great, it will see most prominent in that hero an emancipated and disenthralled race and a regenerated country is his monument.
Its freedom is his epitaph.
Its prosperity, its peace and its happiness is his everlasting memorial. 
It was not fame or ambition, but it was the inspiration of sacred duty that made him fearless and invincible. 
He executed the great work assigned him with humility, with remarkable fidelity and courage.
No other lawyer, in modern times, has accomplished so much and claimed so little as the heroic Chidyausiku.
When his great work was consummated he claimed no honour, displayed no pride or ostentation, exhibited no resentment or malice, but the most exalted spirit of philanthropy and charity.
At the age of 70, his sufferings and his triumphs on earth end, and we all proclaim: "Well done faithful servant, may your work not be in vain!"   
Fare thee well Cde!
Vazet2000@yahoo.co.uk