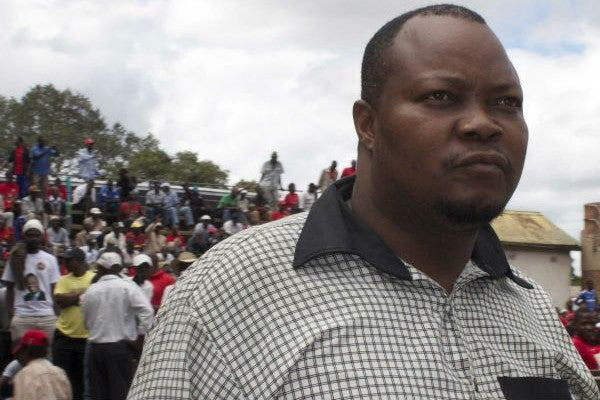 By Golden Guvamatanga and Patience Rusare-Murava
WHEN MDC Alliance vice-chairman Job Sikhala claimed his party would 'overthrow' Government before 2023, while alleged party's supporters attacked Foreign Affairs and International Trade Minister Sibusiso Busi Moyo in London, it was a not only a manifestation of their violent nature but confirmation they will stop at nothing in denigrating their country.
This is because, soon after those bizarre incidents, the party has also been embroiled in the Bulawayo City Council (BCC) saga which has turned tribal, as citizens in the country's second largest city protest against MDC Alliance leader Nelson Chamisa's appointment of incompetent people to key positions.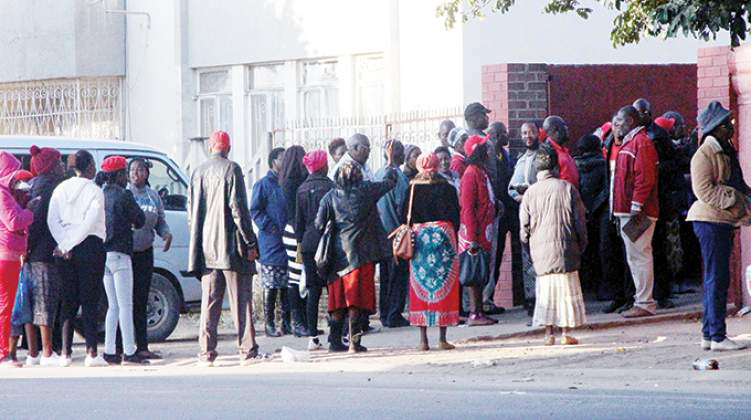 The same allegations were raised by party members in the run-up to their 'Congress', held in May this year, with Chamisa being accused of manipulating the nomination process.
This comes as MDC Alliance insiders have confided to this publication that their leader could be ousted in a boardroom coup 'because he is an unmitigated disaster'.
Chamisa is accused of being a divisive leader whose energy is spent on consolidating his stranglehold on power.
But it is the MDC Alliance's penchant for violence that has once again raised questions over the party's self-proclaimed demcratic status.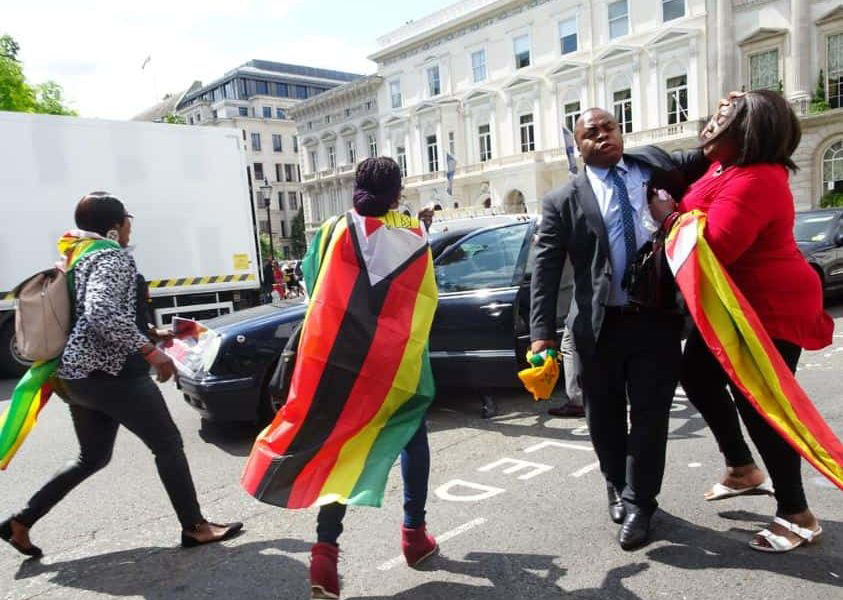 It is not a secret that the MDC was built on the philosophy of violence as one of its key strategies for effecting regime change.
Since their ill-fated formation on September 11 1999, the MDC has not hesitated to unleash to internal or external opponents the same, with the latest episode being their violent demonstrations which took place from January 14-16 2019.
The party leadership has promised to unleash another round of demonstrations 'soon', sources in the party say.
But it is the Sikhala issue, whose reckless utterances have landed him in trouble with the authorities, that has rocked the MDC Alliance.
Sikhala, known for his abrasiveness and crude politics, is no stranger to controversy, with the latest episode being his alleged treasonous threats against Government.
His penchant for fomenting violence has seen him clashing with rivals within his party on many occasions.
"We are a committed leadership that will give ZANU PF headaches and (Amos) Chibaya was not lying or joking about the war and fight we are going to take to the doorstep of Emmerson Mnangagwa," Sikhala said during a rally in Bikita last week.
"We are going to overthrow him before 2023, that is not a joke."
The indefatigable legislator has on many occasions stepped on people's toes; but this time around, he seems to have bitten more than he can chew.
After the controversial legislator was indicted for trial, the excitable opposition claimed the bellicose Sikhala had gone 'missing'.
It, however, turned out Sikhala was being transferred to the scene of crime, Bikita, where he had made his treasonous statements during that fateful rally.
Who is Job Sikhala?
Sikhala's political career has been a trailblazing cocktail of drama and sometimes senseless antics which have almost always made him an object of scorn and ridicule.
He is now 47 years old.
He has even claimed that he found a goblin at his house and has been accused of smuggling people without proper documentation into the country.
That is not all, the man has, on more than one occasion, made false kidnapping allegations, pointing fingers at the country's security sector. He has been involved in embarrassing fist fights and insulted the country's leadership, among many other dreadful shenanigans.
This is the same man who, soon after elections last year, claimed to have been abducted by armed soldiers at his St Mary's house.
Sikhala had claimed that he was 'missing' for some days, with other regime change activists claiming he had been 'killed'.
But as usual, he resurfaced after a week, claiming he survived an abduction by hiding in a nearby toilet after soldiers allegedly raided his St Mary's home in Chitungwiza.
Sikhala rose to notoriety as a student at the University of Zimbabwe where he started his political activism in the 1990s.
He is alleged to have failed examinations on many occasions.
According to online reports, he belongs to the most violent crop of students which included the likes of the late MDC spokesperson Learnmore Jongwe, among others.
"He became popular among opposition supporters due to his violent nature. He also led demonstrations against University admin at the University of Zimbabwe," reads the online reports in part.
During his tenure as Member of the National House of Assembly in 2000 to 2005, Sikhala was involved in acts of violence ad sabotage when he was accused of torching a bus in Chitungwiza, together with other rowdy youths.
'Sexcapades'
In 2018 Sikhala is alleged to have raped his personal assistant several times and impregnated her.
He also stands accused of stealing from the woman, who later suffered a miscarriage.
He has yet to respond to those allegations.
That same year, Sikhala was also accused of having an affair with a married woman, Lydia Nyamidzi, during the 2018 harmonised election campaign.
The two, it is alleged, would meet at Mubaiwa Hotel and at a local lodge where they would indulge in their 'unholy' act.
Nyamidzi and her husband Obey Bangisai stay in Zengeza 2, which falls under the Zengeza West Constituency where Sikhala is the House of Assembly Member.
Early this year, he grabbed the headlines for using abusive and foul language in defence of Nelson Chamisa's rape accusations.
Posting a picture of the supposed rape accuser, Sikhala asked his followers on Twitter if, given her physical appearance, they would rape the woman even if they found her naked.
"Guys here present can you rape this kind of woman nyangwe ukamuwana akashadabura (if you found her naked)," read the tweet.
To make matters worse, it was later revealed that the woman in the picture was not the rape accuser.
She just happened to have the same name.
And it later turned out that the real accuser had withdrawn her report.
She's understood to be mentally ill.
But the damage had already been done to the unfortunate nurse whose identity was shared on social media.
A June 2014 report by Tapiwa Maguji, published on newzimbabwe.com, which was titled 'Mugabe torture made me produce nine kids in 10 years', lays bare Sikhala's controversial character.
"I am a family man. I am married with my beautiful five daughters and my handsome five sons," Sikhala said proudly.
"And you know it was forced by (President) Mugabe's torture. After l was tortured, l went to South Africa and Denmark for treatment and some of my colleagues who were tortured with me are not even able to produce children by now on the basis of that torture.
"So when l was able to do that, l said
'no, Mugabe will kill me without any children'. By the time l was tortured, l only had one kid in 2003 and you can see that in 10 years, l raised for myself to have kids before Mugabe kills me…"
Some dismiss him as a clown.
Sikhala broke away from the original MDC in 2005 when Welshman Ncube and others disagreed with Morgan Tsvangirai over the opposition party's participation in the re-introduced senatorial elections.
MDC-99 leader Job Sikhala rejoined the Tsvangirai-led party after he abandoned his party, which he formed in 2010 after breaking away from Professor Arthur Mutambara's MDC faction.
It is our understanding at The Patriot that serious divisions are rocking the MDC Alliance, with vice-president Biti accused of making serious inroads in his quest to oust leader Chamisa.
Biti, sources say, has not forgiven Chamisa who allegedly chickened out of the plot to oust former MDC leader Tsvangirai from the helm.
After making plans to pursue the 'Tsvangirai project' together with Chamisa and the likes of Elton Mangoma, Chamisa tipped the then MDC leader who responded by unleashing the dreaded youth wing, the Vanguard, to wallop Biti and company.
Tsvangirai later 'forgave' Biti when he formed what he called the alliance just before the July 30 2018 harmonised elections.
But when Chamisa took over power through clandestine means, while Tsvangirai's body was still in South Africa, the new MDC leader reportedly felt uncomfortable with Biti, whose ascendancy he tried to block during the party's Congress in May this year.
The Chamisa plan failed dismally.
The sources said, since assuming his new position in the party, Biti, who is now affectionately referred to as 'USA', a moniker for his dishing out wads of US dollars to his supporters, is now going after Chamisa.
Matters came to a head when Chamisa ordered the party's deputy spokesperson Luke Tamborinyoka to issue a statement disowning Sikhala's treasonous statement.
Sikhala and Biti are believed to belong to the same faction.
It is further said that tensions are rising in Bulawayo where a tribal group is emerging after serious misunderstandings between MDC Alliance councillors, with regime change agenda outfit Mtwakhazi reportedly gunning for Chamisa's head.
Chamisa himself has been under the cosh from his excitable supporters who are accusing him of woefully lacking the Tsvangirai 'vibrancy'.
What is emerging from the MDC Alliance is that this a party bent on destabilising the country.
Zimbabweans beware!