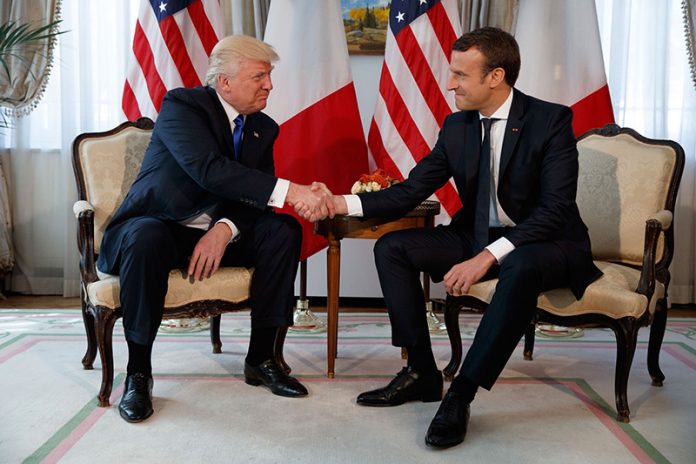 PRESIDENT Donald Trump just concluded his first official tour abroad taking in Saudi Arabia, Israel, Brussels and then Italy for a G7 Summit.
The aftermath of his recent tour abroad has again reinforced the narrative that he is unpopular at home and abroad.
Germany has unleashed a volley of criticism against President Trump, slamming his 'short-sighted' policies that have 'weakened the West' and hurt European interests.
German's Foreign Minister Sigmar Gabriel said 'short-sighted' US policies stood against the interests of the European Union (EU).
This was after German Chancellor, Angela Merkel, warned that the US and Britain may no longer be completely reliable partners.
The US and Germany have been enjoying close relations and the Obama administration considered Germany a close ally.
So the round of harsh words by Germany is highly unusual and signals the beginning of frosty relations.
When President Trump was inaugurated in January, Chancellor Merkel told him that co-operation would be on the basis of shared democratic values.
It would seem President Trump is again not taking the advice of seasoned politicians and insists on antics that could possibly damage relations with allies.
The relationship between Merkel and Trump contrasts with the warm ties between herself and Barack Obama.
Former president Obama last week travelled to Berlin to attend a key Protestant conference alongside Chancellor Merkel.
Chancellor Merkel has taken it a step further and informed her supporters that looking to the US could soon be a thing of the past as Germany would now 'depend' on itself.
Interestingly, Britain has also added its voice to the anti-America chorus.
British Home Secretary, Amber Rudd has said even though Britain is exiting the EU, it intends to strengthen ties in defence and security with the EU.
Equally, France's Defence Minister Sylvie Goulard has said President Trump's broadside at NATO allies could boost efforts toward a common European defence policy.
President Trump's antics which border on diplomatic offsides and pure boorishness have poured water on critics who have been heralding his election into office as the start of a new era, as a possible jab at former President Obama.
While some could excuse this by claiming this was his first tour and as such he is learning, the truth is President Trump has a lot to learn.
Most importantly, does he even want to learn.
At the G7 Summit, the uncomfortable, pained looks on the faces of the leaders of America's allies as President Trump gave his address are proof that he still has a long way to go. Most notably was the grimace on the face of French President Emmanuel Macron.
In another incident, President Trump all but confirmed that last week he accidentally revealed the fact that the US was getting valuable information about ISIS from a sensitive source during a meeting with Russian Foreign Minister Sergei Lavrov.
While fielding press questions with Israeli Prime Minister Benjamin Netanyahu, President Trump attempted to defend his gaffe and only poured oil to that fire.
PM Netanyahu's face froze in uncomfortable horror as President Trump spoke.
As for meeting Pope Francis, one can understand why the Pope looked gloomy in his pictures with the Trumps.
It can be recalled that the Pope and President Trump are on opposite sides when it comes to climate change and religion.
French President Macron said his now-famous white-knuckled handshake with President Trump was a deliberate attempt to demonstrate that he would not be bullied by the US President.
But it is not all doom and gloom, President Trump's attacks on 'globalism' have largely disappeared.
He has not pulled the US out of the Middle-East, international organisations and major trade agreements.
Maybe the gift from Pope Francis could also have him change his views on climate change.