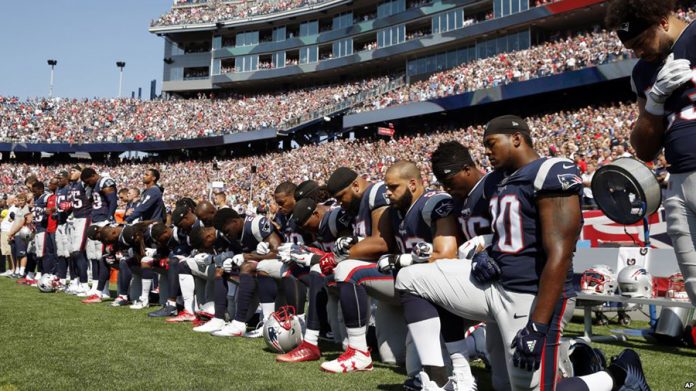 SEVERAL events that took place this last week have a bearing on why I am saying the US is a nation under threat and the crisis created by this threat is likely to worsen the race tensions here.
Social media has fast-tracked the simmering stress lines that have always been hidden by years of denial and institutionalised racism and discrimination that is 'backed' by statistics to justify the continued suppression of people of colour in the US.
The Commander-in-Chief, President Donald Trump has taken the lead in dividing an already torn nation.
Instead of preaching peace and unity, he rants and fuels discrimination, justifying a system that tramples on the weak and preys on the powerless.
Interestingly, one can truly see that leadership skills are challenging when it comes to President Trump.
One can make a comparison between the first post-United Nations (UN) General Assembly speeches made by President Trump and President Robert Mugabe.
While President Mugabe touched down in Harare and quickly sought to address an economic 'crisis' that had been created by saboteurs who abused social media to spread fear and panic, President Trump further divided this nation.
President Trump is engaged in a social media war with some of the country's top athletes.
He veered off his speech in Alabama on Friday night to call African-America athlete Colin Kaepernick a 'son of a b***h' for exercising his First Amendment rights.
I previously wrote about Kaepernick and how his protest against the continued murder of blackmen by the police had seen him been blacklisted by the National Football League (NFL).
The Friday insult has given birth to thousands of Kaepernicks, as over the weekend NFL owners and players united and knelt when the National Anthem was being sung.
Some teams actually stayed in their locker rooms until after the American National Anthem was sung.
Dallas Cowboys owner, Jerry Jones, a staunch President Trump supporters took to the football field and knelt with his players during a rendition of the American National Anthem.
Since Friday, President Trump has been daily ranting on twitter, trying to ratchet support against the 'kneelers'.
He has even called on the NFL to ban players who kneel while the national anthem is being played.
The irony in all this is that the NFL spokesperson, Joe Lockhart, said that the league would not comment or react to Trump's call for a ban, as he was exercising his freedom to speak.
President Trump's attacks on the NFL are strategic.
He is again playing to his conservative base at a time when he is grappling with North Korea's nuclear threat, the humanitarian crisis in Puerto Rico and an investigation into Russia's meddling in the 2016 election.
Black athletes are an easy target for President Trump, and given that he has no real respect for the Constitution and the rule of law, throwing a couple of more black people under the bus is easy.
President Trump has also rubbed the National Basketball Association the wrong way.
Top NBA players have come up in arms over President Trump's attacks on black athletes who are protesting against discrimination. President Trump went as far as rescinding the champion Golden State Warriors' invitation to the White House.
Players have called President Trump everything from bum, clown and 'a so-called leader'.
The NFL commissioner, Roger Goodell, slammed President Trump, calling him a divisive leader, while the New York Giants owners, John Mara an Steve Tisch, said that Trump's NFL statements were 'inappropriate'.
The overall tone from the NFL and NBA is that the US needs unifying leadership and not divisiveness.
Meanwhile in President Trump's version of making America great again, two white nurses at a naval hospital in Jacksonville, Florida, recorded themselves at work, playing rap music and making newborn black babies dance to it.
They then posted the videos on Snapchat.
One nurse flipped her middle finger in an image of a black baby with the caption, 'how I currently feel about these mini-Satans'.
In a second photo, a nurse holds a newborn baby by both arms and makes the child dance to 50 Cent's hit rap song, 'In a Club'.
The person recording the videos can be heard saying: "We are going to hell."
The videos were taken from Snapchat and posted on facebook where they were shared by thousands of people, before the hospital's administration was notified of what its nurses had done.
This type of behaviour is what President Trump is breeding and encouraging.
The disrespect to a people and a culture for political expediency by President Trump has brought out the worst, and has seen race relations at an all time low in decades.
This is a man who should have never been allowed near the presidency.