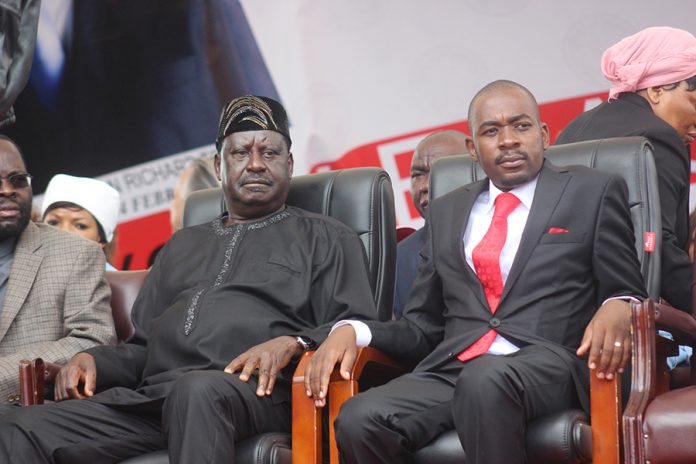 IN the end, in Humanikwa Village, Buhera, it was back to where and how it all began for the MDC-T.
The intra-party violence at Morgan Tsvangirai's burial, so well planned and orchestrated with chilling accuracy was a familiar story that the country has been subjected to since the ill-fated formation of the MDC on September 11 1999.
That the MDC was formed as a force to destabilise the country's peace was there for all to see in Buhera on Tuesday.
And it mattered little that this was the funeral of their leader, a man they constantly touted as an 'icon' of democracy during proceedings.
The MDC-T youths simply and unashamedly delivered with precision on that front (violence) on Tuesday as they have done since 1999.
This trait was on offer as the party, joined by thousands of mourners from across the country, bade farewell to Tsvangirai.
Not even the presence of their friends, Kenyan opposition leader Raila Odinga and several dignitaries who graced the burial, could deter the bellicose youths.
A huge poster imprinted, 'Your Legacy Will Live On' that hung precariously and innocently behind the main stage had been raised high, ostensibly to celebrate Tsvangirai's life.
But even that failed to mask the tensions that were boiling both at the top table and on the school grounds where the opposition party faithful braved the chilly weather and heavy rains that were pounding the arid Buhera area.
Elsewhere and everywhere, MDC-T supporters hovered like hungry vultures, ready to pounce with venom on their enemies, real or perceived.
Still, one thing stood tall for the marauding followers — the ugly hand of violence.
After a brief hiatus that was dominated by embarrassing public brawling by the party's top officials over the so-called grand coalition and acting presidency, matters duly came to a head on February 15 2018 in Buhera.
On Thursday, a day after Tsvangirai had passed on, Nelson Chamisa, one of the MDC-T's three vice-presidents, pulled a fast one on his two colleagues, Thokozani Khupe and Elias Mudzuri when he was 'installed' as party acting president for a year.
Khupe and Mudzuri immediately dismissed Chamisa's installation.
As tempers continued to flare beneath the surface, everything was left in the hands of the party youth who have in the past resolved differences through unleashing violence.
On Tuesday, they once again lived up to their billing.
They looted a truck carrying bread meant for the mourners.
Not satisfied with the bread, they then fought among themselves.
Still that was not enough for them.
They then severely assaulted their co-vice president Khupe, legislator Lwazi Sibanda and secretary-general Douglas Mwonzora, both seen as obstacles to Chamisa's ascendency to power.
Mourning villagers were not spared either.
They threatened to burn the hut where the duo of Khupe and Mwonzora had sought sanctuary after the brutal attacks by the visibly drunk youths.
It was a sorry sight as Khupe, who had just received her second beating in slightly six months, wept uncontrollably soon after being escorted to the top table by the alert police.
There, at the top table, Mwonzora seemed to be exchanging harsh words with Chamisa who was putting concerted efforts to calm his evidently agitated rival.
"Tsvangirai was a very hard working man who would not have tolerated this kind of behaviour. We have criminal sons who beat me and others. People must learn to respect the dead. As we arrived at the homestead, we wanted to greet Gogo (Tsvangirai's mother) but they called us names and said they will kill us," Khupe told the Voice of America (VOA) Studio 7 Livetalk's 'The Youth Connection Show'.
"They beat us with stones, umbrellas and any items they could lay their hands on. They called us dissidents saying we should go back to Matabeleland. It was me, Douglas Mwonzora, Abednico Bhebhe, Lwazi Sibanda and several other people. One stone hit me on my back. I am in pain as I speak right now.
"One man asked us to go into his hut. Those thugs threatened to burn the hut but we were lucky that it was raining and so the thatch could not catch the fire. They threw a burning log into the hamlet. If it was not (for the) rain, we were going to die. But I went back to attend the funeral to make sure that he (Tsvangirai) was laid to rest.
"This happened in full view of the police. The police tried to stop them (youth) but they were too vicious. Everybody saw what happened. I don't know what they will do to them. They (police) saw the criminals."
In August 2017, Khupe was severely assaulted for refusing to be part of the so-called MDC Alliance, a coalition of minority parties seeking to contest against ZANU PF in this year's elections.
When the brutal attack occurred, the hapless Khupe, together with party officials Bhebhe and Lovemore Moyo, were attending a joint MDC-T National Executive Committee and Provincial Executive Committee meeting in Bulawayo.
The MDC-T has had several cases where top officials were assaulted.
We give a brief overview of what has befallen those who have dared to oppose the belligerent MDC-T leader.
September 2001: MDC lawmakers – Priscilla Misihairabwi-Mushonga, Gabriel Chaibva, Edwin Mushoriwa and Janah Ncube — were assaulted while attending a provincial executive meeting in Dzivaresekwa.
September 2004: MDC youths tried to kill party director of security, Peter Guhu.
September 2004: Bulilima MP Moses Mzila Ndlovu assaulted.
May 2005: Priscilla Misihairabwi-Mushonga assaulted at Harvest House.
April 2010: Toendepi Shonhe (party director-general) and Chris Dhlamini (security director) assaulted outside Harvest House.
In 2005, Trudy Stevenson had a story to tell about Tsvangirai and MDC-T violence according to a report by the pro-opposition pirate radio station SW Radio.
This was after serious arguments over the party's participation in the Senatorial polls that year.
On October 12 2005 the party had its first split as those who wanted the Senate elections went their way.
But they were given a goodbye of some kind as angry Tsvangirai youths attacked them.
In 2006, the then Arthur Mutambara-led MDC claimed that MDC-T members attacked the then MP for Harare North constituency, Stevenson, and three other party provincial executive members.
Speaking to SW Radio, Stevenson said she recognised one of the people who attacked her as Tonderai Ndira, who was suspended from the MDC for violence in 2005.
Said Stevenson:
"And that is definitely a Tsvangirai person… and in fact, I believe it was Tonderai who took one of the vehicles by force as well (last year) and they have never returned the vehicle despite a court order."
There is more.
In February 2014, the then MDC-T deputy treasurer-general Elton Mangoma and former youth assembly national secretary-general Promise Mkwananzi were assaulted outside their party headquarters, Harvest House.
Their crime?
Opposing Tsvangirai's continued stay as leader of the MDC-T following the party's July 31 2013 walloping by ZANU PF.
Mangoma and former secretary-general were vocal and unequivocal in their stance that the MDC-T had performed dismally in the July 31 2013 harmonised elections because in their own words: "Tsvangirai was no longer sellable to the electorate."
In April 2014, Biti narrowly escaped a thorough hiding by Tsvangirai's marauding thugs who accused the Harare lawyer of 'selling' out by breaking ranks with the MDC-T leader.
As Tsvangirai was being buried, the question that came to mind was: What legacy is he leaving behind?