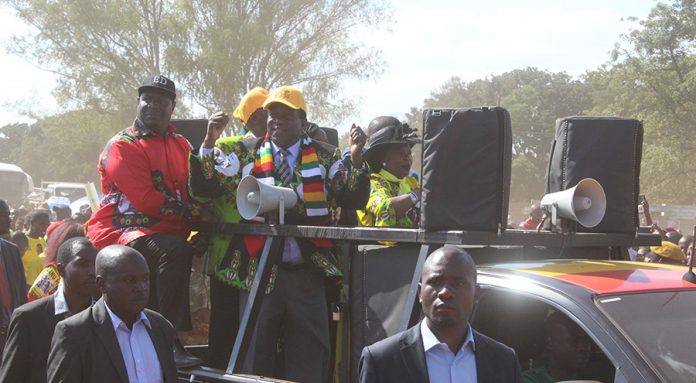 THIS time, he was not the 'villain' of the gathering, the man who those he sat with at the top table loved to loathe, mock and embarrass; President Emmerson Dambudzo Mnangagwa was back to his usual self-cool, calm and collected.
This was Gweru, the everlasting historic city in the history of ZANU PF and Zimbabwe.
This was ZANU PF demonstrating its mobilising capacity with an over 30 000 strong crowd attending the rally.
In a whiff, the MDC-Alliance's much talked about 'well' attended dos had been reduced to an infantile coalition nursing wild dreams.
ZANU PF had arrived in town and — it thundered!
Memories of the September 1 2017 Seventh Youth Interface rally might have been fresh to those who suffered torment during those turbulent days in ZANU PF but to President Mnangagwa, they looked like images of an ancient past.
True to the astonishing script of his nerve-wreaking life, President Mnangagwa managed to steer out of the threat posed by those horrific interface rallies.
This one was a true interface convention, both in shape and in make.
Events of September 1 2017 could not spoil his grandiose return home.
Yearnings of a return to the future which have become an everyday clarion call for the people of Zimbabwe once again rang loud, far and wide in Gweru.
This is the future whose path President Mnangagwa has been trying to clear for Zimbabwe.
And the results have been thus pleasing.
It was the perfect homecoming for him and ZANU PF, a triumphant return to the stage where ZANU set in motion processes to dismantle the Rhodesian regime in 1964.
As it was then, President Mnangagwa remains the last man standing.
The top table too had several new faces who were no longer subjected to the jeers of a supposedly incensed crowd.
President Mnangagwa, just like ZANU PF, has a way of navigating his way out of a crisis and reconnecting with the masses.
This is what was on display in Gweru on Thursday last week as President Mnangagwa and his team entered the ground behind Mkoba Teachers College that was swathed in green and gold.
While the convention was initially dubbed 'youth interface', elders could not resist the opportunity to meet the man who has taken the world by storm and his leadership which has initiated the process to unleash Zimbabwe's much talked about potential.
So they came in their numbers to interact with the leadership of a reinvigorated ZANU PF which has placed development at the core of the country's politics.
And they duly enjoyed.
They sang and danced to the music that was on offer.
Yet there was much more than the music.
This time around there was the unveiling of a roadmap to dismantle the economic challenges that have afflicted the country over the past two decades.
Issues of the day were tackled in a decisive manner.
"The youths are the future," said President Mnangagwa.
"If you are the future, you must be empowered now for you to be good leaders tomorrow because you have been empowered at the correct age.
"You should not remain poverty-stricken when you are young because when you come of age, you will not value the young who come after you.
"But if we empower you, you shall have the same benevolence to empower the youths who will come after you.
"You have talked about the empowerment bank.
"We have given it US$12 million from the Reserve Bank of Zimbabwe so that you can access funds for whatever project you want to do.
"It is important that, as young people, you do projects as groups and start small.
"We have put aside funds to support you.
"If you are focused, in no time you become middle companies.
"These are the things that you must take advantage of because we have put aside funds for such purposes.
"In the mining sector, we have said there are funds but the Minister thinks that you must congregate as groups so that we can give you machinery.
"There is now a programme for livestock.
"There is now a programme for fisheries.
"In the livestock sector, we have given them some money so the youths can also come together and approach Government and say we want to do our livestock project, either breeding or cattle fattening."
The echoes and vibrancy of the Gweru rally could be felt across the country and Chegutu, that famous city of gold and prime agricultural land, was President Mnangagwa and his team's next port of call.
Once again, the tiny Mashonaland West city, the core of Ian Smith's shameless plunder of Zimbabwean resources, reverberated to the green and gold.
The venue was Pfupajena Stadium and thousands as has become the norm whenever ZANU PF is around, thronged the stadium to listen to President Mnangagwa deliver his maiden speech in that area.
It was a message of development; a message of prosperity.
Let us hear him speak:
"Fortunately, wherever we are going, we are getting warm reception.
"The investment that we are receiving in this country right now is not only coming from the East, but from across the whole world.
"Some are coming to make arrangements and say we will come immediately after elections, but we said those who want to catch the early bird go ahead because things are not going to change.
"Hakuna chichashanduka.
"ZANU PF is in power and will continue in power.
"The new dispensation when we were sworn in, in 30 minutes we received an envoy from British Prime Minister Theresa May seeking diplomatic rapprochement.
"He asked for areas where the British could assist and I said I don't have a Cabinet yet and I will invite you once I set up my Cabinet.
"They have come about three times now and we have outlined areas where we want them to assist.
"I sent my Foreign Affairs (and International Trade) Minister Dr Sibusiso Moyo to talk to them.
"We are agreeing with them that you once wronged us and that should not be repeated.
"So far, through the CDC, they have sent us US$100 million for business."
These were without doubt two days of bringing ZANU PF back to the people, two days when ZANU PF set itself towards a resounding electoral victory.