SIKHONZILE SIBANDA, a Zimbabwean man who became blind while he was in prison in England, is due to be deported from the UK on April 5 2019 (today).
Sibanda who arrived in the UK in 1998, was sentenced to five years in prison for a rape.
He denied the charge but was still convicted despite there being no medical or physical evidence against him.
Upon release, Sibanda was served with deportation papers.
He is currently detained at Gatwick Airport, awaiting deportation on April 5 2019.
The Secretary for Justice has refused to consider that Sibanda has a partner who is expecting a child.
He has a valid family life claim and, indeed, the Home Office could have considered Article 8 which deals with the respect for family life and private life.
Sibanda's family life has been ignored and the Home Office is in serious breach of the EU laws.
A deportation order under Section 5.1 was ordered by the court in 2017.
This shocking development comes as the Home Office had deported over 120 Zimbabweans between November and March 2018 to 2019.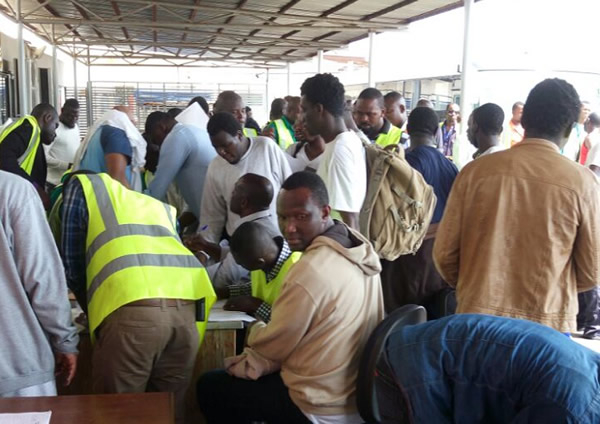 The Daily Mirror reported that: "Last week, mass deportations resumed in Britain. It's less than a year since the Windrush Scandal broke – and the review into the events leading up to it hasn't even reported back yet. This was a stark reminder that the government's 'compliant environment' policies have changed in name only: otherwise they remain as hostile as ever and continue to destroy the lives of black and minority ethnic people (BME) people – many of whom have lived in the UK since they were children.
Before the deportation flight, the Home Secretary, Sajid Javid, declared that many of the 'foreign national offenders' on the flight had committed 'very serious crimes' – later, the Home Office clarified that offences ranged from murder and rape to Class B drug convictions and dangerous driving."
Sibanda has been in the UK for over 20 years now.
Not only is Sibanda more British than foreign, he is also being punished twice (three times if you include immigration detention) for crimes he did not commit but had already served sentences for.
What the deportation cases starkly illustrate is that BME people, or indeed anyone who came here as a child, have every reason to fear that they could be deported at any time if their behaviour is deemed 'unacceptable', against the 'public good' or not meeting 'good character' requirements.
Not only are these requirements vague in their definition (ranging from acts of terrorism to instances of 'notoriety' and 'other non-conducive activities'), but we also know they are applied disproportionately against BME people because of well-documented racial biases in the criminal justice system.
Recent last-minute reprieves and appeal cases have highlighted that even factors such as settled immigration status, length of stay, or British family or children in Britain, do not guarantee citizenship rights if you have committed any kind of offence (minor or severe), or are accused of misleading the Home Office.
Children, as well as adults, are all vulnerable to being labelled 'illegal' – regardless of where they stand on the citizenship spectrum.
The 1981 British Nationality Act removed birthright citizenship but Parliament expressly intended for children born or raised in the UK to still be considered British on the basis of 'close connection to the UK'.
However, this citizenship right has been undermined by the extension of 'good character requirements' in 2006 to children registering their citizenship.
Most Zimbabweans have been denied citizenship because they have failed 'good character' requirements due to some contact with the criminal justice system in their childhood or that some time they stayed illegally.
Since the introduction of hostile environment policies in 2012, citizenship rights have been deliberately obscured, and deportation and removal targets have taken precedence over people's entitlement to be in Britain.
Home secretaries, including Javid, have claimed that the overwhelming majority of deportations were of 'illegal immigrants', but the Windrush scandal, and the steady stream of reprieves from deportation flights, illustrate that this isn't the case.
The government has continuously lowered the bar for deportations.
The test of Britishness is no longer about length of stay in Britain, 'close connection' or even having a British family or children.
It is now about what you can 'prove' through stringent citizenship paperwork criteria and whether you're able to pass a test of 'character' that is highly racialised in the way it is applied.
There is no doubt that we need wholesale reform of immigration and citizenship laws.
A good place to start would be to reintroduce birth right citizenship and to remove the application of good character requirements to adults and children who are simply registering their citizenship.
In the meantime, the government should pay attention to recommendations from Stephen Shaw, the former prisons and probation ombudsman in its own commissioned review on immigration detention and deportations: "I find the policy of removing individuals brought up here from infancy to be deeply troubling. For low-risk offenders, it seems entirely disproportionate to tear them away from their lives, families and friends in the UK, and send them to countries where they may not speak the language or have any ties. For those who have committed serious crimes, there is also a further question of whether it is right to send high-risk offenders to another country when their offending follows an upbringing in the UK."
Sibanda said he had pleaded with the Home Office to allow him to get treatment to restore his sight but this has so far fallen on deaf ears.
His lawyer has demanded 3 000 pounds sterling upfront for his case to be taken before the courts for review.
Surprisingly, most Zimbabwean civic organisations in England have not come up to support or assist him.
Sibanda will never see again if he is deported but his condition can be reversed by treatment which is available in the UK.