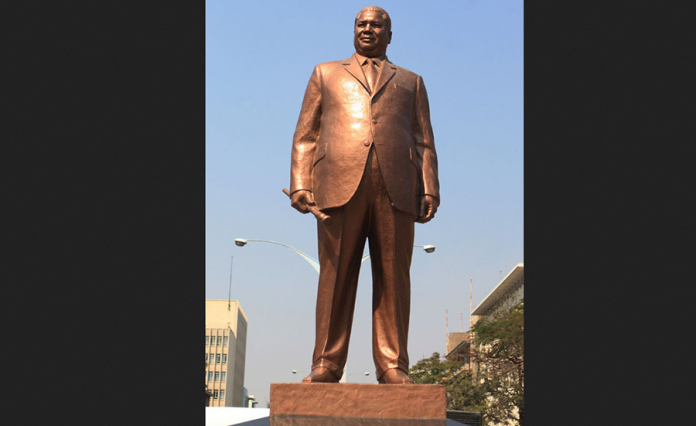 By Saul Gwakuba-Ndlovu
A VERY important Zimbabwean organisation, the Zimbabwe Tourism Authority (ZTA), prominently featured at the commemorative celebrations of the 20th death anniversary of Dr Joshua Mqabuko Nyongolo Nkomo at Bulawayo's White City Stadium on July 1 2019.
Appropriately referred to as 'Father Zimbabwe', Dr Nkomo who was the country's Vice-President, died on July 1 1999 aged 82 and his life's commemorative celebrations have been held by his family, the Government and the ZTA more or less yearly since about 2000.
The ZTA maintains that Dr Nkomo, whose Shona political nickname was 'Chibwechitedza' (the slippery boulder), is a powerful brand they can use for the effective promotion of Zimbabwe's tourism.
It is important to realise that well-organised tourism can contribute significantly to the national revenue earning capacity, by generating foreign currency.
Tourism industry's purposes can be divided into six: scenery; cultural activities or sites; health (medical) services; educational purposes; museums and relics; and entertainment.
Zimbabwe has some wonderful sceneries that include the celebrated Victoria Falls. Along its eastern boundary with Mozambique, we find the towering 'Eastern Highlands', whose scenic beauty is comparable to that of the Alps of Switzerland.
Zimbabwe's highest peak, Mount Nyangani, stands above those highlands like a military guard.
Inland, in Matabeleland South Province, there are the Matopo Hills, one of whose attractions is the World's View; a huge, lofty boulder in which is interred the remains of the notorious English imperialist, Cecil John Rhodes.
Standing on the boulder, and looking westwards, the tourist is overwhelmed by the beauty of the land lying down below, stretching as far as the eye can see.
In Mashonaland West Province, we come upon a geological enigma, the sleeping pool at Chinhoyi Caves, whose depth has not been definitely ascertained.
We can reasonably assume that that sleeping pool is home to some as yet unknown aquatic creatures many, if not all, of which are sightless because their ancestors never saw the sun.
The subterranean beauty and serenity of that ageless pool has to be visually experienced to be believed.
Outside that silent underground pool, one gets back into the world of multi-coloured chatting sparrows; a source of pleasure to lovers of nature and to those tourists who photographically record their visual experiences.
Some terrestrial animals may be seen in groups.
In addition to hills and mountains, Zimbabwe has some scenic woods, rivers and dams, such as the Kariba Dam.
Old sections of some towns have old buildings whose architecture may be of some interest to some modern town planners and architects.
Zimbabwe is a culturally rich country, particularly concerning religion, one of which is centred on Mwali, Mwari or uNgwali, a traditional deity whose abode are three or so caves in various parts of Matabeleland South Province.
Some huge trees are also associated with the traditional mode of worship, especially in some parts of Mashonaland East Province; so are some pools, some rocks and some elderly people.
Some tourists may wish to experience those aspects of Zimbabwean religious culture.
It is an exciting experience to most tourists to sample traditional dishes of the countries or nations or regions they are visiting.
Information about such dishes should be given to potential and actual tourists in advance to help them decide whether or not they would like to taste local traditional food.
Zimbabwe's traditional dishes vary from one tribal community to another, that is so especially with relishes.
There are some hot springs in parts of Zimbabwe; some of which are said to be curative, in particular to people with bone, muscular or gastric ailments.
Most of those hot springs are in the Eastern Highlands, a region which can be, more or less, compared to Carlo Vivary (formerly Karlsbad in Bohemia) in the Czeck Republic.
The Zimbabwean facilities are not as developed as those in several parts of Europe, but they certainly deserve to be promoted, especially for local people.
It is of interest that some Zimbabweans go to South Africa, India or Malaysia for medical treatment, at times for illnesses that can be managed by hydrotherapy, such as is found at some hot springs.
Specialist medical personnel may be another reason a region or country can become a very popular medical tourist destination.
A country with several (even one) university medical schools can eventually turn the country into a medical tourist destination if it can upgrade its medical courses (qualifications) and facilities adequately.
The pursuit of some particular type of education, including history, architecture and religion, have made some countries important tourist destinations.
Greece is renowned for its ancient architecture, as Egypt is for pyramids and the period when the Hebrews sojourned there at the time of Joseph and Moses.
The 20th commemorative celebrations anniversary of Dr Nkomo's death were, to all intents and purposes, an educational activity and, as such, should have started at Number Five because it was there that he lived immediately after he was employed by the Rhodesia Railways (RR) after completing his studies at Ian Hofmehr College of Social Science, Johannesburg, South Africa.
It was while living in that humble workers' environment that Dr Nkomo married Joanna Fuyana in 1949.
They moved to Bulawayo's Number Six medium density suburb, also called Pelandaba in 1958.
Their Pelandaba house was much smaller than the present one which is by far much bigger, highly modern and more comfortable.
Credit must be given to the late Mrs Nkomo, popularly known as MaFuyana, who stood against heart-breaking and mind-boggling challenges while her husband was being detained or restricted or imprisoned by the Southern Rhodesian regime.
The Nkomo family was also being harassed or intimidated one way or another by the regime's security forces at their Pelandaba residence.
The Number Five and Number Six Nkomo's former residences are obviously of historical interest, and rightly belong to those centres that must be carefully preserved as national historical heritages.
In Europe, the US, Canada, China and India, among other countries, houses that were sometimes homes of people of Dr Nkomo's historical stature are preserved by the state as national museums.
Articles used by such personages are carefully kept as national heritages.
It is most advisable that Zimbabwe should do the same as part of the preservation and recognition of its armed revolution.
Tourists would, undoubtedly, be interested in not only houses in which Dr Nkomo lived with his family and while in detention during the liberation struggle, but would also like to see such things as plates, beds, chairs, blankets and other artefacts he used during that memorable period.
Saul Gwakuba-Ndlovu is a retired, Bulawayo-based journalist. He can be contacted on cell
0734 328 136 or through email: sgwakuba@gmail.com