ON January 10 2019, The Patriot published a story titled 'ARTUZ: Union or regime change outfit?', questioning the activities and agenda of Amalgamated Rural Teachers Union of Zimbabwe (ARTUZ).
The story brought to the fore the dodgy characters behind the union and its links to Western regime change organisations.
Naturally, the story hit the wrong chords in the regime change circles.
So disturbed were the quislings that they responded in a three-paged letter full of vitriol.
Surprisingly, it was not ARTUZ that responded, but a shadowy political party called Zimbabwe Communist Party (ZCP).
ZCP came out in full force in defence of ARTUZ in a 1 442 worded letter titled In defence of the Amalgamated Rural Teachers' Union of Zimbabwe.
But after scrutinising ZCP, it became clear to this writer why ZCP responded in the manner it did, instead of ARTUZ.
Everything about the political 'party' is dubious; from its formation to its agenda.
Moreover, the Communist Party purports to be a Zimbabwean political party but is headquartered in Gauteng, SA.
Its leadership is composed of political misfits resurrected from the dustbins of other political parties.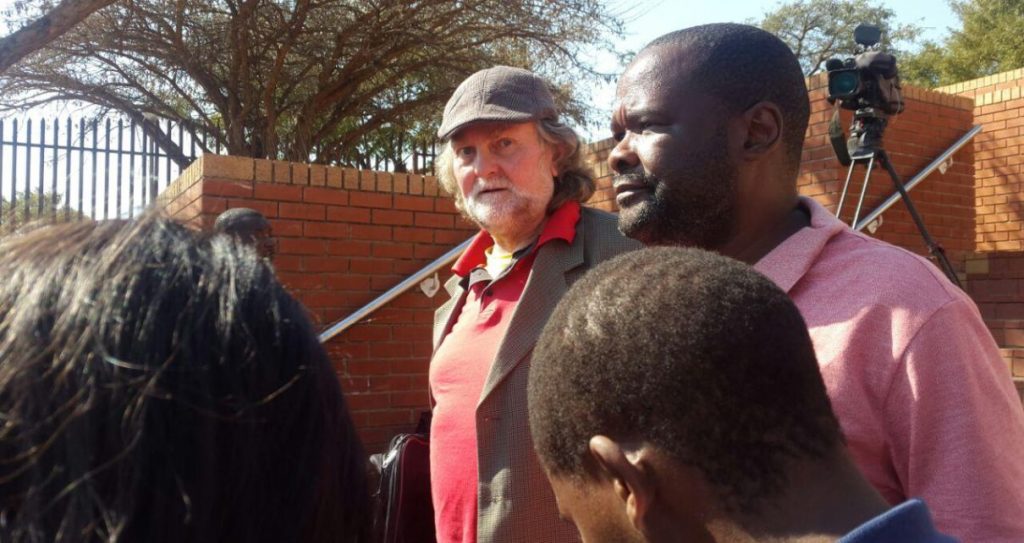 ZCP is the brainchild of former ZAPU activist Ian Beddowes.
Upon realising that their prospects at their former political parties were not bright, Beddowes and Ngqabutho Mabhena joined shadowy organisations, Zimbabwe Communist League and Zimbabwe Communist Group and passed it as a political party.
ZCP was formed at an illegal meeting held at a secret location outside Bulawayo on April 28 2017.
The police had refused to grant permission for the founding conference to be held, citing it was not a registered grouping as stipulated by the country's laws.
As a result, two of its founders, Beddowes and South African national Alex Mashilo, national spokesperson of the South African Communist Party, failed to attend the meeting.
The Communist Party is Zimbabwean only in name as most party meetings, if not all, are held in SA.
Its core-founders, Beddowes and Mabhena, are based in the neighbouring country south of the Limpopo.
The Communist Party will have its first party congress in December this year, likely to be held in South Africa.
Mabhena has used his position as chairperson of Zimbabwe Community Party in SA to garner membership from Zimbabwean immigrants in SA.
But the party has not received any meaningful membership.
The political leadership of the ZCP, the National Steering Committee, is comprised of general-secretary Ngqabutho Nicholas Mabhena, national chairperson Abednicco Sikhuni, treasurer Fabian Nkomo and national organising-secretary Trust Mazwi Mkwananzi.
Other committee members include deputy general-secretary Gift Mtisi, deputy national chairperson Loreen Ncube, secretary for Legal Affairs Benedict Mlalazi, secretary for Policy and Strategy Dr Samkele Hadebe, secretary for International Relations Benny Moyo and national commissar Ian Beddowes.
Dr Hadebe, a spent force, seems to be out of the party now as he was appointed the deputy secretary-general of the MDC-T led by Thokozani Khupe last year before elections.
But Beddowes and Mabhena make interesting reading.
Mabhena, based in SA, defected from the Welshman Ncube-led MDC where he was secretary for International Relations and External Structures while Beddowes is a former ZAPU activist.
He was ZAPU's SA secretary for the Council of Elders.
ZCP revel in the support of the British Communist Party, South African Communist Party, Congress of South African Trade Unions (COSATU) and also belong to African Left Networking Forum.
Beddowes is the editor of the Zimbabwe Communist Publishers (ZIMCOM), a subsidiary of ZCP responsible for churning out propaganda.
Originally from Britain, Beddowes was recruited as an intelligence officer by the military wing of South Africa's ANC military wing uMkhonto weSizwe.
He first worked for ZAPU in London in 1985 before being deployed to Swaziland.
He later moved to Zimbabwe where he lived for the next 31 years.
In 2015, an organisation called Oceanic Omnipresence Organisation (OOO) released a
report that Beddowes was recruiting youths from Matabeleland and sending them for training in SA.
"A recent OOO report has also intimated that the Mthwakazi group is busy training in South Africa and has so far graduated 10 youths from Matabeleland who were trained in communism, intelligence, guerrilla tactics and sabotage," reads the report in part.
This came against the background of five school-going children aged between 10 and 18 years from Emganwini and Nkulumane suburbs who mysteriously disappeared without a trace since February 2015.
The report claimed Beddowes was a field commander scouting for youths who were being trained in a conference room at a building close to a Nandos outlet in Braamfontein for a two-week course per cluster.
Beddowes has used his position at ZIMCOM publishers to write books such as Philosophy and Class Struggle and Principles of Communist Organisation and influences other writers to attack the Zimbabwean Government.
In addition, this party, which seems to have its main roots in SA, has superfluous issues.
With no party structures, ZCP lacks coherent strategies and ideology.
Despite having fly-by-night politicians like Dr Hadebe, it has a cocktail of political ideas, with most of its members being failed politicians.
In the July 30 2018 elections, Mabhena backed Dr Joice Mujuru for the presidency.
"In the absence of Dr Tsvangirai, the opposition must unite under the leadership of Dr Mujuru," he said then.
Ironically, Beddowes said his organisation had no intention of contesting in the elections, describing them as "…a contestation of individuals with no ideology and no vision."
For Beddowes, the Communist Party was to work in alliance with ZAPU, in exactly the same way that the South African Communist Party (SACP) is aligned to the African National Congress (ANC).
"It is high time that Zimbabwe has a communist party and soon after the ZAPU congress, we will launch our political education groups, aimed at building the Zimbabwe Communist Party," said Beddows.
But for Mabhena, the Communist Party was to be the vanguard of a united MDC.
He is on record saying he has always wanted to participate in the formation of the Zimbabwe Communist Party which would be aligned to a united MDC.
"Unfortunately our movement split in 2005 when some of our leaders were hijacked by white commercial farmers," said Mabhena.
And that is precisely ZCP's problem: The glamour of power, justified by a murky end goal in mind, has triumphed over sticking to their so-called ideology.
However, the Communist Party has been consistent in that it wants a Government of National Unity (GNU).
Since its inception, ZCP has been trying to force a second Government of National Unity with opposition political parties or to set up a transitional authority in what it terms 'National Economic Dialogue'.
They hope to gain power by riding onto the coattails of trade unions and NGOs.
"The Zimbabwe Communist Party, maintains its call for the National Economic Dialogue. Our view as Communists is that if we are to resolve our immediate economic challenges, we must dialogue amongst ourselves. We cannot outsource the rebuilding of our economy to anyone other than us Zimbabweans. There are those calling for a Government of National Unity, if the National Economic Dialogue will produce such, we are likely to support it. Currently there is no single party that can claim to hold keys to persuade the international community to come to our aide as was the case in 2009 [and how did that work out?," writes ZCP.
"…This National Economic Dialogue must be attended by the ruling party, the opposition parties, liberation movements from the SADC region, trade unions, informal sector organisations, progressive civil society organisations, faith based organisations, rural based formations, youth and women formations…"
This is not surprising at all.
They have aligned themselves to a teachers' union, ARTUZ, even getting arrested with them.
This week they gave a statement that national dialogue can only begin when the Government releases, without charge, the leaders of the trade unions who led the recent violent demonstrations that rocked the country.
"The ZCP has long been ready and willing for engagement on the rebuilding of the economy. In fact, we were the first to call for a national economic dialogue.
"…Free Obert Masaraure. Free Robson Chere. Free all trade union leaders. Free all political prisoners. No dialogue without the workers," said Mabhena.
They believe that by getting onto the trade unions and workers' forum, the party would have a better shot at power.
Sadly, organisations such as South African Communist Party (SACP) and COSATU have been hoodwinked and don't see ZCP for what it is, a party full of pseudo communists.
And ZCP should understand that as long as they and their partners ARTUZ continue to push for the removal of a democratically elected Government at the behest of their Western handlers, they will be identified for who they are — Western puppets serving the regime change agenda.
And people like Beddowes and Mabhena are no heroes but latest recruits joining a long list of quislings eager to sell their souls for a few pieces of silver.