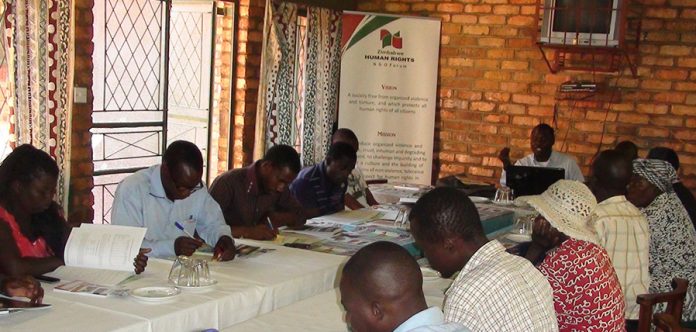 UNDER the ambit of the Zimbabwe Human Rights (ZimRights) Forum, NGOs, last week, generated a 2018 Post-Election Violence Monitoring Report, claiming over 199 people had either been abducted, assaulted or killed in eight days from August 1-9 2018, by ZANU PF supporters, security personnel and traditional leaders.
The report was compiled by well-known regime change organisations, Amnesty International Zimbabwe, Counseling Services Unit (CSU), Zimbabwe Lawyers for Human Rights (ZLHR) and Zimbabwe Peace Project (ZPP).
The allegations were not supported by any specifics, as many of them are based on social media rumours.
There are no names for the alleged perpetrators and victims, while there are undisclosed perpetrators of sexual torture.
However, the forum claims it mainly relied on its so-called monitors, citizens' reports received via their Ziso/Ilihlo platform and social media platforms.
"The Forum secretariat and members deployed a team of monitors and lawyers to observe and assist victims in Harare Central Business District (CBD), Dzivarasekwa, Highfield, Chitungwiza, Waterfalls, Kuwadzana and surrounding areas," reads part of the ZimRights Forum report.
"Reports were collected by human rights monitors across the country and shared across the network.
In order to ensure a co-ordinated response to cases of organised violence, members operating on the ground came together to share and verify information as well as to co-ordinate responses.
"This is the first report by the consortium which covers the period 1 to 9 August 2018. A total of 199 violations were documented from 1 to 9 August 2018."
The report was passed to the European Union, Foreign Observer Missions and African Diplomatic Missions.
In addition, it was peddled to Western embassies in Harare.
On August 9 2018, the Forum chairperson, Jestina Mukoko, who is also ZPP national director, wrote a letter to African diplomats titled 'Appeal to the African Diplomats' claiming over 199 people had become victims of post-election violence since August 1 2018.
Said Mukoko: "The Forum, which has so far handled over 199 violations of human rights since August 1 2018 to date, plead with the African Diplomatic Community to intervene.
History tells us that African Governments tend to listen and respond positively when the message comes from their fellow African brothers and sisters.
And they increase repression when there is silence.
The people of Zimbabwe would be truly grateful for such intervention."
The Patriot gathered that upon further enquiry from Government, the head of CSU (which is a member of the ZimRights Forum), Dr Frances Lovemore, who claimed to have attended to 108 victims, said she needed time to verify the claims in their report.
This is despite the fact that the report had already been peddled to the world as fact.
However, it has become a norm for CSU to fabricate lies of 'mass killings' in Zimbabwe after every election.
In 2008, Dr Lovemore courted controversy when she wrote to the then US Ambassador James McGee purporting 171 people had been killed and dumped in some of Zimbabwe's lakes.
"Dr Frances Lovemore believes there were at least seven small lakes, mostly near Marondera in Mashonaland East, where bodies of political victims have been dumped," wrote Ambassador McGee in WikiLeaks cables 08Harare779 generated on August 28 2008.
"The other six dams where Lovemore believes bodies have been dumped include Faroh (which provides water for the city of Marondera), Clark, George Farm, Chinyika/Goromonzi, Epworth quarry and Nyezi."
The CSU has been fanning ethnic hatred and violence since its establishment in March 1993 as Amani Trust.
Having been exposed as a regime change outfit, Amani Trust was rechristened CSU in 2003.
Its founding Board of Trustees, chaired by Anthony Reeler, had nine members — all white, except one black Catholic Archbishop Pius Ncube — whose preoccupation with ethnic hatred later grew into an obsession.
The Mashonaland Trustees later included Professor Geoffrey Feltoe (joint chairperson), Dr Frances Lovemore, Dr Faith Ndebele, Dr Mary Bassett, Dr William Johnson, Fr Edward Rogers S.J., Sr Janice McLaughlin, David Kitson and Beatrice Mtetwa.
With funding from the British High Commission, Royal Norwegian Embassy, Swedish Embassy, USAID, Miserial (German Catholics) and DANIDA and with co-operation of ZimRights and the Catholic Commission for Justice and Peace (CCJP), Amani Trust's main focus was fanning tribalism and violence to achieve regime change in Zimbabwe.
Riding on the Gukurahundi narrative, a coalition of NGOs championing ethnic hatred was assembled and involved organisations such as Amani Trust, Zimbabwe Lawyers for Human Rights, Imbovane yaMahlabezulu, Legal Resources Centre and others which adopted themes such as 'We shall Forgive, but Never Forget, we want an Apology'.
Such a theme was meant to spark international outrage.
In 2000, Amani Trust founding director, Reeler, published Organised Violence and Torture: A Zimbabwean Case Study accusing Government of 'racism and the security services of aiding militia groups that targeted opposition supporters'.
As the norm, the report also absolved violence by the MDC as self-defence.
From then on, Amani Trust worked hand-in-glove with the MDC sourcing funds for the 'compensation and treatment of MDC victims of political violence' – a mission the CSU claims to be pursuing to date.
Housed at Number 1 Raleigh Street, Harare, the CSU purports to 'provide medical and psychological care for victims of organised violence and torture'.
When the MDC launched a court petition challenging the 2002 election results, Amani Trust 'cooked' evidence and brought witnesses on behalf of the MDC.
It's on record Amani Trust rented and bought houses for so-called MDC victims of political violence in Glenview, Harare.
The same year, Reeler published a report on alleged 2002 post-election violence in Mberengwa East constituency which was sent to the Foreign and Commonwealth Office in London for the attention of John Elliot, the Head of the Zimbabwe Desk.
Reeler further recorded a video titled Zimbabwe: A Home Divided, which was heavily edited to show the police arresting University of Zimbabwe (UZ) students.
It must be noted that Reeler produced another fake report titled History of Organised Violence and Torture in Zimbabwe: An Overview which was researched by Deborah Makoni, Fidelis Mudimu and Tafadzwa Dzinoruma.
It is also important to observe that after Amani Trust had been exposed as a regime change outfit, in December 2002, Reeler relocated to South Africa, only to resurface four years later as founding director at Research and Advocacy Unit (RAU) in February 2006.
Since February 2013, he is senior researcher at RAU.
Reeler's track record as a regime change agent is glaring.
Educated at St George's College in Harare, Reeler attended the then University College of Rhodesia, reading for a Bachelor of Law.
After obtaining a Bachelor of Arts in Psychology at University of Exeter and Master of Science in Clinical Psychology from University of Leeds, Reeler was moulded into an agent of regime change.
He uses his research and academic skills to promote regime change, mainly through writing research reports and articles.
Reeler has published widely in the fields of human rights, governance and elections.
He, however, spends significant amounts of time executing NGO programmes designed to effect regime change.
Reeler was founding chair of the ZimRights NGO Forum in 1999, a member of the founding committee of the Crisis in Zimbabwe Coalition in 2001 and previously a committee member of the Zimbabwe Election Support Network (ZESN).
He was an active member of the Core Partners of USAID from 1999 to 2003 and was involved in the setting up of the Tree of Life Trust — and is a current Trustee.
Reeler is also a member of the National Transitional Justice Working Group Zimbabwe (NTJWG) – a group of seven people leading over 40 NGOs working together to document evidence that will be used to send ZANU PF officials to jail in the event the MDC comes to power.
The evidence gathered by the NTJWG and its ancillary structures is deposited with the International Centre for Transitional Justice (ICTJ) whose headquarters is in New York, US with the regional headquarters situated in Cape Town, South Africa.
In 2000, Reeler led a mission to Europe and the UK to 'publicise' the plight of purported torture victims and, in 2001, was part of a civil society delegation to the EU, the UK and the US to push for the imposition of illegal sanctions against Zimbabwe.
Apparently, he works closely with Ibboston Mandaza's Southern African Political and Economic Series (SAPES) Trust in publishing research reports attacking the Government of Zimbabwe.
Mandaza and Reeler are the co-conveners of the Platform for Concerned Citizens.
In May this year, Reeler warned Zimbabwe would likely descend into chaos, whatever the result of the presidential election.
Speaking at a public debate hosted by SAPES Trust in May this year, Reeler urged opposition parties in Zimbabwe to 'create a crisis that would result in international intervention'.
This is no different from the then Amani Trust's activities were he was founding director because in January 2003, the organisation was implicated in the petrol bombing of a house in Kuwadzana, Harare.
It's alleged the Trust was also running 'safe houses' in various high density suburbs, housing opposition youths who were on the police wanted list.
In 2005 Amani Trust funded the production of films in which the MDC youths depicted ZANU PF youths as the sole perpetrators of political violence.
The films were distributed in the US and the UK.
In one of the films, an MDC youth, Tonderayi Karimakwenda, is interviewed by the late UZ lecturer and regime agent John Makumbe.
Before renaming itself CSU, Amani Trust admitted it was working alongside churches in Zimbabwe.
"The church remains more or less the only legal forum within which we can speak out and provide a space for victims and the truth," said Shari Eppel then director of the Trusts' Matabeleland Chapter.
Not surprisingly, CCJP became the mouth-piece of Amani Trust's activities on issues of ethnic hatred and violence.
Today, having 'transformed' from Amani Trust to CSU and still under the guise of offering psychological help to victims of violence, Dr Lovemore's CSU continues to manufacture lies in order to effect regime change in Zimbabwe.
Remember this is the same CSU that 'counselled' Shepherd Maisiri from Headlands who claimed ZANU PF supporters had torched a hut, killing his disabled son Christpowers who was sleeping in it.
It later turned out Shepherd Maisiri had a track record of setting his houses on fire in order to avert paying back loans for agricultural inputs.
On that particular incident, it happened his son was in the hut and died in the inferno.
The CSU was found wanting and if the latest report by the ZimRights Forum is anything to go by the CSU must be held accountable for fortifying falsehoods.