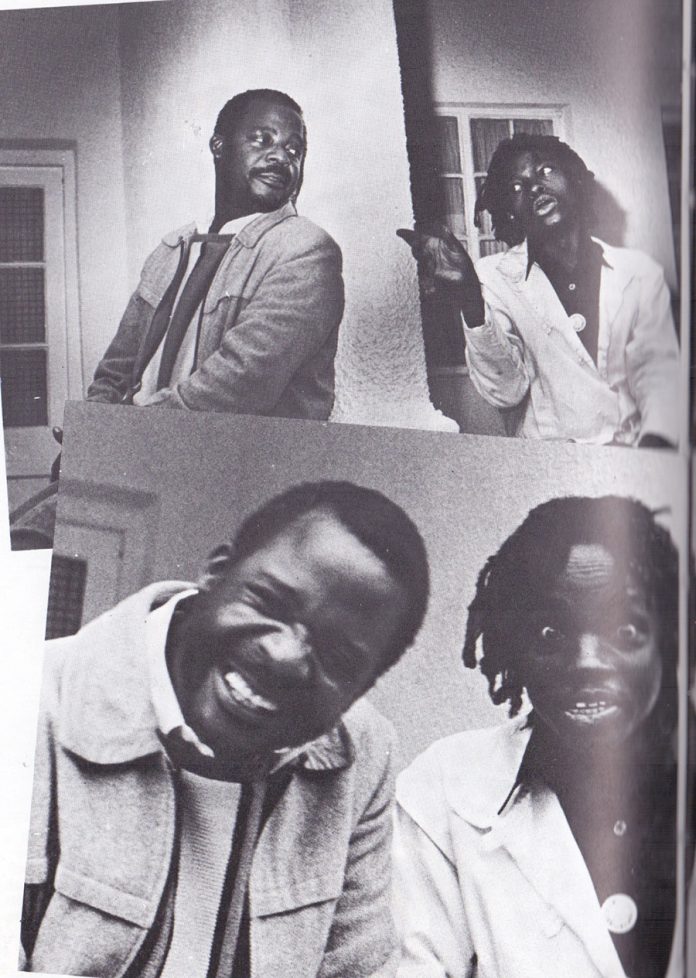 Dambudzo Marechera 1952-1987
By Dambudzo Marechera
Compiled and edited by Flora Veit-Wild and Ernest Schade
Baobab Books, Harare (1988)
ISBN 0-7974-0838-X
THE first instalment dwelt mostly on how Dambudzo Marechera's ink and energies were concentrated on dislodging the brutal Ian Smith regime by belting screaming literary works that denigrated the colonialist government which did not serve the majority.
Chances are, if you can read and write, you have come across Marechera's works or heard of him.
It is well-documented that the Smith regime used a heavy-handed approach to silence dissenting voices, and, of course, Marechera was not spared.
Having endured brutality at the hands of Smith's lieutenants, Marechera decides to pursue his studies in exile in the UK, along with a handful of other academics from the country's then sole university, University of Rhodesia.
However, there seems to be a glitch in how Marechera's writings have been perceived.
It is quite unfortunate that Marechera has almost been misappropriated from the narrative of struggle, often being cast as a snob who shunned his culture and lost his moral compass the minute he stepped into the UK for studies following his expulsion from the University of Rhodesia at a time when his kith and kin were taking up the gun to fight the white regime.
However, Dambudzo Marechera 1952-1987 vindicates Marechera as a lone voice screaming from abroad, whose pitch and clarity of speech drowned all other sounds in the vicinity when he spoke.
Driven into exile by the ever-diminishing opportunities for the black folk back home, Marechera was to continue going against the grain in UK where he failed to conform to the seemingly endless regulations.
In many ways, Marechera is cut from the same cloth as the late Alexander Kanengoni, that great literary giant whose unapologetic patriotic works saw him etch his name on the international scene, along with the likes of Charles Mungoshi and Musaemura Zimunya, among others.
Many have intimated that Marechera wasted a lifetime's opportunity at Oxford University, which is extolled as the '…open sesame to every fantasy of European-measured success.'
Marechera, on the contrary, viewed Oxford education as the ultimate negation of his individual existence as a man of the universe, but he felt Oxford sought to put him across as a brilliant writer from Rusape representing African writers.
"I think I am the doppelgänger whom, until I appeared, African literature had not yet met.
And in this sense I would question anyone calling me an African writer. Either you are a writer or you are not. If you are a writer for a specific nation or a specific race, then f**k you. In other words, the direct international experience of every single living entity is, for me, the inspiration to write.
But at the same time, I am aware of my vulnerability — that I am only me — and of my mortality; and that's why it seems to me always a waste of time to waste anybody's life in regulations, in ordering them…"
Even in death, Marechera's works have found no match, with a couple of wannabe Marecheras losing it the moment they try to ape his lifestyle, copying his writing style; yet Marecherera was who he was because he was true to himself.
Not often do you come across a person who can criticise his/her own image in the mirror. That was Marechera for you.
This high level of introspection is exhibited in 'Dambudzo interviews himself', a prose text that strives to explore facets of Marechera's life often missed by journalists he had granted interviews.
On which writers influenced him, Marechera answers: "In my own case I have been influenced to a point of desperation by the dogged through brutalised humanity of those whom I grew up."
And while Marechera refused to see himself as a black writer, that is who he was exactly, after being forced to take up the pen at a time when he saw not many blacks had taken up the initiative.
"I did not see a book by a black author until I was in Form One, at boarding school — Ngugi's Weep Not Child. And that was mindblowing — that sealed and signed the earlier fumbling connection. I suddenly knew what I would do with my life — write stories, poems, plays. Write!"
And write he did.
Dambudzo Marechera 1952-1987 carries poems such as 'Parliament', 'Pub Conversation', 'The Book's Spokesman's Apology', 'Darkness a Bird of Prey', 'Here we go again' and 'Construction Site', among others.
Prose texts and essays include: 'Twilight by the lake shore', 'Fuzzy Goo's Guide (to the earth) as told to Dambudzo Marechera', and 'The Sound of Snapping Wires', among others.
To read Marechera's whole life's episode, biography, writings, published and unpublished works in one book, visit Dambudzo Marechera 1952-1987, a book recommended for your collection.