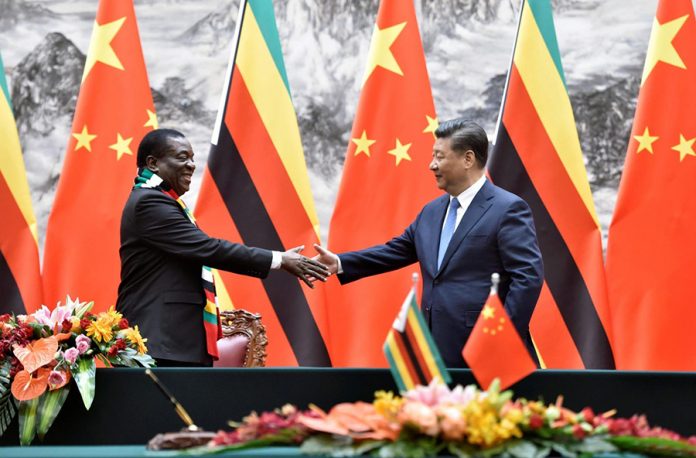 PRESIDENT Emmerson Mnangagwa was among the 53 African Heads of State and Government officials who were in China for the 2018 Beijing Summit of the Forum on China-Africa Co-operation (FOCAC) over the past few days not to make up the numbers.
He had a serious mission in the giant Asian country; bringing Zimbabwe back to where it belongs.
For Zimbabwe, it was not about the country being part of the high-powered delegations that visited China.
There is a story about the China-Zimbabwe relationship that has yet to be fully told.
Beijing played a major role in bringing freedom to Harare, but along the way, something was lost in the din of euphoria.
China, our fervent liberation struggle supporter silently and perhaps agonisingly watched from afar as Zimbabwe swiftly drifted from the ideals of the liberation struggle.
It is common cause that he who helps you in times of need is a friend for life.
Yet in China we 'forgot' our past, and with it, our future.
This is the future President Mnangagwa has been trying to rebuild through his overtures to the Chinese.
And the lingering question remains: Do we find the same China that was there for us in our time of need in our current reengagement efforts?
Yes; we find a China that is willing to work with us regardless of our past.
In Beijing this week, China opened its hands for Zimbabwe as a way to consolidate the long-standing relationship.
Yes, there were many countries vying for China's attention, but Zimbabwe would naturally get first priority.
As said above, our liberation struggle relations with China gives us a comparative advantage over others.
China was not a bully when it helped us fight the colonialists.
It was itself coming from certain circumstances that have since manifested in Zimbabwe.
A leadership devoid and far detached from the aspirations of the majority.
Yet the Zimbabwe renaissance story will never, and cannot, be written from that perspective.
Zimbabwe has, under difficult circumstances, defied odds in its now globally renowned success story, in particular, an economic environment characterised by hostile economic sanctions.
The Zimbabwean President told the Chinese media soon after his arrival for the Summit that 'we have to draw from our resolve in order to beat the US sanctions'.
We are a nation that has strived to rebuild an economy that has been ravaged mainly by internal factors.
Still, that can never be an excuse for whatever challenges we faced in the past.
There is something that Zimbabwe brought to the table in China — our resources!
And such platforms as the current administration has been demonstrating, are no longer platforms for the 'yes sir' approach.
These are platforms from which Zimbabwe can, and will, achieve maximum benefit, especially on the economic front.
Significantly, this trip was about consolidating Zimbabwe's return to the 'league of nations'.
It was about consolidating Zimbabwe's return to the epicentre of the global economic stage.
There have been futile attempts to label Zimbabwe a 'failed state' but as history has proved, Zimbabwe is what the globe needs.
Zimbabwe has been duly re-engaging with the world, not as a weak, vulnerable player but as a significant asset to global development.
It is on the cusp of achieving something big as a nation and there could not have been a better time than the FOCAC Summit.
Zimbabwe was there not as a mere spectator, but as a nation that can, and will, contribute significantly to the global economic affairs.
Zimbabwe is ready to unravel itself to a resource-hungry world and China, forever the good friend it is, has once again showed great commitment towards developing Africa by unveiling yet another US$60 billion package.
This is the second package in just three years that Zimbabwe will have to tap into.
The future is indeed bright.