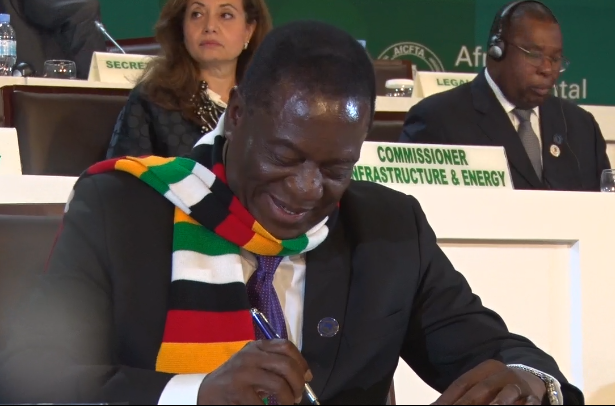 REVELATIONS that MDC Alliance leader Nelson Chamisa plans to ambush South Africa President Cyril Ramaphosa during his visit to Zimbabwe next month made interesting reading not least because of the boy's penchant for childish antics but his failure to follow the proper political channel, in so far as international relations is concerned.
Chamisa wants to 'brief' President Ramaphosa on what he says is the deteriorating situation in the country!
Zimbabwe's foreign policy, particularly President Emmerson Dambudzo Mnangagwa's engagement and re-engagement agenda, has been gradually gathering momentum with the globe warming up to Harare's economic revival efforts.
Last week, the country scored yet another diplomatic endorsement when EU Foreign Affairs ministers refused to endorse vile recommendations from the EU Parliament to extend economic sanctions against Harare.
Prior to the EU Foreign Affairs ministers' meeting on February 18 2019, there had been fervent attempts by MDC Alliance scions and their colleagues in the civil society to have more sanctions imposed on the country.
The move backfired spectacularly but the opposition has yet to comprehend the fact that the country is moving forward without them and their self-proclaimed 'importance' which is no more than a farce and mirage.
This column has, time-and-again probed the MDC Alliance's claims that they have what it takes to develop the country.
We have argued that they do not have the capacity to do what they claim they can do besides their self-serving 'apparitions'.
Zimbabweans have since read through those lies and are now in a better position to make informed political decisions based on the lies that the opposition has made since Chamisa grabbed power during the late Morgan Tsvangirai's burial in February last year.
We have pointed out in this column that if they have the capacity to turn around economic fortunes of this country, as they claim, they can start with the local authorities they control.
They can bring their powerful 'friends' from the West to 'help' give quality service to the populace.
But all we have seen are disturbing reports of gross incompetence, shocking corruption by their out-of-sorts councillors and pervasive lethargy from the same.
Residents are drinking dirty water, if it is available, while such basic things like street lighting and repair of traffic lights go unattended.
Yet the point that must be unequivocally emphasised is that the country under the tutelage of ED is marching towards economic prosperity.
That thrust is firmly anchored on his November 24 2017 inauguration speech where he promised to shake off the 'pariah state' tag that had become synonymous with the previous administration.
ED has been covering every corner of the globe as he reaches out to a world that had turned its back on Zimbabwe.
"Fellow Zimbabweans, as we chart our way forward, we must accept that our challenges as a nation emanate in part from the manner in which we have managed our politics, both nationally and internationally, leading to circumstances in which our country has undeservedly been perceived or classified as a pariah state," said President Mnangagwa during his inauguration speech.
This week, Botswana President Mokgweetsi Eric Masisi was in Harare for the inaugural Zimbabwe-Botswana Bi-National Commission (BNC).
Zimbabwe's relations with Botswana had been frosty prior to the assumption of office by presidents Mnangagwa and Masisi.
The thawing in relations has opened doors for increased co-operation between the two countries, especially in the diamond mining area.
The Diamond Trading Company Botswana processes more than 30 million carats per annum according to mmegionline.com.
This is the expertise that Zimbabwe requires, especially as its foreign policy has seen it securing partnership deals with Chinese and Russian diamond mining companies Anjin and Alrosa, respectively.
The two companies are expected to start mining diamonds before mid-year.
Writing in The Sunday Mail on December 9 2018, President Mnangagwa revealed diamond mining would anchor the country's foreign policy.
This thrust is supported by the Diamond Policy which was approved by Cabinet late last year.
"Given our past, the Diamond Policy was always going to be more than a mining affair. It has become a foreign policy issue, both for better and for worse," President Mnangagwa wrote in his column.
"On the positive side, it means this policy is a potent tool for our engagement and re-engagement efforts. We make no qualms about this. Our abundant natural resources must lend depth and opportunity to our diplomacy and foreign policy goals.
"This new policy protects the national interest, while meeting the expectations of the Kimberley Process Certification Scheme. The equity structure which the policy prescribes firmly secures our national interest.
"So, too, does its interest in and coverage of all stages of the diamond value chain, which are exploration, mining, processing, sorting and valuation, beneficiation and value addition, marketing, capacity building, security and compliance. Indicative global revenues by value chain segment reveal the link between this new diamond policy and our goal of protecting the national interest."
With presidents Masisi and Ramaphosa coming to endorse the trajectory that ED has taken, surely there is no more time for nebulous politics by those who do not wish the country well.
There should be no stepping off the gas by ED so that he can pay attention to hollow noise coming from the other side.
Zimbabwe has been firmly embraced by the world, minus the noise makers.
The future is bright.
Let those with ears listen.