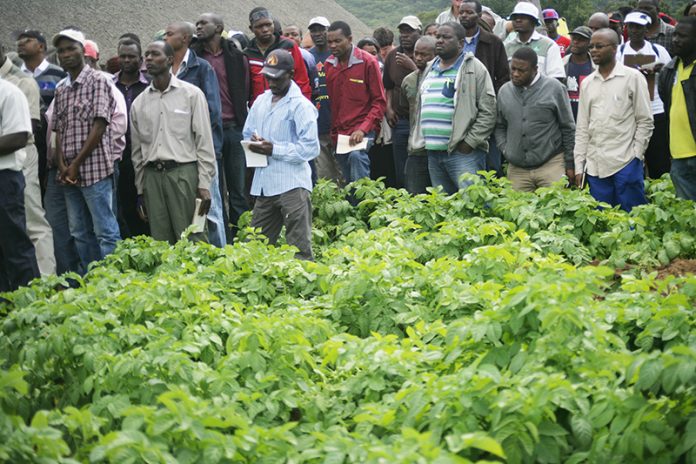 and Eng Raymond Nazare
THE food insecurity that has until recently stalked Zimbabwe, but for the vision to embark on the highly successful Command Agriculture, is a direct result of limited technical expertise in the country's farming sector.
While we have drawn some dry comfort in blaming climate change-induced droughts, the truth is we have lacked the technical capacity to take our chances as it were.
Desert countries such as Israel and, until recently, Libya have used technical know-how to turn deserts into greenbelts ensuring food security for their citizens.
In Zimbabwe, our focus to date has largely been directed to mobilising financial and material resources for agriculture. This is understandable, for without seeds, fertilisers and chemicals there can be no agricultural production.
Similarly without appropriate mechanisation equipment, there can be no meaningful agricultural production.
Now we all agree that agriculture is both a business and a science.
The farmer is the businessperson.
He must have the capacity to plan and execute his operations. Planning the agricultural enterprise requires a unique set of skills.
The farmer needs an understanding of the basics of budgeting, keeping records, monitoring and controlling costs.
In short, farmers need to be financially literate.
Just as large corporations need financial support services, so do farmers.
These technical support services must be deliberately and consistently provided the same way sports teams receive regular training practice, with their coaches in attendance. Once-off encounters with agri-business bank staff are not enough.
But do farmers have ready access to financial advice?
The truth is the majority do not.
So what happens when they take out large loans that must be serviced with proceeds from their farming businesses?
To ensure the success of our agriculture, deliberate steps must be taken by Government and other stakeholders to put in place programmes that provide farmers with continual financial technical backstopping and education.
The second aspect on technical support services relates to equipping the farmers with the knowledge to successfully produce crops and rear livestock.
This is the area where the farmer must become a 'scientist' in the sense that he must have an appreciation and understanding of how the systems he is operating to 'make money' work. This does not require laboratory experiments or use of technical jargon.
Our indigenous languages are adequate to communicate the science of agriculture.
Let us look at a few typical agricultural enterprises as examples to see what constitutes technical support information required by farmers.
Maize is considered by many Zimbabweans to be the easiest crop to grow.
Surprisingly, our national average maize yields hardly ever exceed 800 kg/ha.
In an extremely wet agricultural season such as the 2016/17 one, yields in excess of 10 metric tonnes per hectare were achieved by many farmers.
But when average yields for all planted maize fields are calculated, the figure falls well below that of even the low-yielding varieties.
Clearly, many of our farmers still need a lot of hand-holding to close the productivity gap.
In dry years, we can explain the low crop yields as resulting from drought-induced poor crop growth.
Even then, smart farmers use various tricks to harvest the little rain that may fall to harvest big!
They use the science that they learn from researchers and extension staff.
But are the teachers always accessible and knowledgeable?
In wet years such as the just-ended 2016/17 cropping season, we must admit that some of our less than optimal maize yields reflect farmers' limited know-how on correct maize crop husbandry practices.
How many farmers or so-called farm managers knew about splitting their top-dressing nitrogen fertiliser to mitigate against leaching losses due to heavy rains?
How many farmers ever got to successfully control the fall army worm which 'chomped' and chewed large tracts of maize fields?
The above observations point to the need to strengthen extension support services to farmers.
In this column, we have previously advocated re-tooling and rejuvenating AGRITEX through deliberate sustained development refresher courses and workshops covering the latest technologies as well as animal and crop husbandry practices.
We have likened farmers to a football team where a full-time coach and his assistants must constantly be in attendance.
And the coaches also undergo various training workshops.
We are fully aware of the financial challenges currently facing the country, but in the same spirit that led Government to boldly commit millions of dollars to Command Agriculture, so must it channel adequate resources to provide farmers with the best extension support possible to ensure the same farmers obtain the highest yields possible.
We have called on Government to demand universities and colleges of higher education to demonstrate their relevance by contributing to the provision of appropriate technical support services beyond publication of academic papers.
While we admit the primary function of universities and other colleges of higher education is to teach, we submit that teaching and 'academic' research divorced from the practical realities in the field is sterile and of no use in developing the country's economy.
Any researches being undertaken by so-called 'academic' institutions must be rolled out and tested in the field to add value to agricultural and other value chains of our economy.
The knowledge-based economies characterising most developed and emerging economies require each country's citizens to generate scientific knowledge through dedicated and targeted research.
We also need that research and information-led development thrust in our agriculture.
Large quantities of information and technologies already on the shelves and repositories of university libraries must be re-packaged, polished and availed to our farmers with appropriate easy-to-read books and information sheets.
The knowledge emanating from 'academic research' must be turned into goods and services that benefit the country.
Patents to protect the intellectual property rights should be piling up in the academic institutions of Zimbabwe.
Gone are the days when we Zimbabweans have stood and admired the so-called academics parading with gowns of various colours, basking in the 'glory' of academia at graduation ceremonies.
On a positive note, it is pleasing to note that Government is beginning to seek the contributions of intellectuals housed in universities to find solutions to the country's economic challenges.
That is how the game is played and should have been played all along.
Academics must be called to account and tasked to provide leadership in researching and engineering solutions to our economic challenges.
That is the mandate of 'land grant' universities in the US. Ours should be no different!
In the next episode we shall explore the 'how to do it' dimension of farmer technical support where the farmers and their support staff must be taught the 'science' of agriculture.