THE controversial decision by FIFA to ban Zimbabwe from all international football activities until the Sports and Recreation Commission (SRC) lifts its suspension on the Felton Kamambo-led ZIFA board did not come as a surprise but was confirmation that the world governing body which has been rocked by shocking corruption and incompetence scandals is living up to its billing as an entity that protects and defends its fellow criminals, no matter the circumstances.
On Thursday last week, FIFA confirmed what some of us have known for a long time, that its suffocating stench of rottenness knows no boundaries, it permeates almost all football mother bodies and duly protects them from public scrutiny.
Never mind the ruse that FIFA does not entertain what it calls 'political interference'.
The reality which is manifesting itself through the ongoing Russia and Ukraine conflict where footballers have been 'allowed' to protest against Moscow's move against Kyiv is that FIFA is a political entity which is amenable to issuing political statements as and when it suits its handlers.
That FIFA has taken a position on a wholly political issue between Russia and Ukraine confirms that here is an organisation whose double standards stink as the corruption that has rocked the beleaguered entity over the years, the same corruption by ZIFA that has been exposed by the SRC and has been swept under the carpet under the guise of non-tolerance of political interference.
We will never tire from exposing the glaring loopholes in FIFA's decision to ban the country from all football activities until sanity finally knocks on the world governing body's doors.
Here are the facts:
On November 16 2021, the SRC announced that it had dissolved the ZIFA board over a litany of charges that ranged from misappropriation of funds, sweeping under the carpet allegations of sexual abuse and match-fixing.
Instead of FIFA looking and launching an investigation into the matter, the organisation which turned down the SRC's request to establish a normalisation committee in 2019 as well as the suspension of ZIFA secretary-general Joseph Mamutse on November 26 2020, wrote a letter to the SRC threatening Zimbabwe with a suspension.
Curiously on Thursday last week, FIFA secretary-general Fatma Samoura wrote to Mamutse informing him of the decision to ban Zimbabwe, saying FIFA would only lift the suspension if and when the SRC reinstates the ZIFA board.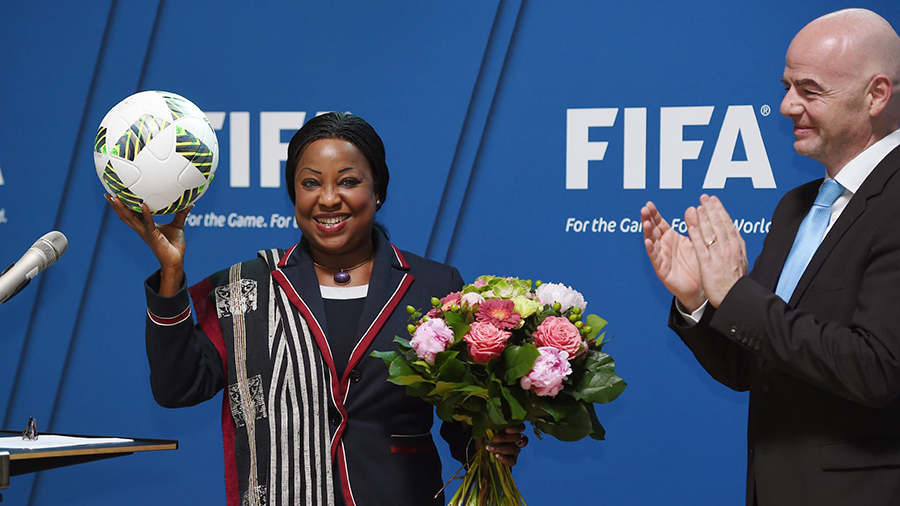 "The FIFA Council considered that the aforementioned circumstances were serious and constituted a clear case of undue interference by a third party. Therefore, on the basis of article 14 paragraphs 1 i) and 3 of the FIFA Statutes — as well as article 16 paragraph 1, under which the FIFA Council may, without a vote of the congress, temporarily suspend with immediate effect a member association that seriously violates its obligations — the FIFA Council decided to suspend ZIFA with immediate effect due to flagrant violations of the FIFA Statutes," Samoura wrote to Mamutse.
"Furthermore, and without prejudice to the ongoing investigations into the allegations of sexual harassment and bribery, the FIFA Council decided that the lifting of the suspension be subject to the following conditions:
The repeal of the SRC decision of November 26, 2020 suspending the ZIFA general-secretary
The repeal of the SRC decision of November 16, 2021 suspending the ZIFA board
The repeal of the SRC decision of December 17, 2021 setting up the restructuring committee
FIFA's receipt of confirmation from ZIFA and its management, led by president Felton Kamambo and general-secretary Joseph Mamutse, that ZIFA and its premises are once more under their full and unconditional control
The withdrawal of the SRC's legal complaint against the ZIFA president, three other ZIFA board members and the general-secretary regarding alleged misuse of the ZIFA letterheads
"Consequently, and in accordance with article 13 of the FIFA Statutes, ZIFA loses all its membership rights as of February 24, 2022 until further notice. ZIFA representative and club teams are, therefore, no longer entitled to take part in international competitions until the suspension is lifted. This also means that neither the ZIFA nor any of its members or officials may benefit from any development programmes, courses or training from FIFA and/or CAF.
"Finally, notwithstanding this suspension imposed on ZIFA and in line with FIFA zero-tolerance policy towards corruption, sexual abuse and any other unethical conduct, FIFA reiterates its commitment to cooperating with any ongoing investigations regarding alleged sexual harassment and bribery by ZIFA officials. FIFA will, therefore, remain at the disposal of the national authorities and plaintiffs with respect to the above during the suspension period."
While Kamambo and his gang are basking in the glory of the ban which they called for, we would like to let him know that he is not just a nuisance but a national security threat.
And due processes shall be followed.
In the same vein, we are in support of the stances that have been taken by the SRC Chairman, Gerald Mlothswa and that of the Minister of Youth, Sport, Art and Recreation, Kirsty Coventry.
The duo have taken a pro-Zimbabwean stance, saying FIFA was offside.
Let us start with Mlothswa who on Friday last week poked holes into FIFA's decision to ban Zimbabwe.
"In essence, it appears that FIFA is constrained by the provisions of its own statutes to protect certain of the undoubted sexual predators, fraudsters and corrupt administrators at the helm of football administration in Zimbabwe. All this in the name of shielding ZIFA from, to quote FIFA in its letter "… undue interference from a third party," Mlotshwa said.
"It is a fact that some of these administrators are facing, inter alia, charges of sexual harassment, bribery, fraud and general corruption before Zimbabwe's Courts. FIFA has the full details of these matters.
"It is clear that FIFA has interpreted these very serious charges as 'mere allegations', notwithstanding its "…zero tolerance policy towards corruption, sexual abuse and any other unethical conduct.
"Both FIFA and CAF are fully aware of an insidious culture of sexual harassment perpetrated against female football referees in Zimbabwe. For the eighteen months lapsed since these allegations were brought to their respective attention, neither body has initiated any tangible investigation focused on culprits whose names are known to them."
Then Minister Coventry's endorsement of the SRC's position on the ban.
"Part of our new ethos and what you will see in the Zimbabwe Sport Integrity Bill being formulated now, is reference made to Good Corporate Governance. A part of this bill will require all sporting bodies to uphold the integrity of our nation's sport. What does this mean? Well, in any business or, governing bodies, or even foundations and NGOs members are required to uphold the values and ethos of these bodies and at no point put them into disrepute," said Minister Coventry in a statement last week.
"If a member does bring the organisation into reputational queries the member is normally requested to step aside and deal with their issues before readmitted. This is done to protect the organisation, to protect their stakeholders.
"So why I am talking about this now? Well, firstly this was never done in the case of ZIFA management and Board. They continuously go in and out of court and all the meantime run football. Why would we expect anything to change in their governance if there is nothing requiring them to change?
"Throughout these two years it became very clear our responsibility is to protect our stakeholders, our main stakeholders are our sportspersons. If there are no athletes there are no, federations, National, Continental or International. When we received these allegations of sexual harassment and abuse last year and found out that nothing had been done to protect
the women, it was the final straw that broke the camel's back. This is what lead to the suspension of the ZIFA Board and Secretary General".
Once again we reiterate that Kamambo cannot hold the nation to ransom for his own selfish interests.
An end to this madness is on its way.