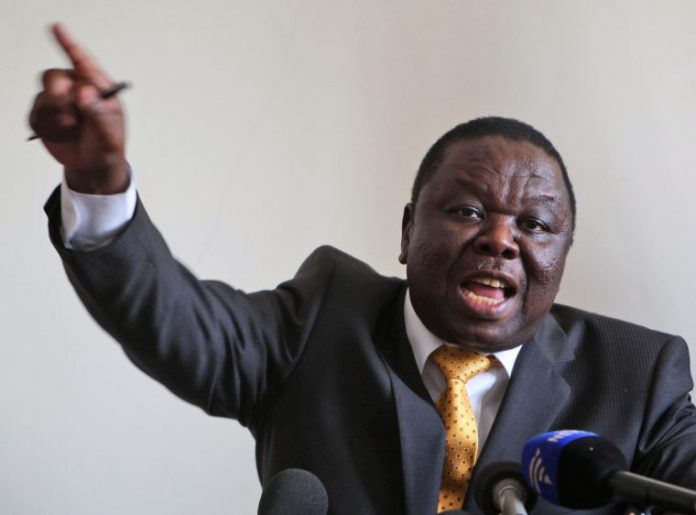 THIS time there was no hiding the violent streak of the MDC-T as they turned on each other.
The 'opposition' party's thugs were unstoppable as they brawled like angry old elephants.
Since its formation on September 11 1999, violence has been the hallmark of the MDC-T party.
Strangely or rather unsurprisingly, some top MDC-T officials immediately endorsed the violent attacks on the party vice-president Thokozani Khupe and her hapless colleagues.
It is crucial to note these are the same people who claimed they are here to 'free' Zimbabweans from ZANU PF 'bondage'.
Since 1999, the country has lurched from one crisis to another, all created by and at the behest of the MDC-T whose mandate is to get into power through means outside the ballot box.
The country is currently grappling with the rampant effects of illegal economic sanctions wrought by the West after the MDC-T called for them to antagonise the masses.
The party makes noise about democracy but will not even allow its vice-president to do what she wants with her time.
It is no surprise that the party has been rejected at every election it has participated in since its formation.
The MDC-T is a party born out of violence and draws its strength from it.
In 2000, Tsvangirai set the tone for what is now the MDC-T template of operation when he said:
"We say to Robert Mugabe, if you don't want to go peacefully, we will remove you violently."
And true to form, his party's violence has not spared anyone.
We give here a brief overview of what has befallen those who have dared to oppose the belligerent MDC-T leader.
l September 2001: MDC lawmakers —Priscilla Misihairabwi-Mushonga, Gabriel Chaibva, Edwin Mushoriwa and Janah Ncube were assaulted while attending a provincial executive meeting in Dzivaresekwa.
l September 2004: MDC youths try to kill party director of security, Peter Guhu.
l September 2004: Bulilima MP Moses Mzila Ndlovu assaulted.
l May 2005: Priscilla Misihairabwi-Mushonga assaulted at Harvest House.
l April 2010: Toendepi Shonhe (party director-general) and Chris Dhlamini (security director) assaulted outside Harvest House.
Consider the following report by online publication, Bulawayo24 on the MDC-T violence on party vice-president Khupe:
Reporters were barred from covering the meeting (that was invaded by Tsvangirai youths) but (national organising secretary Abednico) Bhebhe later told journalists that the 'thugs' (who beat up Khupe) had indicated to them that they had been sent by (Morgan) Tsvangirai (MDC-T) leader.
"We are a democratic party and democracy should prevail.
"We are all shocked somebody sent a team from Harare to come and beat us up. That team came in the name of the president (Tsvangirai). We are going to confront the president and ask him why he will send a team to beat us up. We want to find out," Bhebhe said.
In 2005, Trudy Stevenson had this to say about Tsvangirai and MDC-T violence according to a report by the pro-opposition pirate radio station SW Radio.
In 2006, the then Arthur Mutambara-led MDC claimed that MDC-T members attacked then MP for Harare North constituency Trudy Stevenson and three other party provincial executive members.
Speaking to SW Radio, Stevenson said she recognised one of the people that attacked her as Tonderai Ndira, who was suspended from the MDC for violence in 2005.
Said Stevenson:
"And that is definitely a Tsvangirai person… and in fact I believe it was Tonderai who took one of the vehicles by force as well (last year) and they have never returned the vehicle despite a court order."
There is more.
In February 2014, then MDC-T deputy treasurer-general Elton Mangoma and former youth assembly national secretary-general Promise Mkwananzi were assaulted outside their party headquarters at Harvest House.
Their crime?
Opposing Tsvangirai's continued stay as leader of the MDC-T following the party's July 31 2013 annihilation by ZANU PF.
Mangoma and former secretary-general were vocal and unequivocal in their stance that the MDC-T had performed dismally in the July 31 2013 harmonised elections because in their own words: "Tsvangirai was no longer sellable to the electorate."
In April 2014, Biti narrowly escaped a thorough hiding by Tsvangirai's marauding thugs who accused the Harare lawyer of 'selling' out by breaking ranks with the MDC-T leader.
They took their violent trait to the Zimbabwe Grounds where the MDC-T signed what they claimed was a coalition that would remove ZANU PF from power in next year's elections.
The Tsvangirai youths booed everyone who has crossed their leader's path in the past.
With the MDC-T unleashing violence on their own, it is critical that the country's esteemed security forces be on high alert as the opposition thugs may be out to tarnish the country's image.
Let those with ears listen.