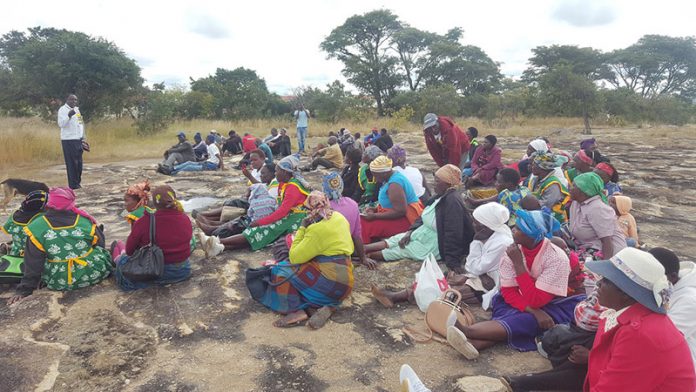 AUTUMN is upon Unyetu once again.
Keats's season of mists and mellow fruitfulness.
It is a season of abundance.
Around the winter fires, the wise will proffer Shakespearean wisdom; fair is foul, foul is fair.
Indeed all is not what it seems.
Election season is with us and history has a knack of repeating itself.
There has been an unmistaken outpouring of philanthropic spirit.
Village funerals are a particularly favoured arena.
The leading pack ahead of upcoming primary elections distinguishes themselves through generously donating for the benefit of a pliable gathering.
I am always favoured with detailed briefings on the goings on each time I am in the village.
At the rate at which things are happening, one can only plead with the Almighty for a slowdown in the death rate, otherwise the leading young man will choke.
Recently revived development associations mushrooming at school, constituency and district levels have not made it any better for the main protagonists.
Not only should the protagonists be seen to be generous in their support for the various initiatives, but must play the lead donor role.
For here we preach self-reliance and our main donors are non-other than our MPs or prospective MPs.
And at every turn they must remind us of the beasts they have donated at national events, the buildings they have roofed, the orphans whose fees they have paid and the funerals they have sponsored.
In village parlance they are 'donor redu'.
The current stampede is a replay of 2012-3 election season. Then there was unprecedented overflowing of opaque beer as imbibers struggled to cope with the abundant supply.
And when results did not go the way of one such beer donor, it's alleged he opened the tapes to a beer bowser, emptying it to the ground in protest.
He had lost the election.
Clearly, elections our side of heaven have become a game to financially out-muscle each other.
But it's not always in such black and white terms.
For how does one explain the case of a village worker who is giving fellow contestants a good fight in the councillorship race? He came to the area over a decade ago looking for employment and got employed as a cattle herder, a post he has kept to this day.
His pre-Unyetu origins are unknown.
He has no deep pockets, but is on the verge of becoming a councillor.
But should he prevail over 'more deserving' candidates, that is democracy, as 'perfected' in the Western hemisphere.
Fidel Castro and Muammar Gaddafi were lone voices in questioning the lunacy.
Unyetu, like Zimbabwe, has a very high literacy rate.
For over half a century it has produced its fair share of bright prospects.
Hopefully this untapped potential will awaken one day.
I was naturally thrilled to hear that the primary school alumni has come together to plough back to the community.
As they battle with opportunists in the noble cause, my mind is flashing back to the Unyetu School of 1972 where I began my Grade One.
Unyetu school toilet of 1972 is my oldest toilet memory.
In the village we just used the bush in what donors now mock as 'OD'.
I have faded memories of the latter experience.
The school toilet, however, traumatised me.
I recall going there during the rain season barefooted and coming out spitting and angry.
The memory gives me goose pimples to this day.
With God's grace, I still made it to here with no typhoid or cholera to distract me.
Nothing will satisfy me more than knowing that no Unyetu child should ever undergo the same toilet trauma I experienced at Unyetu School in 1972.
But all those wishes begin with having the right leadership from grassroots level.
We need leaders and not donors.
Given our fair share, we can develop our areas.
We need leaders with people at heart, leaders who are mentally sharp and leaders with Solomon's wisdom.
It matters little whether they are appointed or elected as long as they have those attributes and are willing to be our servants.
We need leaders who are always listening to our crying needs, lobbying for our fair share of public resources, creating an enabling environment for wealth creation and owning the development agenda.
That way we can finally bid goodbye to my 1972 Unyetu primary school toilet.