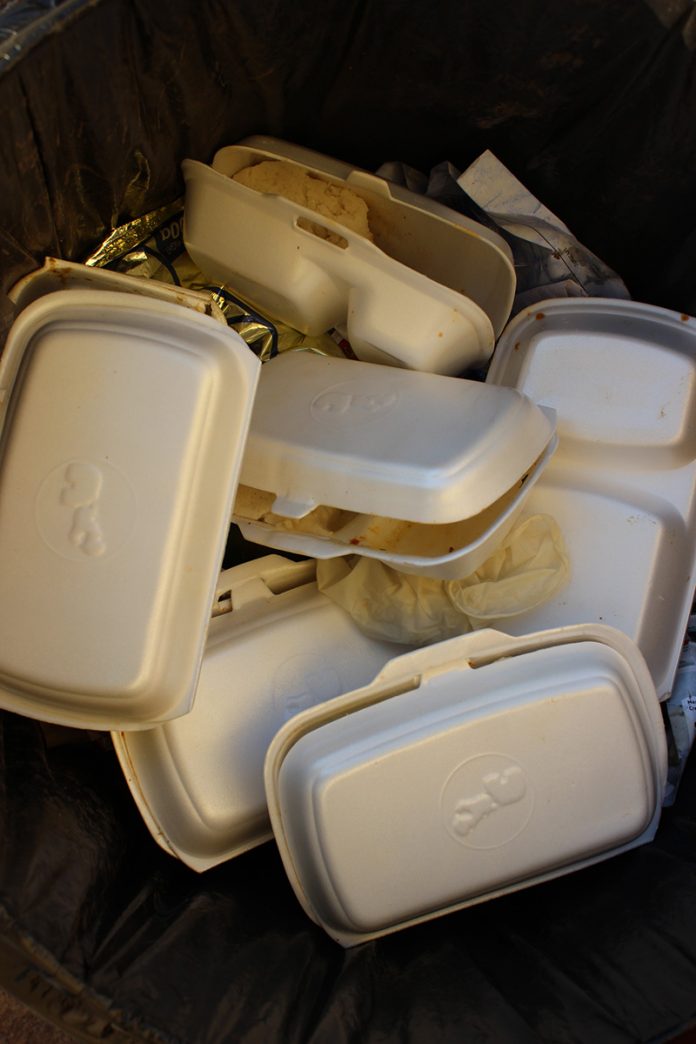 IT's been months now since the ban on 'kaylites', which have been mostly used by the food industry for packaging.
While some traders are still using kaylites, it appears others are increasingly adopting alternative packaging.
Environmental Management Agency's (EMA) public relations manager, Steady Kangata said the agency was aggressively encouraging the use of alternatives.
"We are encouraging the use of alternatives such as paper-based packaging because this is bio-degradable," Kangata said. "Companies like Innscor, KFC and Nandos are using this.
"In fact, entities like Nandos have been using this for decades.
"Other forms of packaging can be corn-based packing which is biomass-based and is usually used on airlines.
"Edible packaging is also being used for ice-creams.
"Other forms of plastics which can be recycled can be used.
"The reason we have banned kaylites is because they are uneconomical and cannot be recycled.
"Kaylite is 95 percent air and five percent plastic, so as you recycle you are trying to recover that five percent plastic."
Kangata said the agency was working with other departments to ensure there is no more importation of the banned kaylites.
"There is no longer importation of kaylites since the ban and we are working with ZIMRA and the Zimbabwe Republic Police to ensure this is adhered to," he said.
"The informal sector has already adopted other forms of packaging.
"It is only in the informal sector that you still find some players using kaylites.
"However, during our inspections, we confiscate in situ.
"At the last count, on introduction of the ban, there were 10 million kaylite packages."
The 3 Rs principle of reducing, reusing and recycling — cradle to the grave principle and the polluter-pays-principle — have become common across the world and have led to the ban of material that cannot be re-used or recycled.
Locally, companies such as Waverley Plastics, Environment Africa and Miracle Missions, among others, have become leaders in the recycling business.
Zimbabwe has in recent years grappled with litter, with loads of illegal dumping points mushrooming all over the country and diseases emanating from these dumpsites.
Kaylites constitute most of the waste.
Former chairperson of EMA, Professor Sheunesu Mpepereki, said the country needs to continue educating the public on the dangers of using kaylites to achieve the set target of total eradication.
"Kaylite is not easy to recycle and there is need to ensure they are totally removed from our environment," said Prof Mpepereki.
"There are many dangers arising from their use, including health complications in the future.
"There are so many cancer cases and we actually suspect that kaylites could be among the factors contributing to the rise in cancer cases."
He said there are studies being carried out at the University of Zimbabwe to find other uses of kaylites.
"There is a research which is being done at the University of Zimbabwe where the kaylite is being mixed together with other materials to make concrete slabs. Once successful this could be one way of totally removing kaylites from circulation," said Prof Mpepereki.
Lynn Chidamba, from Harare, said since the ban on kaylites, she has resorted to using a lunch-box from home.
"Since the ban on kaylites, as a customer I have had only two options; either to bring some take-away container or sit-in for my meals.
"I do not like sit-ins, so I bring a takeaway container which I use and leave at work."
Tatenda Machingura, another Harare resident, said the restaurant he frequents now requires customers to bring their own packaging.
"The restaurant I go to instructs customers to bring in take-away containers and so I use the colour-less plastic container which I am re-using. I store it safely so that it does not break because it is convenient and easy to store. However, I would prefer paper-based packaging because it is not toxic and it is bio-degradable," said Machingura.
Kenya has banned the use, production and selling of plastic bags, with those caught doing so risking up to four years imprisonment or
US$40 000 fine so as to deter plastic pollution.
This is one of the 40 countries which have banned the use of or taxed single plastic bags, other nations that have done so include China, France, Italy, Malawi, Cameroon, Mali and Tanzania.