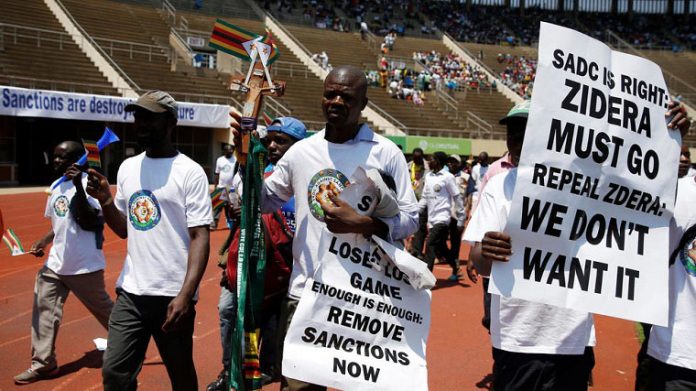 By Tafadzwa Masango
EVENTS leading to the Anti-Sanctions Day exposed the puppet masters behind the opposition movement in Zimbabwe.
For years, ZANU PF has argued that Zimbabwe is at war with super powers that are using the MDC opposition movement as a front for their regime change agenda.
Never has there been such an overt push by some Western embassies to attack ZANU PF and Government with such tenacity as was witnessed last week.
The straw that broke the camel's back
On August 18 2019, SADC countries declared October 25 a solidarity day against illegal sanctions imposed on Zimbabwe and resolved to conduct various activities in their respective countries on that day to resoundingly call for the immediate removal of the sanctions. Additionally, several Heads of State and Government took it upon themselves to take this call a month later, in September to the United National General Assembly and made the call for the removal of the illegal sanctions on Zimbabwe.
The unity and solidarity displayed by SADC brothers and sisters at the United Nations General Assembly was just the tip of the iceberg.
The imposers of these illegal sanctions probably thought the call for the removal of sanctions would fizzle out and Zimbabwe would once again be left as the lone voice crying in the dark.
We have witnessed each time our brothers and sisters on the continent stand with us against these imperialists, they are threatened into withdrawing their support.
Threats range from subtle actions, such as delays in balance of payments, denial of loans, flaring up of tensions in their countries and outright calls telling our brothers and sisters to stop supporting us.
As October 25 drew near, it was apparent there was a hive of activity across the region as each and every country was making preparations to stand in solidarity with Zimbabwe.
While this was a cause for concern for those who are fighting against Zimbabwe's economic independence, the greater cause of concern was that Zimbabweans from all walks of life were now articulating, researching and demystifying lies around the sanctions.
The great books say: "My people perish because they lack knowledge."
Over the past few weeks, Zimbabweans and many across the globe have been unpacking their knowledge and destroying all the lies that have surrounded the illegal sanctions regime.
We have seen business people, students, women, artists and children, all articulating how sanctions have directly affected them, their businesses, families, education, health and other facets of life. 
We have seen people calling out the US and the EU on their hypocrisy when it comes to the rhetoric around the imposition of sanctions.
Educate the people
Knowledge is power — and an empowered people are a threat to Western hegemony.
Why was the education of slaves illegal in the US?
The education of slaves was illegal and even those who had been freed were discouraged from learning.
Freed slaves, who did receive education, got mostly religious instruction. The religious instruction immensely centred on ensuring that blacks were blinkered to focus on the promise of heaven while shunning earthly wealth, which lo and behold was what their owners were enjoying!
It was believed, and it is still believed to this date, that literacy was a threat to the institution of slavery in America.
First, literacy facilitated knowledge about the successful slave revolution in Haiti of 1791-1804, the end of slavery in the British Empire in 1833 and the writings of abolitionists.
Secondly, literacy allowed or potentially allowed slaves better access to information about the Underground Railroad (in the US) and other routes to freedom.
The US is unique in that it is the only country known to have prohibited the education of slaves.
Nonetheless, both free and enslaved African-Americans continued to learn to read and write as a result of the sometimes clandestine efforts of African-Americans themselves, as well as schools and informal education that operated during this period.
In addition, slaves used storytelling, music and crafts to pass along cultural traditions and other information.
To this day, African Americans continue to be directed towards careers and opportunities that have no bearing on their emancipation from the mental slavery they are still shackled to.
This is why the American establishment finds it outrageous that the few black persons in the sporting field are standing up against racism.
Undiplomatic diplomats
We witnessed the most undiplomatic behaviour this past week, as Ambassador Brian Nichols and Timo Olkkonen literally took over the roles the opposition leaders and political commissars.
What is apparent is that, within the opposition ranks, there is an understanding that indeed these illegal sanctions are hurting the ordinary Zimbabwean and it would be political suicide to be seen swimming against the anti-sanctions tide.
As the opposition was mum, Nichols and Olkkonen had to personally shed off their diplomatic robes and get into the trenches to fight against the popular anti-sanctions drive.
Nichols was forced to work overtime, churning out all sorts of propaganda in defence of the sanctions regime and when he saw that Zimbabweans were having none of it, he shifted his narrative to blaming corruption for Zimbabwe's economic woes.
A word for Ambassador Nichols, aka Zimbabwe opposition leader: Blaming corruption for the devastation caused by the US illegal sanction regime on Zimbabwe is pointless. In the words of the late social commentator Dr Oliver Mtukudzi,:"Wongorora chikonzero chaita musoro uteme…."
Corruption, much like the black market, are aimed at making the 'economy scream'.
What did the US Government think was going to happen as part of the process of illegally removing a constitutionally elected Government?
Through illegal sanctions, the US opened the door to many of the malfeasance we are witnessing in our country today.
As I pointed out earlier, once a people have knowledge, they become very difficult to oppress!
A Foreign Policy Group, March 2019, article by Stephen M.Walt, a professor of International Relations at Harvard University, titled 'America's Corruption Is a National Security Threat' is the proverbial example of how those in glass houses should not throw stones. Part of the article reads:
"Donald Trump is one symptom of a wider problem that's making the United States weaker on the international stage. Since 2016, of course, concern for corruption has been riveted on the sleaze show that is the Trump administration. As the New York Times revealed last fall in a remarkable investigative report, US President Donald Trump's life since boyhood has rested on assorted frauds, tax scams, and shady business dealings, and his recent conduct suggests high office did not alter the family's modus operandi. Since becoming president, Trump has breezily ignored the emoluments clause of the Constitution, handed taxpayers a multimillion-dollar bill for his frequent trips to his own properties, appointed his daughter and son-in-law to sensitive positions for which they are manifestly unqualified, and surrounded himself with a host of shady characters. Former campaign chairman Paul Manafort and several other campaign advisors has been convicted of fraud or other crimes, former National Security Advisor Michael Flynn has been convicted of lying to the FBI, and Environmental Protection Agency Administrator Scott Pruitt and Interior Secretary Ryan Zinke both resigned over ethics violations. Secretary of Labor Alexander Acosta is under fire for the plea deal he gave the wealthy and well-connected accused sexual predator Jeffrey Epstein back when Acosta was a US attorney in Florida, and Secretary of Commerce Wilbur Ross continues to serve despite serious conflicts of interest.
Instead of fulfilling his campaign promise to 'drain the swamp', Trump dug it wider and filled it deeper. Small wonder that the United States has fallen out of the ranks of the top 20 'least corrupt' nations — according to the watchdog group Transparency International — and is now considered a 'country to watch' by that non-partisan organisation."
Ambassador Nichols has no moral ground to lecture anyone on corruption when it is clear that, presently, the White House is the Command Centre of the cesspool of corruption in the US.
Instead of sticking his little fingers in Zimbabwe's affairs he might want to explain to us why the US has been kicked out of the top 20 least corrupt countries in the world.
Could it be because the US is fast-sinking into corruption under President Trump!