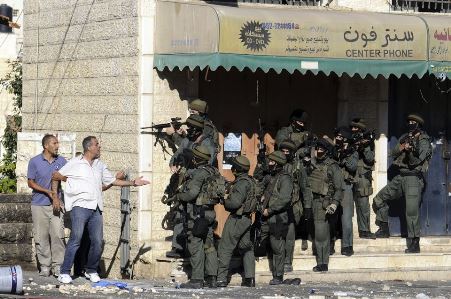 AS I write close to 200 Palestinians have been killed by Israeli air raids and artillery fire and over 1 000 people have been wounded.
Women and children make up 60 percent of those injured.
For over a week, Israel has hit the Gaza strip with air strikes and artillery fire which has destroyed more than 150 homes and badly damaged hundreds of others.
So far, no Israelis have been killed, although HAMAS has fired hundreds of rockets since the fighting began on July 8 2014.
An army spokesperson for Israel said that they had intercepted more than 160 of the rockets fired by HAMAS.
Despite increasing calls for a ceasefire, Israeli Prime Minister Benjamin Netanyahu, has said that the military will continue hitting the Gaza saying he has no idea when the 'operation' will end.
The operation, according to Western propaganda, began when three Israeli youths were kidnapped and killed on June 12 by suspected HAMAS agents. Also the firing of pathetic rockets from the Gaza into Israeli territory.
There have been reports that the Israelis are using chemical weapons and some of the chemicals induce cancer.
A Norwegian doctor working at Shifa Hospital, in Gaza City, told reporters that some of injuries that wounded and killed Palestinians have experienced are consistent with the use of banned weapons.
Doctor Mads Gilbert is not some fly-by-night doctor, but has been working for years in Gaza.
He is well known for being the doctor who revived a woman from the lowest survived body temperature ever recorded, in 2000, in northern Norway.
In 2009, Human Rights Watch (HRW) accused Israel of using internationally banned weapons in its three-week long war on Gaza in late 2008/early 2009.
In a 71-page report titled, 'Israel's Unlawful Use of White Phosphorus in Gaza', HRW said indiscriminate use of white phosphorus ammunitions had killed civilians in Gaza.
The United Nations (UN) confirmed that white phosphorus was used on numerous occasions in civilian areas by the Israelis.
White phosphorous is one of the chemical weapons that the Americans accused Iraqi President Saddam Hussein of using against Kurds in the 1990s.
According to Amnesty International, "Israeli forces used white phosphorous and other weapons supplied by the USA to carry out serious violations of international humanitarian law, including war crimes."
Israel is in direct violation of international and humanitarian law conventions by targeting of civilians.
International rights groups and the American government seem to place less emphasis on the atrocities of Israel.
Syria was placed under sanctions and has been ordered to destroy its chemical weapons while Israel goes scot free.
Israel is not accountable to anyone; in fact Israel was one of the countries alleging that President Assad's forces were using chemical weapons.
I guess they should be considered an authority on identifying the telltale signs of chemical weapons as they have had years of experience, using it on Palestinians.
Dan Sanchez gives a description of the disparity of arms between the American-backed Israeli war machine and Palestinian weapons.
"They (Palestinians) are like fish in a barrel, being blasted by a shotgun from above. It's like some of the fish in the barrel pathetically spitting water at the gunman, and the US media calls that a shooting battle."
Since 2000, Israel has killed 1 500 children while Palestinians have killed 132 Israeli children.
Documents by the Washington DC-based Jerusalem Fund, claim that Israel breaks more ceasefire than Palestine.
The Jerusalem Fund says Palestinian launches are rare and sporadic and occur almost always after successive instances of ceasefire violations.
Israel can fire into the Gaza and claim self defence, however, any attack by Palestinians is an act of terror.
In its findings the fund noted in particular the conduct of American media in covering violations by either Israel or Palestine.
During the period the Jerusalem Fund carried out its research, Israel violated the ceasefire 120 times, of these violations, only 17 were reported by America's newspaper of record, The New York Times.
In most of the 17 reported cases, the paper classified the violations as in response to Palestinian violations.
Noam Chomsky makes a notation that HAMAS is regularly described as "Iranian-backed HAMAS which is dedicated to the destruction of Israel."
This is in order to create the wrong impression of the democratically elected Hamas to the American public.
In 2009, Amnesty International reported that Israel killed 450 when it broke the ceasefire; during that round of fighting, only 13 Israelis were killed, several by friendly fire.
Head of a UN fact finding mission, Justice Richard Goldstone presented to the Human Rights Council in Geneva, in September 2009 in which he urged the council and the international community as a whole to put an end to impunity for violations of international law by Israel.
To date nothing has been done by the world's policeman, America, to end Israel's violations of international law.
However, this has not stopped America of accusing others of using white phosphorus.
America accused Taliban militants of using white phosphorus weapons on at least 44 occasions during its occupation of Afghanistan.
In America, people have become immune to reports of Palestinians being killed by Israeli military arsenal.
First, Palestinians have for so long been depicted as terrorists who cannot stand the state of Israel.
Long before Osama Bin Laden, the Palestinian people were portrayed as the threat to the state of Israel, an ally of America, in the Middle East.
It is with this back story that today, it is normal that the average response from Americans is that Palestinians should learn to live with the Israelis and stop bombing them.
The narrative that Israel is an aggressor state is missing and the American people continue with their lives with no idea that their tax dollars are used to support a regime that has all, but destroyed the Palestinian nation.