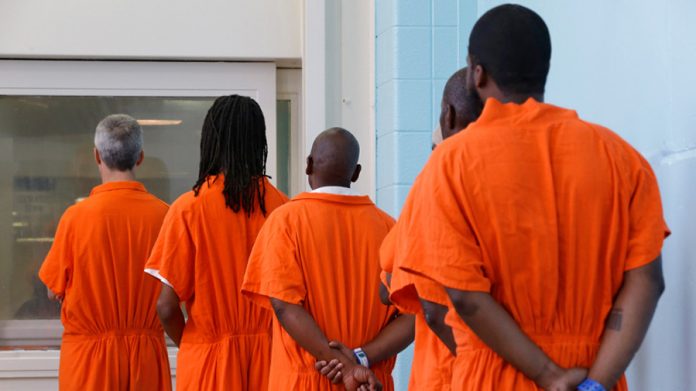 A WHILE ago, Harvard Law Professor Bruce Hay made a presentation on the silence of lawyers in the face of America's two-tier criminal justice system. Part of that resonation reads:
"The fact is, we operate two criminal justice systems in the United States. One is for affluent white people, who when accused of crime are treated as citizens, as people with rights. They get the benefit of the constitutional protections we boast about in textbooks and television shows, protections like due process and trial by jury and proof beyond reasonable doubt. And they are often shown great leniency for very serious crimes, including homicide.
The other system is for poor people and racial minorities, who are treated more like trash to be removed from the streets. They are policed as if they (are) enemy combatants; churned through overcrowded, underfunded courts that traffic in guilty pleas and long prison sentences for minor offenses; and harassed or killed by cops whose brutality would never be tolerated against those whose wealth and skin color entitles them to the privileges and protections of the first system."
More than 60 percent of all people in US prisons are now racial and ethnic minorities, and the majority are poor. 
The wealthy rarely make it to court, and when they do, their lawyers get them off with a slap on the wrist.
A classic example is that of General Motors (GM). As far back as the early 2000s, GM knew about a defect that shut off the engine while driving and prevented airbags from inflating.
The worst part of all of this is that GM knew about the defect, but refused to fix it; instead choosing to cover it up.
Ultimately, the defect forced GM to recall a total of 30 million cars and caused a total of 124 deaths.
Despite this wrongdoing, GM executives avoided prosecution. No one went to jail.
Instead, GM entered a deferred prosecution agreement in which it had to pay a US$900 million fine and be subjected to three years of federal monitor oversight.
In another case, in 2013, it was revealed that Wells Fargo, the fourth largest bank in the US, created a toxic culture of coercing employees to hit lofty sales targets under threat of being fired.
As a result, employees engaged in fraudulent activities such as opening unauthorised accounts for customers, opening credit card accounts that customers did not apply for, and even forging client signatures on documents.
Only lower-level employees were terminated and Wells Fargo paid a
US$1 billion-dollar settlement.
British banking giant, HSBC, admitted to laundering billions of dollars for Colombian and Mexican drug cartels (among others) and violating a host of important banking laws (from the Bank Secrecy Act to the Trading With the Enemy Act), yet US federal prosecutors made a decision not to indict and, as usual, no one went to jail.
Instead, HSBC was allowed to settle for US$1,2 billion (which may seem like a significant amount until one realises just how much of a profit the bank earns each year). An analyst noted that the fine was about five weeks of income for the bank.
Assistant Attorney General Lanny Breuer admitted that drug dealers would sometimes go to HSBC's Mexican branches and "…deposit hundreds of thousands of dollars in cash, in a single day, into a single account, using boxes designed to fit the precise dimensions of the teller windows."
The bank executives were not prosecuted and the Government's rationale in not pursuing criminal prosecutions against the bank was apparently rooted in concerns that putting executives from a "…systemically important institution…" in jail for drug laundering would threaten the stability of the financial system.
The New York Times put it this way: "Federal and state authorities have chosen not to indict HSBC, the London-based bank, on charges of vast and prolonged money laundering, for fear that criminal prosecution would topple the bank and, in the process, endanger the financial system."
This is the same government that seizes houses, bank accounts, cars, and other assets of ordinary Americans suspected of drug involvement.
For simple possession of drugs, first offenders get two to 10 years in prison and a fine of up to US$20 000. However, the people who were actually part and parcel of the drug trade only got to defer their bonuses by a couple of months.
Even when these 'fine' citizens, who belong to the privileged class, commit individual crimes and cannot hide behind the protection of the large corporations they own, they still receive VIP treatment.
Robert H. Richards IV, for example, a whiteman who comes from a very rich family, was given probation for the crime of raping his three-year-old daughter.
The rationale?
The judge felt he would not "…fare well…" in prison.
Another man convicted of rape, Brock Turner, sexually assaulted an unconscious young woman by a dumpster on Stanford University's campus.
The anonymised victim wrote a riveting letter, detailing her traumatic experience and her difficulty coping with it. The authorities refused to show Turner's real mugshot, and he was ultimately sentenced to a mere six months.
Why was a rapist given such a light sentence?
Because the judge said jail would have a "…severe impact…" on him. Turner was released after serving only three months.
It would seem the general view among judges in America is that, rich white people will not fare so well in prison, and deserve a second chance, even those who murder, rape and plunder life savings of the poor.
In contrast to the slap on the wrists for those who rape, engage in the drug trade, or intentionally murder motorists, Tonya McDowell, a 34-year-old single black mother was arrested for sending her son to a school outside his home district and sent to prison for five years.  
The homeless mom sent her son to elementary school in Norwalk, Connecticut, instead of Bridgeport, where he was supposed to go.
McDowell used a baby sitter's address to get her son enrolled in the school, which she felt was the best place for him to be. The state has accused McDowell of stealing US$15 686 worth of education from the city of Norwalk.
Nearly all schools in black neighbourhoods lack the proper resources and teaching staff, and yet, just a few streets away in the white neighbourhoods, the children of white folk get to enjoy quality education.