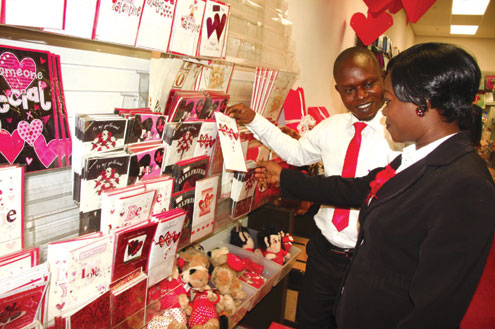 By Lastman Matangakunwa
TODAY (Friday February 14) is Valentine's Day and the daughters of black men are going to paint the town red.
The women are going to dress in red and expect to receive red carnations from known and unknown admirers.
A long time ago, I read from an article featured in The Herald that the celebrated Valentine had been a thief; a poacher of other men's women.
An incorrigible romantic over whom women swooned because women love bravado.
Because women go for the incorrigible maverick.
The Herald said that a man wanting to celebrate Valentine sent an anonymous card and flowers to the woman he desired.
Even another man's woman!
And the excitement was derived from the woman's capacity to identify and swoon over the evil man.
And, that is exactly the point of this story because in our society, Valentine clearly puts the credibility and moral standing of mudzimai wanhasi on very slippery ground.
After taking wedding vows that blinker her eyes onto one man, she wants to belong to the gracious women's group.
She wants to be mudzimai wemunana in Makandiwa's fellowship.
She demands respect from a patriarchal society she accuses of sexually objectifying her.
She wants to be the woman who is the invisible and invincible strength behind every great man.
She wants to be portrayed as the helpless victim of rape and sexual innuendoes. She wants to be portrayed as the wayfarer on the straight and narrow.
And yet today, on Valentine Day, mudzimai wanhasi is looking out into the new day, hoping that some stranger will steal her from her husband.
She wants to be the willing victim of a philanderer.
In this context, Valentine Day is a foreign tradition that wreaks several black people's homes every year.
In many a black man's home, the question is going to be asked today kuti: "Who gave you those flowers?"
Or worse still: "Where are the flowers I sent you?"
Me, I know why Valentine is not celebrated among us.
I know why he is killed.
The liberation war generation must surely remember the war song by the comrades: "Sabhuku magariro ako naamwe, kutora akadzi aanhu/ kana uine ngozi, watofa shamwari."
I know that during the war, Valentine's case was a serious one that easily led to death.
In 2013, the vernacular weekly, Kwayedza, was awash with stories of a village Valentine who had a fetish for women's panties.
The daring Gokwe Valentine not only romanced other men's wives even on the same bed with their men; he took away their panties too, as mementos upon which to relish the moments of coup.
It was Valentine everyday for the creep.
There was enough of his secret love to go around his whole neighbourhood.
He secretly loved the whole community of women.
One is forced to wonder if the celebration of Valentine is not at the cost of the woman's self respect.
And, it must be painful to imagine that tonight, some Valentine fanatic will open their arms to make love to those they shared vows with, and yet, close their eyes to transmute the conjugal union to passive adultery with Valentine.
So, is the institution of marriage natural?
Is it not a futile attempt to address the limitations of natural relationships?
A human conspiracy to pigeonise relationships never meant to be?
To intimidate people?
So that man and woman become one by divine duress?
Threatened kuti: "What God has put together, let no Valentine put asunder?"
And they swear upon the duress kuti they shall love in sickness and in health.
Through thick and through thin.
And they ring themselves into a crown of thorns that does not permit alternative views
And vakadzi veminana have to be reminded that their holy Bible has no kind words for Valentine in Matthew 5 vs 28, and, the implications do not spare the red clad woman if she is the zealous accomplice.
So, is wedlock not a locked prison that keeps away Valentine?