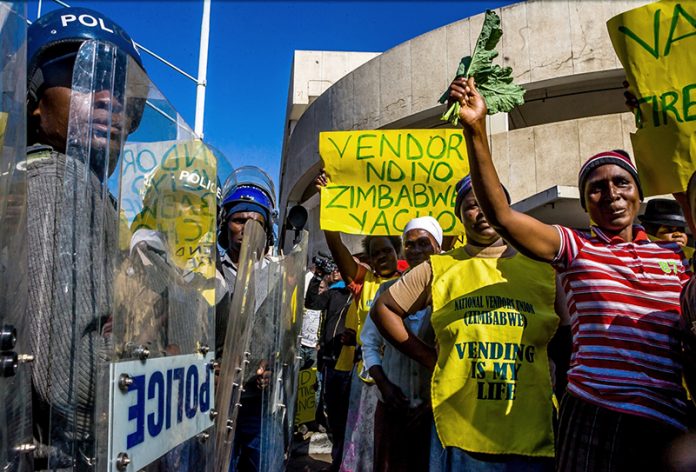 WHEN regime change groups met at Daves Guzha's Theatre in the Park last month, they launched the Citizen Manifesto, a document whose aim was to encourage and promote those best determined to lead the creation of chaos countrywide.
Besides university students' and residents' associations, another group identified to join in the uprising were the vendors' associations.
The launch of the manifesto was a direct response to the SAPES conference the previous week where it was decided that foreign intervention in Zimbabwe would only be possible if the crisis situation had been created with the backing of Britain's Chatham House and the US' National Endowment for Democracy (NED) the launch of the Citizen Manifesto was therefore a natural sequel.
The vendors' associations are deemed to fit the task properly.
The planners were quite aware that since the vendors operate in crowded cities and towns, any chaos would result in massive damage and involve lots of people.
For a start, the regime change planners know that the Arab Spring 'was sparked when a vendor set himself alight in Tunisia'.
On December 17 2010, Mohamed, a Tunisian vendor, set himself on fire after a dispute with a Government official over where he could sell his fruit and vegetables.
And on January 25 2011, Egyptian protesters were inspired by the successful uprising in Tunisia, where demonstrators 'succeeded' in bringing down the Government.
The revolution in Egypt, just like that of Tunisia, started with marches, demonstrations and civil resistance on the streets.
And regime change proponents, having realised they cannot topple the legitimate and overwhelmingly supported Government of President Robert Mugabe through the ballot, are seeking to, among other manoeuvres, use various groups at the grassroots such as vendors.
Vendor associations identified to create a version of the 'Arab Spring' in the country include National Vendors Union of Zimbabwe (NAVUZ) led by Stan Zvorwadza and the Vendors' Initiative for Social and Economic Transformation (VISET)'s Samuel Wadzayi.
Vendors By-Laws of 2014, contained in Statutory Instrument 159 of 2014, published in the Government Gazette, empower council to set aside land or premises for vending.
The laws also allow council to register vendors, set tariffs, police and fine them for failure to uphold the law.
And the vendor associations that have been engaged to help the regime change effort are wilfully influencing about 85 000 vendors in the city to disregard laws that regulate their operations.
Theirs is not to look for workable compromises to vendor needs, but to find the slightest excuse to spark disorder and chaos in city centres
Zvorwadza is on the forefront of calling for violation of the laws, encouraging vendors to riot on the streets.
Zvorwadza's NAVUZ claims to 'represent' street vendors.
NAVUZ's definition of a street vendor is 'a person engaged in vending of articles, goods, wares, food items or merchandise of everyday use or offering services to the general public, in a street, lane, side walk, footpath, pavement, public park or any other public place or private area, from a temporary built up structure or by moving from place to place'.
He has captured the attention of regime change architects as his organisation claims to have at least six million members. The vendor-instigated uprising in Tunisia is then seen a source of inspiration.
Zvorwadza is on record saying President Mugabe has not yet seen enough protests in the county:
"He (President Mugabe) hasn't seen protests yet," Zvorwadza said.
"What he has seen is just a clip of the smallest of what he can ever expect in
terms of protests.
"The real protests are coming."
In the same interview, he reportedly admitted that he was mentored by MDC-T leader Morgan Tsvangirai — a well-known failed politician.
'Vendors' in the past have been alleged to have have shipped into town stones that have been used to destroy property in the Central Business District (CBD) during illegal protests led by the likes of social movement #Tajamuka/Sesijikile.
Zvorwadza has openly told vendors to disregard the authorities and continue operating in undesignated areas.
And, to vent their 'anger', arising from refusal to operate in legally designated zones, vendors have been encouraged to literally fight the authorities who seek to remove them from these illegal points.
In a bid to attract donor-attention, the NAVUZ leader has held unsanctioned one-man protests in the city.
According to an article published by a local daily in 2015: "Mr Zvorwadza has had several brushes with the law on charges of threatening to commit murder and undermining state authority and causing political violence respectively.
He has had connections to anti-Zimbabwe(an) organisations such as the Zim Vigil, a UK-based group that was formed in 2002 by former MDC Treasurer General Roy Bennett and Tony Reeler of the Amani Trust as a way to pressure foreign governments into putting pressure on Zimbabwe.
The Zim vigil founded the Zimbabwe Restoration of Human Rights in 2007 as the local chapter of the London-based organisation and Mr Zvorwadza was the vice-president of ZROHR and later became the chairman of the vendor union.
The union sprang into life when authorities proposed to bring order to Harare streets and urged vendors to resist relocation to about 60 areas that authorities designated for the decongestion of the CBD."
Not long back, a police officer, Petros Mutedza was killed at the instigation of vendors in Glen View.
In another related incident, on June 29 this year, Barnabas Mwanaka and fellow vendors trading around Harvest House, the MDC-T party's headquarters, mobilised themselves and attacked police officers.
The police officers from Harare Central Police Station's Operations Unit were going to attend a scene of malicious damage to property at the Deeds Office in central Harare.
Mwanaka is alleged to have hit the now deceased Talkmore Phiri with stones and booted feet and the police officer had to be rescued by his workmates who rushed him to Morris Depot, where he was pronounced dead on arrival.
Meanwhile, VISET director, Wadzayi, is also encouraging vendors affiliated to his organisation not to comply with council by-laws.
It is obvious his appetite for anarchy is no different from Zvorwadza's.
For instance, VISET has encouraged its members not to pay weekend vending rates of US$3.
But it is common knowledge that these vendors make a killing during the weekends, a time they literally disrupt all business in the city.
Anyone who does not pay risks being evicted from the vending sites and they have encouraged their members to fight the evictions and create a situation of chaos.
VISET, under the guise of a 'clean-up campaign' in Waterfalls on July 11 2017, distributed political messages under the guise of educating the community on constitutional, socio-economic rights and empowering them with tools for social accountability and transparency.
"The Socio-Economic Champions (SOCHAMPs) took advantage of the cleanup campaign to distribute IEC materials on constitutional economic rights," according to a post on their facebook page.
Between June 29 and 30 2017, VISET also participated at the Crisis in Zimbabwe Coalition (CiZC) organised Civil Society Policy Caucus at SAPES Trust.
The caucus was held on the eve of the Zimbabwe in Transition Reform and Reconstruction International Conference hosted by CiZC and SAPES Trust in collaboration with NED and Chatham House.
Some of the civic society organisations that attended the conference include, the Combined Harare Residents Association (CHRA), Zimbabwe Coalition on Debt and Development (ZIMCODD), Zimbabwe Chamber of Informal Economy Associations (ZCIEA), Development Reality Institute (DRI), Epworth Residents Development Association (ERDA), Chitungwiza Residents Trust (CHITREST), Amalgamated Rural Teachers Union of Zimbabwe (ARTUZ) and CiZC, among others.
VISET has also held a 'Socio-Economic Rights, Leadership, Tools for Social Accountability and Transparency' (SERLTSAT) training workshop at the Commercial Workers Union of Zimbabwe (CWUZ) offices in Waterfalls, Harare on May 3 this year.
The workshop was attended by about 100 vendors operating in and around Waterfalls, Hopley and Mbudzi Round About.
The SERLTSAT training is part-and-parcel of VISET's on-going Vendors Action for Constitutional Reform (VACRE) Project launched in September 2016.
The project is anchored on mass mobilisation of the informal sector dominated by vending and 'building' their capacity to make demands on Government.
VISET has also carried out workshops for 102 vendors operating at Jerera Growth Point.
Clearly, while the West claims that it is seriously engaging the President Mugabe-led Government, behind the scenes they are orchestrating how to remove him from power and install a puppet leader who will serve their interests.