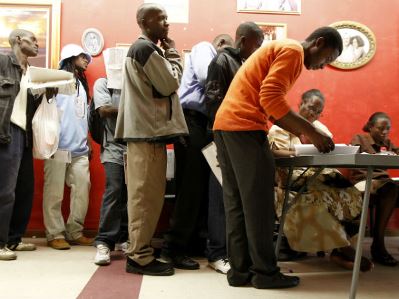 By Genevieve Nkiwane
THE Zimbabwe International Trade Fair (ZITF) was nearing the end when I arrived at the Harare International Airport from Johannesburg on a British Airways flight ironically because Air Zimbabwe was full.
The most amazing thing to see was the queue for the returning residents, which was full of so many white folks, that one immigration official manning the floor had to stroll over and ask if we were all returning residents!
Why I wondered is that varungu can see the value of coming home while isusu varidzi venyika believe that our salvation is kunze kwenyika!
In recent years, the social media network has become a platform and forum for debates and dialogue across the continent and the globe.
I have had the 'privilege' of space on the social media networks where I went head to head with brothers and sisters who know only how to shout negativity about Zimbabwe from their 'little cold soap boxes' out there, it can become exasperating.
My mission as we share space on these beautiful pages is just about one single thing.
Bringing Zimbabweans home to come and claim their heritage and put it to the best use ever as we gear up to take centre stage again!
For every negative report or comment that I will confront, I will replace it with positivity.
Proudly Zimbabwean, I am currently taking a look into the world of ICT and learning with great pride that Zimbabwe is fast becoming a force to reckon with.
As we go back to the ZITF which just ended in the City of Kings, it has been widely reported that the American Envoy to Zimbabwe had much to say about our ICT industry.
Now we all know how the USA has been one of most aggressive and hateful detractors and yet…check this out…
"No other nation in Africa has the same powerful combination of intellectual capital, infrastructure and language capability that Zimbabwe has. Further, I believe that Zimbabwe has the potential to be a global player in ICT as well as a regional leader."
Addressing delegates at the Zimbabwe International Trade Fair business conference recently, US Ambassador to Zimbabwe, Mr Bruce Wharton said the country was uniquely positioned to benefit from the global ICTs industry estimated at US$68 billion by 2013.
"The United States cares about Zimbabwe and wants it to prosper," he said.
"So, we are doing what we can to help Zimbabweans explore and begin to take advantage of the incredible opportunities that Information, Communication Technology offers.
"Africa has the greatest Information Communication Technology growth potential of any continent, and Zimbabwe is far and away the nation in Africa best able to lead and profit from that growth.
"He said Zimbabwe's unique combination of intellectual capital; infrastructure and language abilities make it unbeatable in the ICT economy. – (The Herald April 23 2014)
On another level I recently connected with one very progressive social networking group called 'Lovers of the African Union and United States of Africa'.
This is a group of an incredible Pan-Africanists who are so proud to be African and indeed all uphold the ideal of a 'United States of Africa'.
This group has in recent weeks made me feel so truly liberated and free as I continue to watch the debates between our brothers and sisters out there in the Diaspora.
Some who speak with disgust and contempt about the land of their birth, reducing our hard won independence to issues of 'no water for three days' and no electricity for days, for potholes and more … and while I fully agree that these are major issues to contend with, should we not be at home all trying to fix this mess rather than blame Mugabe.
I have had the opportunity to visit many countries on this beautiful continent, places like Nigeria where in Lagos State, the people there have survived on generators for most of their lives.
They can barely tell the difference when they are actually receiving power or when their generators have kicked in.
Not once have I heard them blame Goodluck Jonathan and through all their mess, they have the largest growing economy on the continent right now.
You want to see potholes and sewage in the streets, take a trip to Lagos.
I have witnessed over the last five years at least a growing movement of Zimbabweans coming back home.
And many continue.
And then there are those who are progressive in their thinking and have love for their country and even though they may not be home yet…they are contributing positively to making a change here at home.
Whether we come back to live or whether we continue in our self exile, the point is this is the land of our birth and we all owe it to ourselves to claim our spaces and not sit back and wait for the leadership to deal for us.
I would like to close this outpouring with a reminder of who we are and where we come from as a nation by sharing with a clip from the Blacks History and Education Group who recently shared on facebook the clip below.
How many of us know the full "HerStory" behind this amazing Matriarch, and while we sit around and complain from all the corners of the world there are other African brothers and sisters from a multitude of African nations who are reading our history and learning more about us.
What have we done to preserve this history?
How I miss our dear brother the late Godwin Mawuru, may his soul rest in peace, but may his spirit rise up and help us to tell the story of this heroine of Zimbabwe and hopefully we can be reminded of who we are as an incredible people that will rise again and be bigger and better than we ever were.