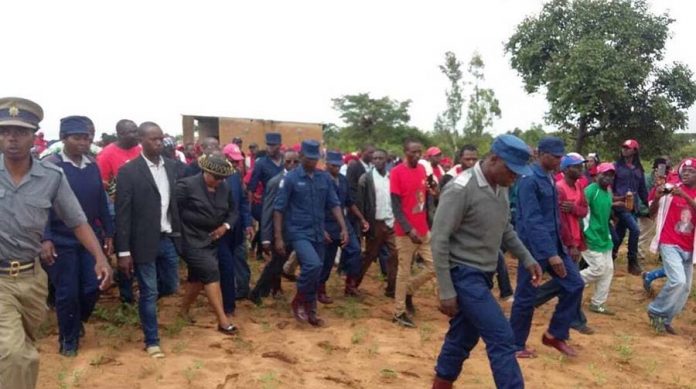 By Tafadzwa Masango
ZIMBABWEANS were once again regaled by the tall tales and antics of the opposition this week as two of its leaders appeared before the Commission of Inquiry to give an insight into the post-election violence of August 1 2018.
Of the glaring lies, misinformation and disinformation that Nelson Chamisa and Tendai Biti chose to run with, was the tired line that the MDC is a party of angels and yet violence and barbaric behaviour have been in its DNA since its inception in September 1999.
The two seemed to have fallen into the trap of believing their own propaganda, which has been solidified over the years by the private and global media which turned a blind eye to the MDC's violent streak as part of efforts to prop up the regime change agenda.
In my book, the award for best performance of the day went to Biti, who declared that there is no violence in the MDC and yet he himself has been a victim of internal violence alongside other former senior party leaders.
In September 2001, MDC lawmakers — Priscilla Misihairabwi-Mushonga, Gabriel Chaibva, Edwin Mushoriwa and Janah Ncube — were assaulted while attending a provincial executive meeting in Dzivaresekwa.
Misihairabwi-Mushonga was once again assaulted at Harvest House in May 2005.
"In 2005, when the then united MDC split, one of the issues at the heart of discontentment was the way the party hierarchy was quick to resort to violence each time they felt their power was threatened or when a decision did not go their way.
Harvest House, the party's headquarters, literally became a no-go area for people who were seen to be opposing Tsvangirai, with party leaders often made to say that they were not eyeing the presidency, lest violence be visited upon them.
For example, Frank Chamunorwa was allegedly abducted and assaulted, while the party's then director of security, Peter Guhu, also had a vicious encounter with the marauding youth.
This precipitated mayhem within the party, as there were several incidents where many people were allegedly assaulted by known youth assembly members, but who were not punished in any way." — (Newsday, August 10 2017)
The transcript from the 2005 report drawn up by a committee comprising then senior party leaders Giles Mutsekwa, Moses Mzila Ndlovu and (the now late) Tichaona Mudzingwa, which interviewed those implicated in the violence and the alleged victims makes an interesting read.
In some parts, youth members implicated in the violence explicitly boasted how they dealt with their victims, how they had the protection and showed no remorse for their actions, and, in fact, indicate that they would repeat their actions even to the members they were appearing before.
The then MDC secretary-general, Professor Welshman Ncube, was banished from Harvest House by the said youths as he was accused of eyeing Morgan Tsvangirai's presidency.
The late Trudy Stevenson — then MDC-T legislator for Harare North — was assaulted by youths shortly after the party split over a disagreement on whether to participate in the senatorial elections which were held that year.
Speaking to SW Radio, Stevenson said she recognised one of the people who attacked her as Tonderai Ndira, who was suspended from the MDC for violence in 2005.
Said Stevenson then: "And that is definitely a Tsvangirai person… and in fact I believe it was Tonderai who took one of the vehicles by force as well (last year) and they have never returned the vehicle despite a court order."
Commenting on the vicious attack on Stevenson in 2005, the late John Makumbe noted that the MDC-T was also employing violence, which it ironically condemned.
In the aftermath of the 2005 violence, as recorded in David Coltart's memoirs, Innocent Gonese went on to say that the attempted murder of Guhu and the 2005 violence had 'seriously undermined (our) credibility.'
In April 2010, Toendepi Shonhe (party director-general) and Chris Dhlamini (security director) were assaulted outside Harvest House.
Widespread violence also rocked the MDC ahead of its 2011 Congress.
There were also clashes between party supporters in Bulawayo, Chitungwiza, Midlands North, Masvingo and Mashonaland West.
Tsvangirai then instituted a commission of inquiry chaired by Trust Manda, but despite producing a damning report which implicated several party heavyweights, no action was taken.
It is said no action was taken against those responsible for the violence as it was feared this would widen divisions in the MDC ahead of the 2013 elections.
The party's former deputy secretary for welfare, Kerry Kay, in a 2011 memo, also wrote articulately about the history of violence in the party, which was ignored because senior party members were implicated.
In May 2011, speaking during a ceremony to launch his party's 'Zimbabwe Panel of Elders', which was chaired by Professor Gordon Chavunduka and included former Minister of Education, Fay Chung, Tsvangirai admitted that the MDC-T was engulfed in violence amidst intense jostling for influential positions by its members.
"Even in my own party violence erupts here and there as people contest for political positions," he said.
In February 2014, then MDC-T deputy treasurer-general Elton Mangoma and former youth assembly national secretary-general Promise Mkwananzi were assaulted outside their party headquarters at Harvest House for calling for leadership renewal in the party.
In April 2014, 'Mr there is no violence in the opposition' (Biti) narrowly escaped a thorough hiding by Tsvangirai's marauding thugs who accused him of 'selling' out by breaking ranks with the MDC-T leader.
The graduation of select MDC youth from just mere thugs into a fully fledged youth militia with uniforms solidified its role as the tool of choice for MDC leaders to 'discipline' errant members.
Zimbabweans watched in shock, video clips of Vanguard members taking on a Bulawayo meeting which included Thokozani Khupe, Abednico Bhebhe and Lovemore Moyo. This was just a precursor to the violence that was to take place in that province and at Tsvangirai's burial in Buhera.
At Tsvangirai's burial in Buhera, attended by scores of foreign dignitaries and thousands of party supporters, MDC-T secretary-general Douglas Mwonzora and Khupe sought refuge in a grass-thatched hut after being attacked by rowdy youths who are known Chamisa supporters.
Post the burial, there were ugly scenes at the party's Bulawayo offices after Chamisa's supporters travelled from Harare to clash with Khupe's backers, leaving scores of people injured.
"Political analyst and visiting politics lecturer at Rhodes University Mike Mavura said the violence in the MDC-T was ironically being fuelled by leaders who claim to uphold democracy, human rights and constitutionalism.
Mavura singled out Chamisa as a willing 'beneficiary' of the violence gripping the MDC-T, as the battle to gain control of the party reaches a crescendo.
'The violence within the MDC is not in line with the non-violence and constitutionalism that they preach. But then again we know that the strict precepts of constitutionalism have not been followed of late regarding Chamisa and his appointment,' he highlighted.
The MDC leaders preach non-violence yet their followers are merchants of violence and the fundamental question is, are those on the ground rogue elements and unguided missiles or guided missiles?" (Zimbabwe Independent March 9 2018)
In all this violence, none of the senior party officials involved have come out to strongly condemn the culprits or disassociate themselves from the mayhem.
While the MDC, on paper, claims to be deeply rooted in values of constitutionalism, democracy and peace, the opposite is true.