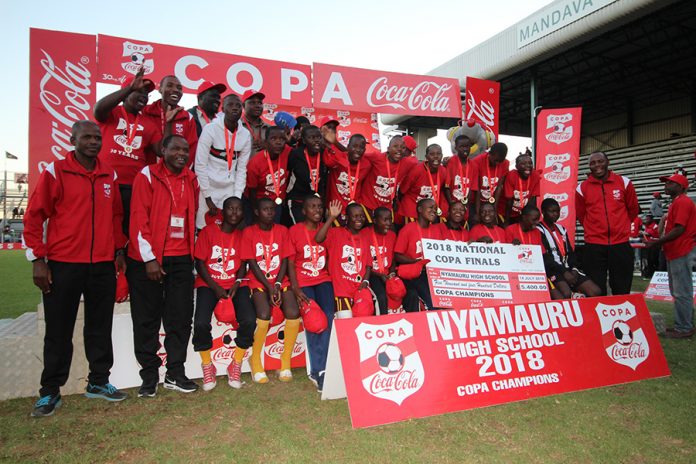 THE COPA Coca-Cola tournament could have come and gone but it left lasting memories on several students who participated at the national tournament for the first time.
COPA Coca-Cola presented a chance for thousands of budding footballers throughout the country from the clusters, zones, districts, provincials and national level to showcase their skills.
Patriot Sport spoke to several budding footballers at the COPA Coca-Cola national finals held in Zvishavane a fortnight ago. Here is what they said.
Defender Ruth Vengesai from Chamakanda Secondary School, Chirumhanzu said:
"I liked visiting Zvishavane for the COPA Coca-Cola finals. It was my second time to visit Zvishavane but this time it was a different situation coming for the soccer games. I have been to Zvishavane before but I didn't move around that much but this year I managed to see several places around, including marching around, the town.
I really liked how other girls kicked the ball and enjoy playing as a defender. I really liked how other teams played with a strong defence and I would like our team to improve on that. We will also train more in the strikers' department so that our team becomes stronger.
It is the first time our school has played at such a grand stage and we will work harder to achieve more but we are happy to have reached the national finals. Next year we may qualify again for the COPA Coca-Cola finals."
Striker Simbarashe Stock from Pfupajena High School, Chegutu said:
"We played soccer very well but our party was spoiled by poor officiating, especially in the semi-final match against Guinea Fowl. Referees sabotaged us and in some instances awarded penalties instead of free kicks. We are really saddened. If there was a chance for re-match we would have won the cup. I have learnt a lot here in playing football which include how to pass the ball and a lot about football which I didn't know before.
It's my first time to participate at a national tournament though I have played football at primary school before. I hope to play professional football at big clubs and also help others play the game."
Lindiwe Mpofu from Simbo Secondary School, Nkayi
"It was a great tournament. I learnt that a soccer player should be disciplined when playing the game and also play without injuring others so that people enjoy the game. We got good food and drinks here as well as a superb kit from the sponsor. They treated us well.
This was my first time to participate at a big tournament and I enjoyed myself playing without fear. However, my teammates were afraid but I kept on encouraging them to be fearless and play our normal game for us to win.
When we get back home in Nkayi, we will encourage others to train harder so that we will be able to reach the finals again and perform better than we did. This is the first time our school has participated at the national finals.
Winger Keith Muzengeza from Mutare Boys High, Mutare
"Even though we were eight because some of the team members were vetted out, while one was injured, we managed to put up a good show. We managed to go past the group stages then lost in the quarter finals.
We were six, but we left a mark and six men went home with a brand new soccer kit courtesy of COPA Coca-Cola after beating some teams which had 11 players.
As Mutare Boys High team, we are happy to have participated at the games.
"I have learnt and experienced a lot here in Zvishavane and playing in a big stadium has been a big experience for me. It was my first time to play in Mandava Stadium and I hope to play football at a high level for clubs like Barcelona and Real Madrid."
Dingane Dube Mtshabezi High
"Playing in the nationals was good but the vetting process hurt a lot of feelings, especially considering that it was premised on physical appearance because some may have small bodies but old while others are big bodied but young.
The way some players were treated was not good at all. I have learnt a lot of skills here and I hope to play soccer for big clubs.