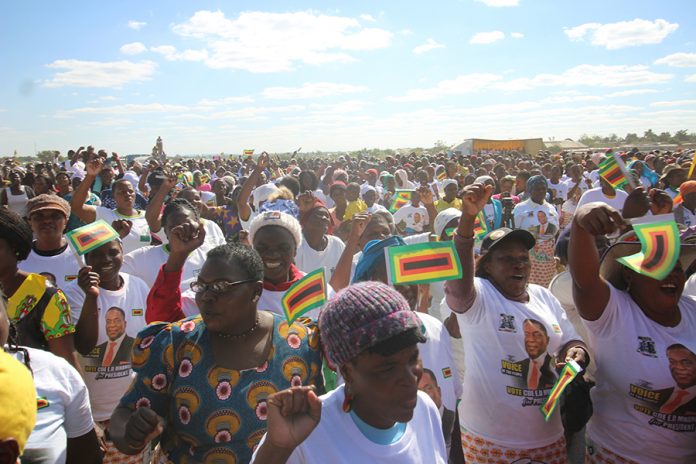 ON a bumpy, dust road a few kilometres from New Hopley Clinic in Harare South constituency was a hive of activity and excitement.
The excitement was created when news filtered that a familiar name and figure would be in 'town'.
The eagerly waited was none other than Vice-President General Constantino Chiwenga (Rtd).
His face and name is familiar all over Zimbabwe and beyond.
He needs no introduction.
VP Chiwenga is a player in the formidable team that has been knitted by President Emmerson Mnangagwa.
He no longer dons that bright military fatigue.
He now wears ZANU PF regalia, traversing the country as he mobilises support for his party which expects to overwhelmingly win in the forthcoming July 30 2018 harmonised elections.
Just as it was in the beginning, 1980 to be precise, Zimbabwe had a dream and 38 years later that dream is about to be reignited.
The restoration of national pride has been completed and an election, itself the consummation of the economic process is what stands between ZANU PF and the much-awaited economic boon.
VP Chiwenga was in Harare South to drive home the message that country matters and come first.
And the numbers that came to hear the revolutionary speak were impressive.
True to form, the General did not disappoint.
He unravelled the mess that has been created by MDC-T-run councils who connived with land barons to steal from Zimbabweans.
"The era of land barons is over and no one will have to pay someone to get a residential stand," VP Chiwenga said.
"As the new dispensation, we are not going to punish our people but ensure that they are properly settled and not fleeced of the meagre hard earned resources. The likes of Mashayamombe should know that we will leave no stone unturned.
"There are no sacred cows. For now we are focusing on developing the country and carrying our elections in a peaceful manner. We do not have time to chase them, but we know he and other land barons caused a lot of suffering to the people.
"The police will act and they will be sent to prison.
"Government has instituted a land audit committee to investigate cases of housing stands disputes and the scourge of land barons and appropriate action will be taken once that committee produces its report. Kubatwa ndokuchange kuripo nekuti haungadye pausina kukohwa."
The new dispensation's plans were reiterated at the highly subscribed rally.
It has been a hectic period for President Mnangagwa's Government which has been working round the clock to revive the economy.
A sense of optimism which has gripped the business sector has seen many closed companies reopening while the international community has started re-engaging Zimbabwe after years of frosty relations.
So far, investment worth about
US$16 billion has been made by international investors who are scrambling to have a stake in the Zimbabwean economy.
A huge number of business delegations have visited the country since the beginning of the year.
"The new dispensation will re-plan clinics, schools, light industries, SMEs, shops, so that transportation is not only leading to the CBD of Harare thereby causing congestion," VP Chiwenga said.
"We have lined up developers to spruce up the cities since they have failed. We have to develop appropriate marketing stalls to accommodate vendors before removing them from the streets.
"As for Mbare, we are working on re-planning the area and we have already secured US$3,8 million from the European Union for that exercise. Since 2000, the MDC-T has been controlling cities and towns with no meaningful development on the ground. Paradise on earth promised by their handlers is nowhere to be seen.
"Zimbabwe was transformed last year and never again shall we remain isolated or without jobs," said VP Chiwenga.