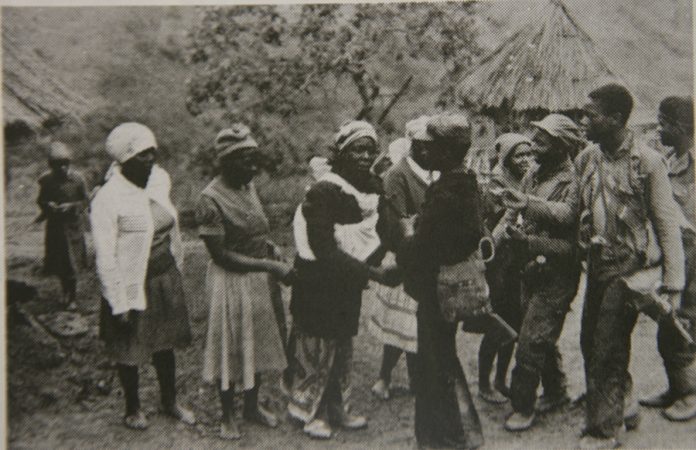 LAST Saturday I made an unscheduled visit to the village to deliver supplementary cattle dip.
Reports had reached us via social media platforms of a devastating cattle disease in the district.
Herds had been decimated in the Wazvaremhaka and Mahusvu areas and the disease has now been reported quite close to Unyetu.
Herd destruction caused by Tsikamutanda of yesteryear pales in comparison to what we are hearing.
Vet officers have been conspicuous by their silence.
So, for now, panic selling has set in with beasts going for between US$150 and US$180 each.
I found my muzukuru Yona away in Chivhu attending a war collaborators' meeting.
Five years ago, he had come from one such meeting quite pumped up on the promise of US$4-stands in Chivhu for war collaborators.
The matter had raised grief among other excluded collaborator communities, my muchembere included. I had tried without success to rein-in emotions by reminding them that these were just election promises.
This time, Yona brought back promises of vetting and projects capital.
Only time will tell!
A war collaborator is a term that has over the years become confined to mujibhas and chimbwidos of our liberation struggle.
During the war, the term referred to anyone providing material or intelligence support to liberation fighters, then called terrorists.
In our village, the war arrived late in 1977 with a call on everyone to become a collaborator.
I vividly recall sabhuku Chimhuka walking the village line announcing: "Vakomana vasvika, munhu wese huku negumbeze kwaNzombe."
For that act, sabhuku Chimhuka , if he had been caught by Rhodesian security forces, could have received capital punishment.
Today sabhuku Chimhuka is a new farmer and long lost as a collaborator.
Munhu wese included the legendary Okay, whose travels to and from Chikomba/Harare/Murehwa on foot were the talk of the village.
Okay was to later put to good use this gift as a senior mujibha during the war.
He became a reliable courier of inter-sectorial communication, traversing Chikomba, Buhera, Wedza (Hwedza), Marondera and Murehwa districts with ease.
I remember an altercation Okay had with my father over our transistor radio; my father had insisted on finishing listening to news to the end before he could lend the radio to the comrades.
Okay, being the reliable messenger he was, naturally got upset, telling off and warning my father for the intransigence.
We all feared for the worst should the comrades receive Okay's report. It later transpired that when Okay got to the base, he was sharply rebuked for the delay but instead of explaining what had happened, told off the comrades for their abusive language.
He had to be cooled down by other comrades. He saved my father. That was Okay, our now forgotten collaborator.
At the first pungwe that sabhuku Chimhuka invited us to, we were thrilled at the sight of silhouettes of comrades darting from point to point behind the huts at the Nzombe homestead.
Eventually they got closer and we could see their human form and guns more clearly.
I recall Donald Chapungu's singing and the Manyika accent.
It was at this meeting that I came across the word 'theory' during comrade Chapungu's lecture on Marxism/Leninism.
Mudhara Forbes was the only one able to translate it into Shona for us. Mudhara Forbes later became chairman of the War Support Committee overseeing three villages.
He ably led the villages in mobilising food and clothing for the comrades.
For that role, mudhara Forbes was a marked man by Rhodesian security forces. He survived the war.
Naturally enlightened, he was among the first to enter 88 Manica Road after the 1980 elections. He is now a retired public servant, but also long forgotten as a collaborator.
Almost every inhabitant of the village had collaborated with the comrades.
When the liberation struggle arrived in the village with sabhuku Chimhuka's clarion call, we took to the war like fish to water.
Parents, vabereki, organised themselves into logistics committees, mobilising food resources and establishing cooking rosters in order to adequately serve the needs of the comrade fighters. It was a people's war.
Today the few survivors lament their neglect, reminding us: "Inga takabikirawo, huku dzikapera wani". Without their co-operation under chairman mudhara Forbes, the war could not have succeeded here.
Adolescents and single young adults became mujibhas (male) and chimbwidos (female); the former providing crucial war intelligence and the latter assisting with chores like laundry and sewing.
Below these were the youngsters, my age mates, who essentially lived the war and could be called upon to help any of the above supporting groups as demanded by the situation.
Yona, like me, was a 13-year-old when the war ended.
Today he is one of the village's two recognised surviving collaborators. The unforgotten two; lucky to have recognition that mudhara Forbes and his troop so yearn for.
I keep asking myself; where did the association of the war collaborator status with material rewards come from?
Was this not a people's war. All manner of collaborators, including vabereki, suffered terribly during the war and require continuous care and attention to help them play their part in society.
A couple of Christmases ago, my wife's uncles visited from Mozambique.
They left Rhodesia for Mozambique in 1975 as teenagers.
Today they are FRELIMO veterans, beneficiaries of age-based vetting! However vetted, let us seek to unite our liberation veterans.
After all, they are repositories of a rich history that should be captured comprehensively in order to protect the legacy of the freedom struggle.
Our constitution lays foundation for all inclusive recognition of war collaborators, not just mujibhas and chimbwidos.
Section 23 of the Constitution provides for accordance of due respect, honour and recognition to veterans of our liberation struggle.
The definition of these veterans includes in 23(1)(b) " …those who assisted the fighters in the War of Liberation."
That clearly includes mudhara Forbes and his troops.