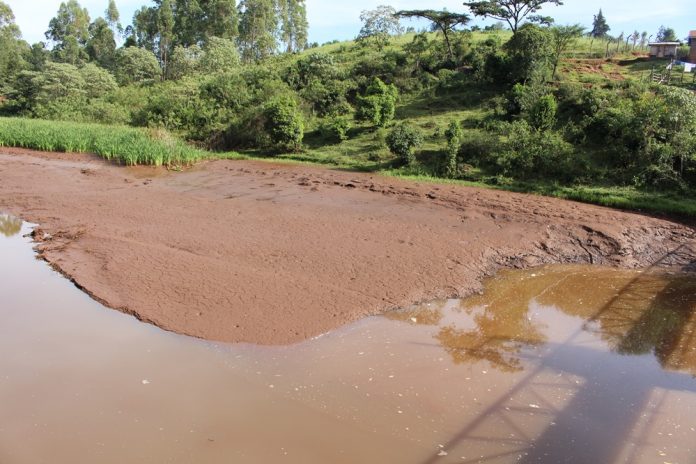 UNAVAILABILITY of water has become a perennial problem across the country and has resulted in many households resorting to digging wells to supplement the precious liquid provided by city authorities.
However, many of these wells are contaminated and people have ended up ill with water borne diseases such as cholera and typhoid.
The city fathers have been accused of pumping 'dirty' water into people's homes.
While the city authorities argue that the water it provides is safe and clean after a while, in storage, it has disturbing residue as well as fine particles of earth.
Shortage of water has been further exacerbated by siltation which has reduced the holding capacity of most dams.
According to a conceptual framework for the national desiltation programme: "Great concern has been noted from many communities on the reduced quantity of water in water bodies and the need to ensure adequate water for the country going forward for human use and agricultural purposes to enhance food security."
Siltation of rivers and dams is a natural process and its rate will vary from place-to-place and is a function of both natural processes and anthropogenic factors relating to land use and water resources management.
In recent years, agricultural activities, particularly stream bank and floodplain cultivation, have contributed to rapid siltation rates due to the increased sediment inflow. Adding to the rapid rate of siltation is the haphazard illegal small-scale alluvial gold panning along the rivers.
If siltation is not stopped, the water supply security of the nation is at high risk.
The Command Water Harvesting Programme by Government has sought to redress the problem with the infusion of more than US$2 million for the maintenance of small community dams.
According to the Zimbabwe National Water Authority (ZINWA), the programme seeks to consolidate the existing infrastructure through urgent maintenance work and save them from completely breaching and losing all their storage capacity.
Stakeholders have also called on House of Assembly members to channel some of the constituency development funds to be allocated towards the rehabilitation of dams and construction of weirs for water harvesting.
ZINWA has committed to do the feasibility assessments of the proposed sites and provide the designs and costing of the infrastructure.
The Command Water Harvesting Programme is set to deliver at least one weir or small dam per rural ward.
In terms of siltation, the Jotsholo weir, Matabeleland North, Lupane, is over 60 percent silted as well as the Nyajena weir in Masvingo, which is completely silted.
Removal of silt would increase the storage volume of these structures though it is a very costly exercise.
Where possible, the dam walls may be raised to increase the amount of water that can be conserved by these structures.
Commenting on the quality of water across the country, Environmental Management Agency (EMA)'s spokesperson Steady Kangata said a lot of human activity is disrupting the quality and quantity of water.
"EMA tests the ambience of water flowing in the streams and rivers. We go to catchment areas monthly to test the quality of the water and once we find irregularities, we go back to the catchment areas to find what the problems are and address them," Kangata said.
"We have seen a huge problem with all rivers passing through the urban set up which is extremely polluted because city authorities are pouring raw sewage into rivers.
"Many of the water treatment plants are not 100 percent functional with some, such as that for Ruwa, not working at all.
"Signs of catfish in rivers are a sign of pollution (sic) and for rivers in mining areas, a yellow jacket in the rivers shows no sign of life. City councils need to increase their funding mechanism by getting funds from ZIMFUND, GIZ and UNICEF for small town programmes because they should prioritise waste water management and expand treatment plants, especially for Harare."
At least US$100 million is required to construct these weirs and small dams around the country.
The programme will also promote rooftop or rock outcrop rainwater harvesting in institutions like clinics, schools and prisons as well as households.
In order to sustain food security, including during the years of below normal rainfall, it is important to conserve water through water harvesting.
The country has a potential to store 47,3 billon m3 but currently only 22 percent (10,5 billion m3) of this is being stored in the existing dams.
These are unevenly distributed and are located mainly along the central watersheds of the country, leaving gaps in water accessibility to most rural communities.