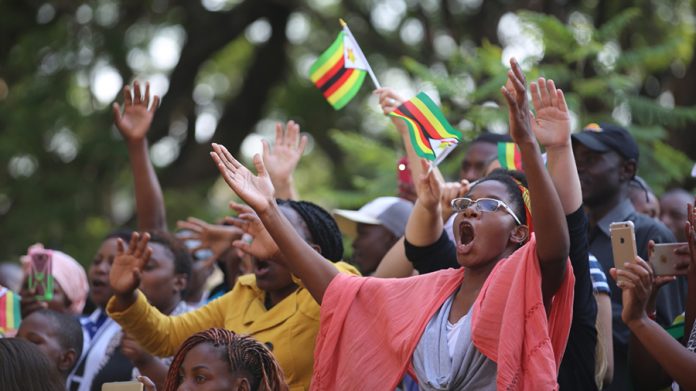 By Charles T.M.J. Dube
IF we were to have some index measuring the level of national happiness, then the time our astute army General, Constantine Chiwenga gave his press statement at the Josiah Magama Tongogara (KGVI) barracks marks the start of a two-week high of unprecedented level since independence.
Then followed a broadcast by General Sibusiso Moyo: "This is not a military takeover, we are only targeting criminals around the President."
Next was the Saturday, when Harare, if not the rest of Zimbabwe was on fire, witnessed the burning bush kind of fire — when nothing and nobody got burnt.
Zimbabweans, all over the world, of all tribe and colour, got to the streets in support of the military intervention, in unusual elation.
They registered demand for change, while displaying unity, never seen in the history of this nation.
Unity, which if maintained, could see Zimbabwe move to developed nation status.
I have never made secret my Christian disposition which is why I will always take pleasure in quoting the good book: "And we know that in all things, God works for the good of those who love Him, who have been elected according to His purpose."
No doubt we are a prayerful, God-loving nation, and so it came as no surprise that we would have a 'coup' that was 'not a coup'.
It resulted in the removal of a President who had ruled for the last 37 years.
No borders were closed. No curfew, nor declaration of a State of Emergency. No gunshots. On the contrary, we had two-year-olds crying for photo shoots on armoured vehicles.
The people of Zimbabwe prayed for change. November 24 2017 marked the culmination of their prayers. God chooses the person to drive the change he desires for those he loves.
The people of Zimbabwe had seen it all, particularly during the last 15 years.
To the faithful, the hand of God was very apparent in the winds of change blowing in the country.
But then, God has His own choices for the kind of people he anoints to drive his agenda.
The kind of attributes he might demand of a situation might not coincide with what social analysts fathom.
Indeed, where we think eloquence or oratory and great speeches matter, God thinks otherwise and looks for specific inner attributes known only to him for the task at hand.
The mention of 'stammer' reminds me of a conversation about 15 years ago, between a friend and the late national hero, army General Solomon 'Rex Nhongo' Mujuru.
General Mujuru then, in his usual stammer, is quoted in reference to their liberation line up: "U-u-uyu E-e-e-emmerson ndi-ndi-ndiye a-a-anga a-achi-chi fa-fa-nira ku-ku-pinda, bu-bu-but a-aka-pi-pinda ti-ti-tingapera te-te-tese ku-ku-kusungwa."
So when the so-called G40 and Lacoste succession wars flared up, culminating in Operation Restore Order by the Zimbabwe Defence Forces, some of us, with this background information, could tell what the goings-on, were all about.
Some tried to reduce it to a tribal attempt to tamper with Zezuru hegemony to a 'Midlands issue', which became a source of laughter.
The G40 was at the same time reorganising Party structures, expelling well over 400 Party members countrywide.
I have always maintained that tribal politics was a myth, and not founded on our African relational dictates on the ground.
Take President Emmerson Mnangagwa for instance. While he is identified as Karanga, with his family, with chieftainships in Chivi and Nhema in Shurugwi for instance, his clan history traces itself to Mashonaland, meaning he has kith and kin that are also called Zezurus.
Surely, on ethnic basis, despite the proximity of his home to mine, I cannot find myself closer to him than any son of Pfupajena, coming from Mashonaland Central.
I have several times written, that in Mberengwa, my home district, we have two Soko Murehwa chieftainships and virtually any totem with same praise names, as found in every corner of Zimbabwe.
I can assure you, that being a Dube, I will be more accepted as a brother among Chief Chihota's people more than Museyamwa who hails from there and counted a kith and kin with vanaSamaita in Manicaland and the Mapungwana/Mhlanga in Chipinge.
Then, also, there was this demonising of the would-be president at rallies.
They say politics is dirty, but I would add, succession wars are much dirtier, and lies repeated so many times end up appearing as reality.
Some argued for the re-introduction of the death sentence with candidates in mind. Fortunately, unlike the Biblical narrative where Haman builds the gallows for the hanging of Mordecai, and ends up hanged there himself, our own Mordecai spares Haman.
It is important to always remember that the truth will come out one day.
In our own situation, there are many who will run the risk of becoming obstacles to the prosperity of out.
Even if you could be having your own negative perceptions, be guided by what is good for your country and give your commitment whenever programmes for the good of your country come up.
Let us, therefore, do good for our country, whatever our own historical circumstances in the unfolding of the history of this nation.