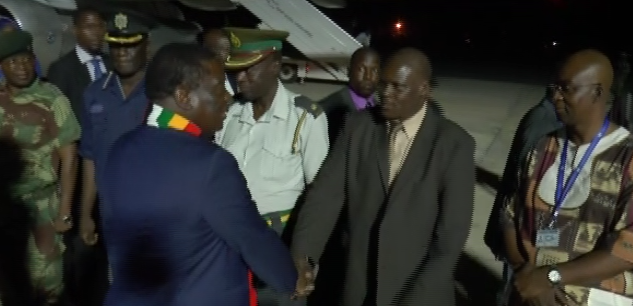 We publish here the full text of the Address by the President of the Republic of Zimbabwe and Commander-in-Chief of the Zimbabwe Defence Forces Cde E. D. Mnangagwa (right) at the Southern Africa Confederation of Agricultural Unions Annual Conference in Victoria Falls, May 14 2018.
ON behalf of the Government and on my own behalf, I would like to warmly welcome all the esteemed delegates and invited guests from the Southern African region to Zimbabwe and specifically to this resort town, which is home to the majestic Victoria Falls.
We are honoured that the Southern Africa Confederation of Agricultural Unions (SACAU) chose our Zimbabwe, as a venue for this year's conference, running under the theme 'Trade as a Driver of Agricultural Transformation in Southern Africa'.
It is most opportune that this conference will discuss diverse topical issues related to trade and agricultural transformation and I am confident that Zimbabwe will greatly benefit from the deliberations and exchange of views, especially in light of our present quest to modernise and speedily grow our agriculture sector and the whole agro-value chain.
The theme of this year's conference resonates with the regional and continental aspirations of poverty reduction, food and nutrition security and sustainable development, through accelerating the implementation of national agriculture investment plans, to spearhead agro-based economic recovery in Southern Africa. Furthermore, it is in line with global and regional priorities as outlined in the Africa Union Agenda 2063 on socio-economic transformation of the continent.
Ladies and Gentlemen;
As you are aware, Zimbabwe is an agro- based economy which has suffered setbacks and stagnation in the last few years.
However, I am pleased to inform you that the resuscitation of the sector is in progress as my Government has put in place multi-faceted strategies to modernise and mechanise agriculture.
To this end, we have recognised that agriculture transformation entails the use of modernised farming practices, farming data and ICT-based solutions in the entire agricultural value chain to enhance productivity.
We further recognise that the transformation of our agriculture sector has the potential to be a catalyst to investments and economic growth through stimulating exports, reduction of poverty, creation of more job opportunities and improving the national food security.
At a regional level, SADC has prioritised food availability and access as well as the review and harmonisation of its policies on agriculture and natural resources, hence the proposed SADC Regional Agricultural Policy (RAP), intends to develop a legally "binding" instrument to stimulate agricultural development and food security in the region. In this regard, your role as farmers' unions is integral because you are a vital link between farmers and decision- makers, as well as between producers and the markets.
I am, thus, confident that your advocacy and insights for better agricultural policies and the promotion of productivity will be useful and handy as we seek sustainable growth of this sector both in our region and the continent at large.
In addition, as farming organisations and unions you also play a pivotal role with regards Research and Development on appropriate technology, new farming methods, post-harvest management methods, seed variety development, crop scheduling, proper land use systems, among others.
In executing this key function, I exhort you to increase partnerships and linkages with agricultural institutions, faculties and departments within institutions of higher learning for more relevant and responsive innovation and research in the agriculture sector.
We must encourage research that addresses the day-to-day challenges that face our people while equally answering the peculiar challenges that we face within our geographical zones and regions.
This will in turn improve productivity and farming methods among the least financed farmers within our countries, for it is indeed through inclusive and broad-based strategies that the people of our region, and Africa as a whole, will truly realise the benefits of trade from a transformed agriculture sector.
As you work to identify the fundamental elements to consider in pursuing a trade-driven agricultural transformation agenda, I am hopeful that the conference will draw from the intellectual expertise of trade specialists, researchers, inter-governmental agencies, private sector, development practitioners and farmers' representatives in attendance.
I therefore call for all these to have close partnerships that will go beyond this conference.
We cannot operate in silos if we desire to transform the agriculture sector in our region and Africa at large.
I am optimistic that you should be able to identify the right policies required to drive this agricultural transformation and that you will come up with proposals to promote agro-industrialisation, improve trade-related infrastructure and trade facilitation, as well as the availability and access of trade information and trade finance.
Furthermore, that you will also identify interventions required to advance agricultural productivity and competitiveness in the face of climate change and variability in the region.
Ladies and Gentlemen;
As I conclude, it is my wish that the 2018 SACAU Annual Policy Conference will be an inspiration to all farmers who strive to improve their wealth and impact on the economic growth of our individual countries and the region as a whole.
Agricultural transformation is a process which requires a lot of hard work and will need collaborative and inclusive efforts at all levels of the value chain.
I am hopeful that the outcome of this conference will go a long way towards moving the regional agriculture transformation agenda forward.
Allow me at this moment to declare the 2018 SACAU Annual Conference officially opened and wish you all, fruitful deliberations.
God bless you all!
I thank you.