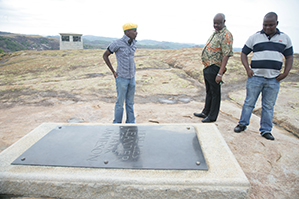 A LOT has been said about this sober, solid giant son of the soil, Cde Alexander 'Gora' Kanengoni who passed away this week at the age of 65.
Tributes pouring in from all corners of the world are evidence that he was one of a kind.
They are saying Cde Kanengoni, or 'Zanda' as his friends called him, was a rare breed who ran his race and fought a good fight hence we have every reason to celebrate this guru.
I never thought I would write this piece for you Cde Kanengoni.
I am heartbroken.
We had our moment of silence at your Warren Park residence on Tuesday as I saw you 'sleeping' peacefully in your bedroom.
I touched you for the last time hoping somehow you would wake up, but you didn't.
How could this be, I said to myself, because just a few hours earlier you had phoned me.
"Teya, I will not make it to work today," you said.
"Ndirikunzwa machest pains saka itai henyu basa.
"Rega ndimbozorora, tozoonana mangwana handiti."
So what happened Cde?
Ndiwo maendero emasoja here aya?
I keep asking myself: "Is this the rest you were talking about Cde Kanengoni?
"Was 'taking a rest' your way of saying good-bye Teya?"
The astute team that you assembled at The Patriot is baffled, they can't stop talking about you.
Your infectious laugh is still being talked about, it tops the list of your best qualities.
Everyone had a special moment with you and that is why this current edition of The Patriot is dedicated to you.
I see your family, especially your wife Gladys, children, relatives, other people you rubbed shoulders with, particularly those you grew up with and your close associates.
I see the many comrades you interacted with: Pritchard Zhou, Ms Rebecca Wadi, Professor Charles Pfukwa, Judge President George Chiweshe, Canaan Nyika Mugadzaweta, Masimba Musariri, Rino Zhuwarara, George Charamba, Dr Tafataona Mahoso, Thompson Tsodzo, Ivan Murambiwa, Mashingaidze Gomo, Augustine Tirivangana, Professor Sheunesu Mpepereki, Dr Ireen Mahamba, Dr Tony Monda, Reuben Barwe and many others.
The fact that you were a man of the people Cde Kanengoni is indisputable.
Every year in December we would go together 'kumusangano' (Annual ZANU PF National People's Conference) and you would interact with your fellow comrades.
In Gweru, Bulawayo, Chinhoyi and Harare, we have fond memories, some only you and I kept to ourselves.
I still remember that night in Chinhoyi in December 2013 when you were with Cde George Rutanhire reminiscing about the war.
In Bulawayo in December 2011 at Njelele, you were bitter about Cecil John Rhodes' decision to be buried there.
I thought you would throw a tantrum especially because of Leander Starr Jameson's grave next to Rhodes'.
"They defiled this sacred place," you said.
"This is the heart of our ancestors you know."
As I look back comrade, I am still trying to come to terms with the fact that you are no longer with us.
For days now, I have been withholding tears, but somehow I have a feeling that very soon I will burst.
Very soon I will cry, probably the way you did after the Nyadzonia massacre in 1976 when that little girl you held in your hands died.
For the first time during the liberation struggle you cried, you said.
Solid as you were, you picked yourself up and together with other comrades went to work burying the over 2 000 victims of that Rhodesian genocide.
It will never be the same without you VaKanengoni.
You taught us to be strong and to never fear death.
What is death, but a necessary end, you seemed to insinuate.
But, for a while we almost failed you this week.
The abrupt way you left us made us fear death more than ever.
In fact, there are many people even beyond our borders still in denial.
"Zanda can't be dead, no, he can't be dead," they are saying.
Even the famous Herald senior writer, Lovemore Ranga Mataire is saying: "No, you are not dead Cde Kanengoni!"
"How can you be dead?" he keeps asking.
That's how swift you left us and that's just how much you meant to the people who knew you Cde Kanengoni.
There are no words that can describe the void you have left in Zimbabwe, but my conscience tells me Cde Kanengoni, that just like Vimbai Gukwe Chivaura, you still live even in death.
Your unmatched ideals, unwavering dedication to your country and leaders was top-notch.
No one can question your war credentials and no one can dispute you are a hero.
Even President Mugabe whom you interacted with during the days of the liberation struggle and after independence knows this.
I hope he knows how much you venerated him.
Your article just before the 2013 harmonised elections in The Patriot, 'Robert Mugabe's second coming' was something else.
I will never forget it.
Your literary works that include, Vicious Circle (1983), When the Rainbird Cries (1988), Echoing Silences (1997), a collection of short stories, Effortless Tears (1993) and Writing Still (2003) are larger-than-life.
Your articles are a treasure.
It's a pity we never got to read your next article on the war veterans indaba recently held in Harare by the Patron of war veterans President Mugabe.
I bet it would have been a masterpiece.
Yes, naturally as people, we have our flaws, but there was something about your character that was outstanding.
Who knew that you were a boss by the way you carried yourself?
So humble, patient, considerate and always there to guide us.
I always saw you as a gentle giant who wanted work to be done on time.
And as we celebrate your life Cde Kanengoni, my message to you is: We will not let you down comrade.
The Patriot is your baby that has grown now.
Together with Professor Pfukwa and Chris Mutseyekwa, you taught us to be there for each other and what it means to celebrate being Zimbabwean.
Although it won't be easy, I promise you comrade, we will make you smile from the grave.
I promise to visit you now-and-again.
Again I say: Yes, you ran your race and fought a good fight.
Funny enough, it's as if you knew that you would not be interred at the National Shrine, you said as much in our last diary session on Monday.
"If you die will you go to the National Heroes Acre?" asked Golden Guvamatanga.
"Inini manje, aaahh?" you responded lackadaisically.
It was as if you didn't care Cde Kanengoni.
And that's exactly who you were, always jovial and didn't care about a lot.
Your primary concern was where we are going as black people.
To you Cde Kanengoni, the black race is indeed the finest flower of civilisation.
You taught us well comrade and I am proud to call you father.
And as I say good-bye, I want you to know that your true story has not yet been told.
Zororai murugare gamba remagamba!
Hamba kahle!