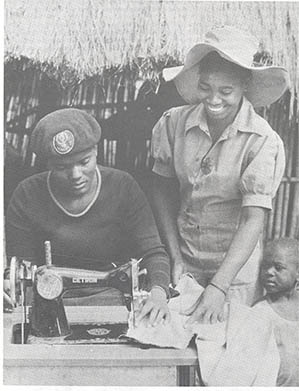 IN an address a few weeks ago, the Minister of Youth, Indigenisation and Empowerment, Cde Patrick Zhuwao, underlined he had faith in the youth of Zimbabwe because at the time of the nation's greatest need, those many years ago, 16-year-olds rose to the occasion and gave up everything, including their very lives, to free the nation.
He said he so believes in them because today's youths are cut from the same cloth as those youngsters who flocked to Mozambican and Zambian forests to arm themselves to free their beloved motherland Zimbabwe.
One might also add that they are cut from the same African cloth as those 16-year-olds who rose and confronted apartheid South Africa, that June 16 1976.
The Minister is confident Zimbabwe's youths have it in them to address and conquer Zimbabwe's problems.
The fathers of Zimbabwe had this same confidence, this same faith in our young and that is why they took time to craft an education system that would prepare the young of Zimbabwe to fulfill this task; that would equip each child of Zimbabwe to carry the mantle and build for us a Zimbabwe that we fought and died for.
The Zimbabwe we fought for is a nation in which Zimbabweans are in total control politically, economically and socio-culturally.
Nothing short of this qualifies as the Zimbabwe we dreamt of.
And 36 years on, this education which the fathers of Zimbabwe designed for the children of Zimbabwe is nowhere to be seen.
Zimbabwe lies idle, untapped, unharnessed while it is flooded with thousands of university, technical, Ordinary level and Advanced level graduates.
There is no greater witness to the failure of the education system that was adopted 10 years after our independence, the one that epitomised the rejection of the education crafted and practised in Mozambique and Zambia than what we see today.
During the struggle, in the school camps, the students received ideological education which taught them that they were the heirs of Zimbabwe and they were right to commit themselves to die for their nation and they had the responsibility to build a socialist Zimbabwe after independence in order to fulfill the goals for which they were prepared to give up their lives.
They also studied each subject area holistically, relating the theoretical to the practical and productive, actually producing what they needed in the camps, their uniforms, shoes, cups, bamboo furniture, blackboards, plays and dance.
They learned in everyday classes, in everyday life, that labour is the source of all human livelihood, that to build a hut is as important as to write an essay.
Had 'Education with Production' been popularised across the nation, as was the plan for the establishment of the Foundation for Education with Production in 1981, Zimbabwe would not be lying idle, untapped and unharnessed; Zimbabwe would never have adopted the permanent wail for others to come and tap their resources, to come and harness them; Zimbabwe would not be crying endlessly for others to come and drive their economy.
Our young in whom the founding fathers of Zimbabwe had so much faith and trust, would be proclaiming with President Robert Mugabe that, Zimbabwe and everything in it is ours; we own, control and harness it so that it yields our needs of livelihood.
The fact that there is such a dissonance between what the President calls for and what our youths cry for is the result of that departure from the education designed for Zimbabwe during the liberation struggle, the education that was designed to fulfill the goals of Zimbabwe's liberation.
When Cde Cain Mathema said over the weekend that we have enough water in our dams to facilitate production across the nation because the dams are there and President Mugabe has trained engineers, he was underlining what the focus of our education should be.
That we train youngsters so they can seek jobs whatever, wherever, is not the purpose of our education system in Zimbabwe, but to train youngsters to transform the country.
If our graduates were awarded their degrees because they demonstrated their capacity to transform Zimbabwe in one way or another, with the flocks of graduates all over Zimbabwe, there would be no nook or cranny of Zimbabwe that would still be untamed.
This is what the education from the struggle would have achieved, but after the first decade of independence, it was sabotaged and discarded and what we have is a carcass of the Rhodesian education system which is impotent for us as a nation.
What happened to the engineers President Mugabe trained in the last 36 years? What happened to the doctors he has trained?
They are crying for money and privilege.
They are so different from Tichafa Parirenyatwa whom we never taught them about.
We never taught them about Cdes Chitepo, Tongogara, let alone Nehanda or King Mzilikazi.
Had we, in the last 36 years, given our youngsters the correct ideological grounding, as well, had we taught them more than theoretical knowledge that is divorced from reality, had we trained them to use their knowledge and skills to produce the material goods that Zimbabwe needs for her sustenance, had the teaching and learning classes been based on the unity between theory, practice and production, then every school, every technical college and every university would have factories producing goods which the nation needs and no-one would be crying that so and so has closed his/her factory, now where shall we go, what shall we do?
Minister Zhuwao said he expects the phasing out of the education curriculum that renders redundant thousands of 'O'-Level graduates every year and its replacement by the one that will result in the phasing out of vocational training colleges because the schools themselves will be more than sufficient for this task.
This is inevitable because there is no alternative to equipping our young not only with the correct ideological grounding so that they know who they are and what their responsibility to Zimbabwe is, but also with the capacity to produce for the nation, to own and manage productive enterprises as economic, political and socio-cultural heirs to Zimbabwe, right from Grade Zero to university.