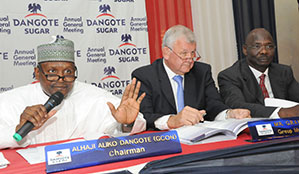 HAD Africa's richest man, Aliko Dangote been British or American, his foray into the country would have created a deafening din, especially in the so-called private press.
But he is Nigerian and thus it is not surprising that there exist some who oppose Dangote just because he is African and the so-called private media sees absolutely no interesting story in that.
In fact, there is just no excitement among the naysayers.
But where has the excitement gone?
Can we not trust the Nigerians, but Dangote is a billionaire with a proven track record.
Zimbabwe is not the first African country he is investing in.
He has invested in Cameroon, Nigeria, Senegal, Kenya, Ethiopia, South Africa and Zambia, among other countries.
One cannot help, but think that there are some among us so besotted with the West that they hope that this deal which has origins in the continent flops.
The non-believers in things African are busy on social-media mocking the monumental deals which stand to benefit not just Dangote, but every Zimbabwean.
If Dangote was British, no doubt the so-called independent media would not be this 'quiet'.
It is sad that there are among us those who only praise that which comes from the West, particularly our former colonisers, the British.
One could be forgiven for thinking that there are some who were disappointed by the attainment of Independence in 1980 and deep down wish they were ruled by the white man.
If Dangote was an investor from Britain, the hype would have been something else; different from what is being experienced right now.
A series of banners showering the 'British' Dangote with praise would be flooding the streets.
A visitor to the country reading the private media would think that a 'god' had visited the country, but no amount of self-hate will do away with Dangote.
The African tycoon has proved that he means business.
His team is in the country as per promise.
And work is happening at a frenetic speed.
"We are not here looking to invest, we have already made up our minds to invest and so we are here and we will invest," said Dangote.
Dangote's move to invest US$400 million in a cement plant in the country is not only a business deal, but a show of the reality of South-to-South cooperation.
One of the advantages of South-to-South cooperation is the absence of exploitation that is prevalent in North-to-South cooperation.
In South-to-South relations, there is a sharing of history as Africans which increases the degree of understanding of each other.
From an interdependence perspective, Dangote's move to invest in Zimbabwe is a realisation that Africa as a continent can be self-sustainable.
Dangote's investment must be seen as progress in the development of Zimbabwe and Africa and as Africans, we must do away with self-hate that sees us doubting our capabilities.
By investing in Zimbabwe and other African countries, Dangote is keeping out parasites that have sucked the continent dry for hundreds of years.
A good example is France which is still deeply rooted in its former colonies to the extent of still maintaining its military bases and demanding rent from countries that it colonised.
In the guise of offering peace in the states, the military bases symbolise France's position to continue having access to Africa's resources.
Zimbabweans must embrace their power which lies in the vast resources the country possesses.
According to Forbes Magazine, Dangote is Africa's richest man with a fortune estimated at US$17,4 billion.
In June, he launched a US$2,5 million metric tonnes per annum cement plant in Addis-Ababa, Ethiopia, and commissioned a US$250 million factory in Cameroon.
No doubt his investments change lives for the better.