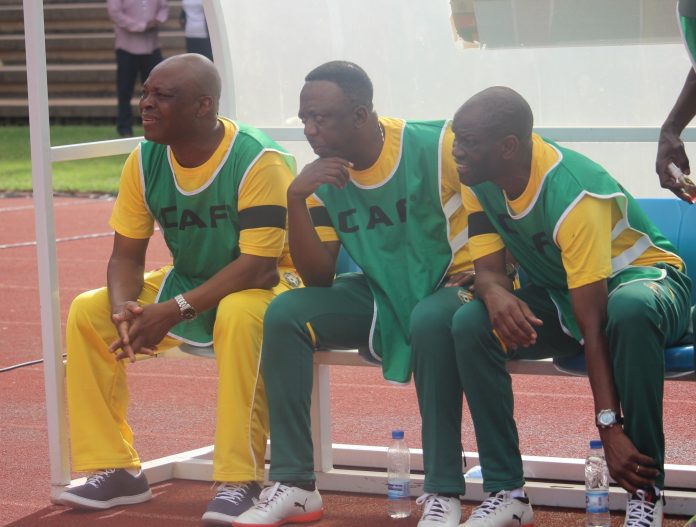 THE country's senior men's national soccer team, the Warriors, embarrassingly bowed out of the ongoing 32nd edition of the Africa Cup of Nations (AFCON) tournament in Egypt.
Time and again we have had to go back to the drawing board but, as we pick up the pieces, the compelling reality is that there is now absolutely nothing to draw from that board.
Our team is hopeless and now is the time to come to terms with the reality.
But before we do a thorough prognosis of the disaster in Egypt, it is important to unravel certain things about this country and how these have affected so many things.
There are many things in this country we have simply glossed over in order to make it look all rosy and beautiful; creating a fool's paradise with a false sense of bravado.
For instance, when Government last week introduced Statutory Instrument (SI) 142 which outlawed the multi-currency system, there was an outpouring of 'anger' by so-called political gurus and economic 'analysts' who suddenly fell in love with the argot 'fundamentals' in dismissing the new measures.
Suddenly these experts start telling us that the new currency will not work unless Government addresses fundamentals like production.
They forget that they were the ones who were lamenting high costs of production during the multi-currency regime.
We will deal with this issue on another day.
We have been told by MDC Alliance leader Nelson Chamisa that he has the keys to unlock the country's potential but as we are now seeing, that is one huge lie replete with innuendos aimed at taking him and his stuttering party to State House.
We have been told by one Tendai Biti that he brought stability to the country's economy when all that he did was to suffocate the potential of resettled farmers and artisanal miners.
If anything, and when the truth is told, it was in fact former Finance Minister Patrick Chinamasa who brought in the much touted multi-currency regime in January 2009.
We have also been told that the Land Reform and Resettlement Programme of 2000 was initiated as a result of the coming on board of the MDC on September 11 1999.
Again that is a lie.
The truth is, between 1980 and 1990, the Government of Zimbabwe was hamstrung by the infamous Lancaster House 'willing-buyer willing-seller' 10-year clause which inhibited buying land from white commercial farmers.
Because no one was willing to sell land, Government managed to resettle
75 000 families out of the targeted 162 000 families.
Government needed 8,3 million hectares to resettle people who had been displaced by the war of liberation but managed to acquire only 2,6 million ha.
Disappointed by the slow pace in the implementation of the programme, Government introduced the Land Acquisition Act in 1992.
The Act allowed for compulsory acquisition of land with 'little compensation and limited rights of appeal to the courts.
As expected, white commercial farmers launched lawsuit after lawsuit challenging the law and compulsory acquisition of what they said was 'their' land.
The bench which comprised mostly white judges, like the then Chief Justice Anthony Gubbay, David Bartlett, Fergus Blackie, George Smith and Michael Gillespie, was accused by former President Robert Mugabe of taking sides with the white farmers and seeking to derail the Land Reform and Resettlement Programme.
In September 1998, a Land Donor Conference was held at the then Sheraton Hotel (now Rainbow Towers) in Harare where the Government of Zimbabwe made passionate pleas for international donors to honour their Lancaster House pledges of funding the Land Reform and Resettlement Programme.
But those pleas fell on deaf ears as the British Government, under the bellicose Tony Blai,r reneged on its earlier pledge to support the programme through funding.
Now, from the foregoing narration of events, it is difficult to locate how the MDC played any part in the implementation of the programme.
On the contrary, they were, in fact, vehemently opposed to that programme; a position that they have studiously held on to for more than two decades now.
It is important to keep these issues in mind when unpacking the Warriors' horror outing in Egypt.
The media stupid!
Glaring fault lines from the technical department have for some time been there for all to see but, time and again, and because we have an excitable media that glosses over mediocrity, we are where we are now.
How the media found glory in the Warriors' defeat by Egypt is indicative of our penchant for glorifying incompetence.
The Warriors were off colour against the unconvincing Pharaohs and if we had sound technical minds, we could have easily walked out of that match with at least a point.
Fine, we went down fighting as the local media claimed, but what they forgot to tell us was that there are no points for going down fighting.
Musona and Chipezeze's fault?
Not at all!
It would have been an insult if the Warriors had qualified for the next round of the tournament given how clueless the technical bench was.
We are talking of people who lost their jobs at their respective clubs for failing to produce results and those same people are given the honour of carrying the nation's hopes!
We have FC Platinum coach Norman Mapeza; one of the finest minds in local football and a coach who has just had a dance on the continental stage being snubbed by an incompetent ZIFA.
We will not even waste our time on ZIFA because we all know they are incompetent.
When all is said and done, we will have to face the reality that it will take us a while to move from this fiasco.
The Warriors are a national disaster and not even an apology can undo the damage they have caused to the nation.
They have let us down.
Let those with ears listen.