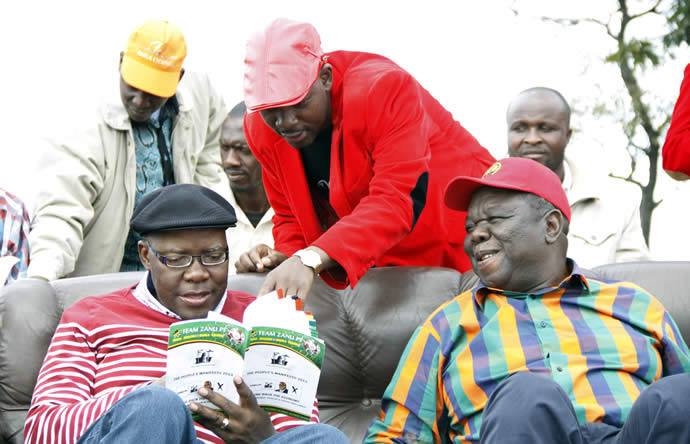 ZIMBABWE is in election mode.
Supporters from respective contesting parties are naturally excited, waiting for what their parties have in store for them by way of their manifestos.
With the country heading towards the general elections in July with some opposition parties having already launched their manifestos, the ruling ZANU PF has promised something exciting.
This week, ZANU PF is launching its manifesto and election campaign after successfully holding its primary elections earlier in the week.
Some have dubbed the primaries 'a process of renewal and regeneration for the ruling Party' and the ZANU PF 2018 Manifesto stands on the edge of an era-defining moment.
It will not only articulate the ruling Party's programme of action for the next five years, but outline the development agenda that ZANU PF seeks to pursue under the new leadership of President Emmerson Dambudzo Mnangagwa.
The new gospel is economic stabilisation, economic revival with economic growth coming in as the natural successor.
The 'Zimbabwe is open for Business' drive is the new lynchpin for this year's elections.
The 2018 manifesto will herald a new business culture that places Zimbabwe on the path to becoming a middle-income economy by 2030, in line with President Mnangagwa's vision.
Meanwhile, MDC-T or MDC-Alliance, whatever one prefers to call it, 'chief' leader Nelson Chamisa is brewing something that he thinks is 'SMART' enough.
He hired academics — Philani Zamchiya, Solomon Mungure, Gideon Chitanga, Pedzisayi Ruhanya and Mfundo Mlilo — to craft the party's manifesto dubbed SMART Project.
In addition, his blue-eyed boy Tendai Biti can be trusted to produce something high-sounding on paper but really absurd in reality.
He has previously produced something curiously called ARREST.
ZAPU president Dumiso Dabengwa, last month, launched his party's election manifesto, with devolution of power and fight against corruption topping the list of priorities.
This is similar to Mthwakazi Republic Party's manifesto anchoring on Restoration Empowerment Self-determination and Transformation (REST).
In 2015, Joyce Mujuru launched her manifesto dubbed Blueprint to Unlock Investment and Leverage for Development (BUILD) purported to take Zimbabweans to the promised land.
Of the 121 political parties to contest in the 2018 election, Nkosana Moyo's Alliance for the People's Agenda (APA) is the only party that does not believe in manifestos and rallies.
He has become a butt of jokes on social media with his unusual presidential campaign strategy where he literally pops at the most unexpected of places across Zimbabwe canvassing for votes.
What is a manifesto?
The Concise Oxford Dictionary defines a manifesto as 'a public declaration of policy and aims issued before an election by a political party, candidate or Government.'
Every time a nation prepares for general elections, a great deal of effort goes into campaigning.
Once manifestos of political parties are out, campaigning for the general elections in the country moves into full gear.
Manifestos serve a very important function because they are the main way of telling voters why they should give their vote to a particular political party.
This means they are usually written in persuasive style which attempts to make readers believe the policies they contain will be in their best interests.
Since it is a public declaration, it is open to public scrutiny and demand for implementation.
A manifesto is therefore very useful and serves as an important benchmark for measuring the performance of a Government and ensuring it becomes accountable to the electorate based on the promises outlined in the manifesto.
Does it matter?
A manifesto is vital in any election.
Illustratively, 2013 had Bhora Mugedhi, ZANU PF's manifesto anchored on 'Indigenise, Empower, Create Employment' while MDC-T had Jobs, Upliftment, Investment Capital and the Environment (JUICE).
Bhora Mugedhi saw ZANU PF resoundingly winning the election with the opposition envious of ZANU PF's 'sexy' electoral message.
Opposition leaders could be seen during their rallies glued to their seats, marvelling at ZANU PF's manifesto.
In one press statement, Tendai Biti,
conceded that the MDC-T lost the July 31 2013 harmonised elections because: "JUICE was so complicated such that the electorate struggled to understand it."
In March 2014, he told a policy dialogue held at the SAPES Trust in Harare that ZANU PF's Bhora Mugedhi message resonated with the electorate.
Said Biti: "ZANU (PF), in the last election, had a very simple message, 'Bhora Mugedhi'.
Even a little woman in Chendambuya or Dotito knew one thing, Bhora Mugedhi.
Perhaps we were too sophisticated, but what was our message because the message of change of 2000 is not the message for now.
We were selling hopes and dreams when ZANU PF was selling practical realities.
We (ZANU PF) are going to give you a farm, it's there."
Biti said MDC-T leaders failed to fully articulate the party's JUICE manifesto.
They appeared confounded by the complex concept and this confusion trickled down to their supporters, effectively rendering them manifesto-less come election time.
A people's manifesto
According to Mahlangu (2015), manifestos are compared and measured against the following benchmarks: Simplicity of terms and intentions, inclusivity, originality, home grown, home sensitivity, ideological bias and foreign bias.
Simplicity of terms and intentions refers to how easily an average person can understand the manifesto.
Inclusivity looks into how comprehensive the manifesto is in embracing all stakeholders or interest groups.
Is the blueprint home grown, as well as sensitive to Zimbabwean aspirations?
And this week, ZANU PF's manifesto will be measured against these benchmarks.
ZANU PF has been known, since 1980, to produce simple, home-grown, inclusive and original manifestos which resonate with the electorate.
Therefore, the 2018 manifesto will be no exception.
Coming against a historic and redefining election, the ZANU PF manifesto ought to be unique and attractive.
As usual, people await a people's manifesto that will address economic challenges such as cash shortages, price hikes, employment and resuscitation of industries, among others.
Of course, social services improvements such as health care, education, water and sanitation are expected to top the list of the manifesto.
However, in this election, people need more than that; they await a manifesto that future generations will constantly look back to admire.
Since he took oath of office on November 24 2017, President Mnangagwa has set a new culture of governance.
Many have labelled him a 'workaholic', as he constantly hurdles from one national duty to the other.
President Mnangagwa has defined a new way of doing things, a new dispensation, a new ethos.
He cleansed the nation of the politics of hatred of yesteryear and all the other toxic rants that had become the hallmark.
Instead of focussing on political survival, the new priority became service delivery.
He restored order and sanity.
The law had been sidelined and people were looting with impunity.
Some in high office had become specialists in ordering the release from custody of their protégés caught siphoning resources from national coffers.
The Zimbabwe Republic Police (ZRP) had long abrogated its mandate; the law was no longer being effectively enforced and the impact on the national economy was devastating.
Fake licences, fake permits, non-payment of taxes and other Government revenues were the order of the day.
Zimbabwe had been isolated for a long time and President Mnangagwa's 'Zimbabwe is open for business' drive brought to an end that isolation and brought the country into the fold of the community of nations.
If President Mnangagwa's five months in office has seen so many tangibles, what more in the coming five years?
Zimbabwe waits for a people's manifesto with bated breath.