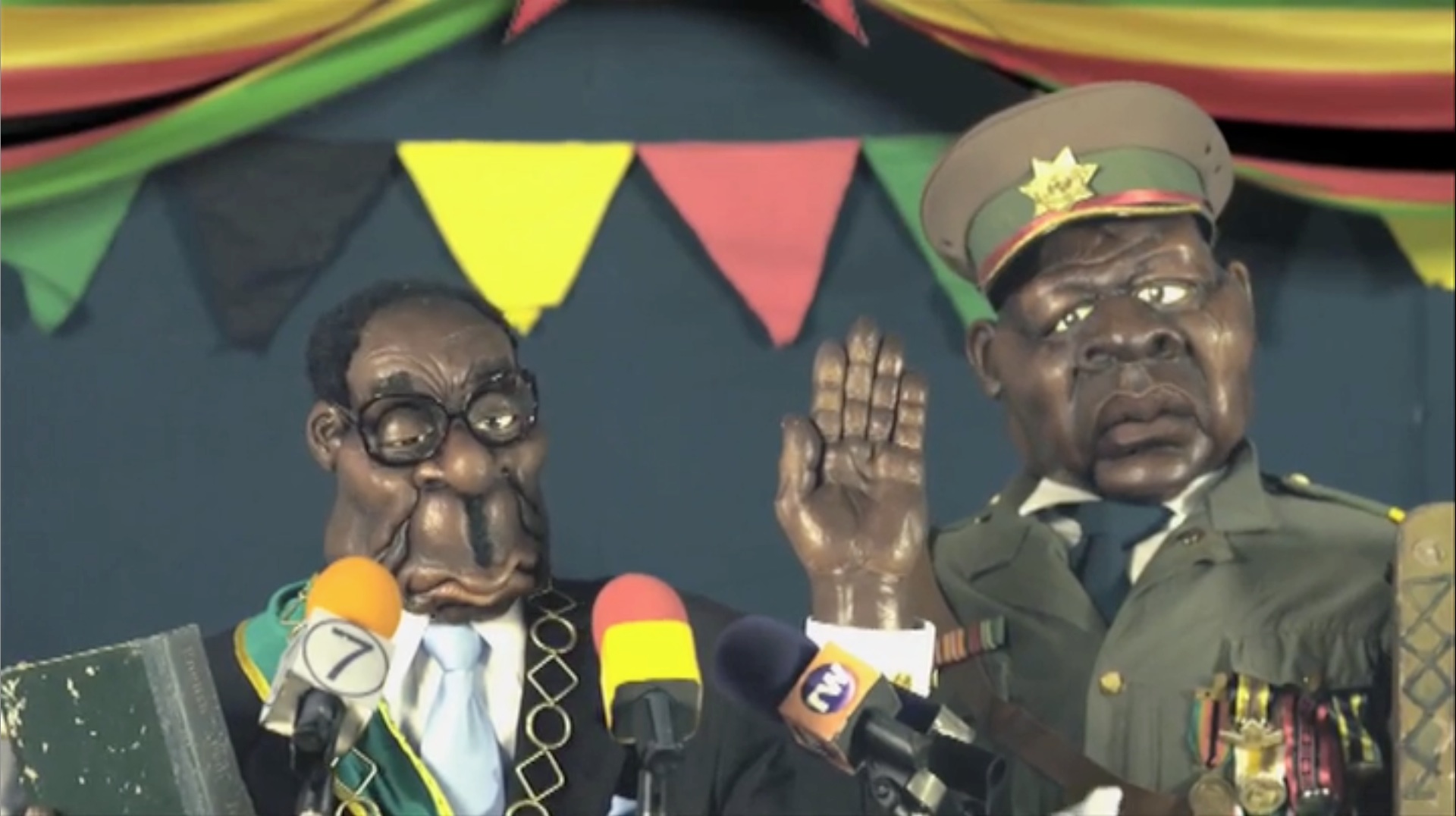 WESTERN-sponsored newspapers, news sites and social media are awash with stories of South African Afro pop group, Freshlyground being 'banned' from Zimbabwe.
The Afro pop group that was billed to perform at the closing ceremony of the Harare International Festival of the Arts (HIFA) on Sunday, failed to secure visas and temporary employment permits to allow them to work in the country.
The controversial group once grabbed the headlines in 2010 when they released a song 'Chicken to Change' with the video denigrating President Mugabe as a dictatorial caricature and urging him to 'chinja' in an apparent reference to the opposition MDC -T slogan.
Once again these newspapers and news sites which are known to be tools of regime change have seized the opportunity to portray Zimbabwe as an 'undemocratic' country that does not 'celebrate' freedom of expression.
This does not come as a surprise as these Western-sponsored newspapers and news sites have for the past decade portrayed Zimbabwe in bad light.
Since Zimbabwe embarked on the Land Reform Programme in year 2000, it has been portrayed as a country with no rule of law, no respect for human rights, poverty stricken and President Mugabe has often been labelled a dictator.
People are denied entry everywhere what's so special about this group that they have to make it so dramatic?
Clifton George Bailey better known as reggae singer, 'Capleton' was banned from performing in the United Kingdom, Switzerland and the United States because of his music lyrics condemning homosexuals.
No fuss was made about this because these European countries and USA were defending their belief on gay rights.
When Zimbabwe upholds its image and dignity, it then becomes undemocratic.
These newspapers and news sites have further accused ZANU PF of being behind the 'ban' of Freshlyground.
Nehanda Radio in particular on April 25 2014 wrote a misleading story headlined: 'ZANU PF paper pushes for Freshlyground HIFA ban' following an article published in The Patriot of April 25 to May 1 2014 headlined: 'HIFA under fire for inviting Freshlyground'.
Nehanda Radio wrote:
"The Patriot newspaper, owned by ZANU PF Nyanga North MP and Deputy Minister of Information, Media and Broadcasting Services, Super Mandiwanzira is pushing to have South African afro-pop group Freshlyground banned from performing at this years' Harare International Festival of the Arts."
The Patriot on the other hand had highlighted that pundits had criticised HIFA for opening its arms wide open arms to Freshlyground, citing that the presence of the group was unpalatable to self-respecting Zimbabweans.
Following its deportation this week, the Afro-pop group in a statement accused President Mugabe of not having a sense of humour.
However, were President Mugabe and the rest of Zimbabweans supposed to laugh their lungs out upon seeing the 'Chicken to change' video?
The video caricatures a latex puppet version of President Mugabe as he crosses his fingers while taking the oath of office, swearing to be faithful to Zimbabwe and observe the laws of the country.
The video depicts President Mugabe riding in the back of a chauffeur-driven presidential car and reading a newspaper, Bob's Times, with the front page headline: 'Glorious victory for ZANU PF'.
It cuts to Freshlyground singing in a shebeen, dancing like chickens and challenging President Mugabe to relinquish his 30 years in power.
At first, lead singer Zolani Mahola pays tribute to President Mugabe's part in the struggle for Zimbabwe's independence, describing him as a 'supernova'.
Her lyrics continue: "An iridescent example of honour for the coming generation, you promised always to open the doors for us.
"Indeed it is you and only you who sleeps with the key.
"You are chicken to change."
President Mugabe's car comes to a sudden halt and some chicken feathers flutter in front of the windscreen.
He looks out at an impoverished couple clutching chickens, but chooses to ignore them and drive on.
At the end of the video, the President Mugabe puppet transforms into a chicken with suit and spectacles intact.
Where is the humour in all this?
This not a joke, but a patently biased, distorted and ill-informed dabble in Zimbabwean politics.
In fact, it is an insult.
Scores of Zimbabweans lauded the Immigration Department for sending the group back to South Africa.
They expressed disdain at the video 'Chicken to change' noting the Afro pop group does not have respect for Zimbabwe thus does not deserve to be in the country.
On the Freshlyground's facebook page, Fortune Chasi wrote:
"I do not know much about Freshly Ground.
"I do not know why they were returned.
"But I have just seen their 'Chicken to change' video.
"It is deeply political and some lady there constantly shouts 'Chinja!' which I know to be the MDC slogan.
"You do political stuff you become political fair game."
Another fan, Blaanket Vumba wrote:
"I hope you learnt good.
"Who are you to tell us that our President has overstayed?
"Next time leave such responsibility to the citizens of that particular country.
"To say the least, South Africa has enough problems for you to get adequate lyrics to stay in business.
"Surely do you think the majority of Zimbabweans share your view point?
"Whose interests are you serving?
"Definitely not Zimbabweans.
"Asi makatumwa?"
However in their press statement at the Harare International Airport, the group claimed that it had great respect and love for the people of Zimbabwe.
How then do you respect the people of a nation, but insult their leader?
The Western sponsored newspapers and news sites went further and tried to paint a picture that Zimbabwe is an unfriendly country.
Contrary to such reports, a South African artiste Latoya Buthelezi known as 'Toya delazy' was well received by Zimbabweans at the just ended HIFA.
This is a lesson to the group that they should not get caught in the country's politics they do not even understand.
Zimbabweans on July 31 2013 voted overwhelmingly for President Mugabe, thus it is in their hands to vote him out.
That is the message from progressive Zimbabweans to Freshlyground and their 'Chicken to change' video.