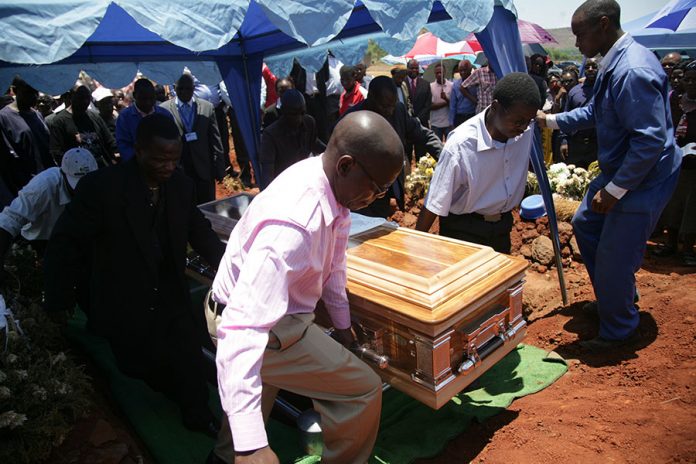 DEATH certainly brings unexpected consequences to those left in its aftermath.
While the cruel pain of separation can be great, it becomes even heavier when economic circumstances contrive to worsen the situation.
To put it bluntly, when you die, your family will suddenly have to find the money to pay for your funeral.
The cost of a funeral has spiked in the last decade, pushing funeral cover to prerequisite status.
While some families are able and willing to absorb these costs, others struggle to get the most basic of provisions.
The cheapest chipboard coffin and funeral parlour fees alone have sent many families far into debt, making a US$10 painted grave marker seem a luxury item.
Things that once seemed crucial for a dignified farewell will be a thing of the past; no flowers and no mourning for three to four days over meals of warm cabbage, soft cornmeal and freshly slaughtered beef.
Some turn to family or friends for help, while others go into the red by taking out loans.
Many go as far as selling their possessions in order to cover the cost.
Funeral costs include body removal, mortuary charges, cost of the coffin or casket, grave, chapel fee, undertaker's fee, food and transport to ferry mourners to one's final resting place.
According to Zimbabwe Association of Funeral Assurers (ZAFA), average cost of body removal is US$170.
A snap survey by The Patriot revealed that single graves cost between US$120 and US$300 at municipal cemeteries whereas at private cemeteries, they range between US$400 and US$1500.
Family Close that takes up to 10 graves and 20 burials costs between US$8 000 and US$10 000 at the country's top notch cemeteries, Zororo Gardens and Glen Florest, respectively.
Full cremation service is for a single payment of US$1 250 only.
Coffins cost between US$200 and US$2 000 whereas a bus charges US$2,50/km and a hearse charges US$1/km.
Dying in the Diaspora
For those with relatives in the Diaspora, death of a loved one there is a nightmare.
Families dealing with the grief of a relative dying overseas often find themselves with the unexpected consequence of paying thousands of dollars to bring the body home, in some cases, delaying burial by weeks or months.
Relatives are expected to fork out about £2 500 in the UK, about US$20 000 in the US and R25 000 in South Africa to repatriate the remains of a loved one.
In most cases, families fail to raise such huge sums of money, resulting in them seeking donations from friends and relatives. Remember the Fortune Muparutsa saga nearly nine years ago when his body could not be repatriated for nearly nine months after he died in the UK?
The incident epitomised the sad state of affairs of dying in the Diaspora without providing for the inevitable and this drew the intervention of fellow artistes, family and other well-wishers to raise the £2 450 required for Muparutsa's body to be repatriated from the London morgue where it had been holed up for nine months.
There was also the highly publicised case of another Zimbabwean, Dr Ottillia Chareka, who died in Canada in 2011. Her relatives and friends ran a campaign to raise US$20 500 needed to send her body home for burial.
In yet another touching incident, when popular Studio 263 actor Nevernay Chinyanga (Muwengwa) died in South Africa in November 2010, his family had to run around to raise R20 000 to bring his body back home for burial.
In 2015, the body of actress Pretty Xaba, who died in India while seeking treatment for cancer, was delayed for a few days while the family sought assistance to bring back her body.
To avoid repatriation fees, some families bring their seriously ill loved ones home on cross-border buses so that they do not die in a foreign land.
This is, however, at a cost, but far less than repatriation fees. Cross-border bus crews usually ask for anything between US$50 and US$100 to carry the sick to Zimbabwe from neighbouring countries.
ZAFA general manager Taka Svosve said funeral insurance is proving a must-have as the cost of funeral ceremonies now stretch to several months of income.
"Funerals have been a part of our culture for thousands of years but unfortunately it's not something we like to think about when it's our own," said Svosve.
"But it's important to think about what that cost would fall on if something went wrong without warning (sic).
"Funeral cover may seem like a morbid monthly cost, but it can shield you and your family from financial crisis after losing a loved one."
Funeral insurance is one of the most common types of insurance policies in Zimbabwe. About 30 percent of adult Zimbabweans have some form of insurance, according to a 2014 research conducted by Finmark Trust and published by the Zimbabwe National Statistics Agency.
Of those people who are insured, 82 percent have funeral insurance.
Insurance and Pensions Commission (IPEC) public relations officer Lloyd Gumbo said everyone should be able to give their loved ones a decent and dignified send-off.
"It is for that reason that our regulated entities have come up with funeral products that are some of the cheapest in the insurance market, with some of them as little as 50 cents (sic)," said Gumbo.
He said the Commission introduced the Micro insurance Framework, to enable insurers to come up with products that are affordable and easily accessible to the public, including low income earners and those with irregular income.
IPEC said a funeral policy guarantees peace of mind in the event of death.
"Funeral arrangements are important considerations, especially when your family is worried about making the wrong decision, for instance, in terms of the coffin one wants to be buried in," said Gumbo.
"You can make all the important decisions regarding your final arrangements.
"Making these decisions yourself will greatly help your family and, of course, by getting them involved right from the planning process, you will ensure that your desire will be fulfilled. But if no such policy exists, the family may not be able to fulfil the deceased's desire."
Last week, a diversified insurance group, Nyaradzo Life Assurance Company launched a pioneer product, the Sahwira International Plan (SIP), that will cater for Zimbabweans living in the Diaspora.
The SIP will give those living abroad the opportunity to have a decent burial back home as well as being present for the burial of their loved ones.
Nyaradzo chief executive officer Philip Mataranyika said the new product was especially focused on Zimbabweans living in the Diaspora.
According to Mataranyika, the new product is part of the group's vision of becoming a preferred provider of total insurance risk and events management solutions through sustainable, dynamic and innovative products delivered to world class standards globally.
A funeral attendant with a local funeral provider, who declined to be named, urged Zimbabweans in the Diaspora to prepare for such eventualities like death, regardless of how little one earns.