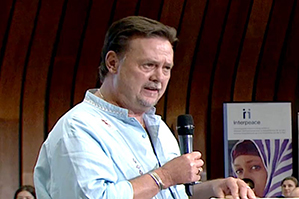 A WEEK ago a prominent figure in Zimbabwe's history cape, Professor Terence Ranger passed on.
The death has resulted in both outpouring of grief and celebration of the life of a man variously described by a cross section of Zimbabweans as a friend, eminent historian and nationalist.
I have known Terence Ranger, through his works, since 1985 when I enrolled for a history course with the University of Zimbabwe.
One of my lecturers, David Beach, was an avid critic of Terence Ranger's much celebrated 1967 book, Revolt in Southern Rhodesia.
In typical student rebellious attitude I fell in love with Ranger's book despite that this was now more than a decade after it had been torn into pieces by historians like David Beach and Julian Cobbing.
The book presented an inspiring romanticised view of a united and spiritual African response to Rhodesian colonialism in 1896-7.
I then met Terence Ranger for the first time in 1986 or 1987 at the University when he delivered a lecture on, 'The Invention of Tribalism in Zimbabwe', again the sort of stuff the radical student patriot wanted to hear.
We gave him a standing ovation at the end of his presentation.
In the early 1990s I bumped into him in the company of his field colleague, Mark Ncube, but I never got to converse with him closely.
After 2000 I met him a couple of times in professional fora in Zimbabwe and within the region.
He was no longer the distant lofty revered historian to me.
He had become a professional colleague I could call Terry.
Still I would not claim he had become a friend.
A friend is someone you are closely attached to and you share a life with.
With Terry we shared only Zimbabwean history.
Terence Ranger's name shall for a long time be associated with Zimbabwean historiography.
Together with Nathan Shamuyarira and William Barber, they were part of a crop of liberal Africanist writers inspired by Richard Gray's 1960 publication, The Two Nations, that set the tone for a decade of publications critiquing 'old Rhodesians' racist governance.
In the 1980s and 1990s to the above voices was added celebration of triumphant nationalism and unity, Canaan Banana, Terence Ranger and Mark Shadur being notables.
In his later years, Terence Ranger remained a leading light in historical research with his work in Makoni and Matobo districts and contributions to the Zimbabwe archive.
Eminent Zimbabwean historians and academic colleagues of Ranger like Ngwabi Bhebe, Gerald Mazarire, Alois Mlambo, Theresa Barnes, and Diana Jeater are better qualified to comment in depth on Terence Ranger's contribution to Zimbabwean historiography.
I will therefore restrict my comments on Terence Ranger to claims that he was an eminent nationalist.
Ranger's association with nationalists reached its peak with publication of his 1967 book, Revolt in Southern Rhodesia.
The book presented a picture of a united and spiritual First Chimurenga that had appealed to the glories of the past Mutapa/Rozvi empires.
The nationalist movement was inspired by the romanticised view of the First Chimurenga at a time Second Chimurenga guns had just been fired in the then Sinoia and Wankie.
He indeed inspired nationalists with his ideas of a united and coordinated uprising.
Terence Ranger had arrived in this country to take up a teaching position at the University in 1957.
He quickly became part of the white liberal community that opposed Rhodesia's blatant racist governance.
White liberals were particularly active during the 1940-1965 periods.
They advocated fair governance that would include assimilation of elite blacks.
To white liberals the only way to avert militant nationalism lay in making limited concessions to the black elite.
The liberals constantly clashed with 'Old Rhodesians' who wanted to maintain the status quo.
This made liberals comrades of nationalists and this confusion has seen them continue to this day to be confused with nationalists.
White liberals managed to convince some naïve nationalists that racist white colonial government could reform itself.
They never sought the overthrow of the settler regime.
White liberals established organisations like the African Association and the Capricorn Africa Society led by the likes of Garfield Todd.
They became advisors to some of our early nationalists.
Such white liberals included Terence Ranger, John Reed and Leo Baron.
Through their efforts, blacks like Jasper Savanhu and Mike Hove joined the Federal parliament.
It was the work of the liberals that saw some nationalists controversially accept the 1961 Constitution that reserved 15 parliamentary seats for blacks.
The liberal bandwagon initially included elite blacks like Shamuyarira, Chitepo and Nkomo who later abandoned it and became militant nationalists.
Writing about the low struggle threshold set by white liberals, Fay Chung says this about Ranger, "In my first year at the University I was picked to be a drum majorette, then a 'whites only' preserve.
"Terence Ranger saw this as a breakthrough."
When the nationalist movement abandoned the negotiation platform and opted for an armed struggle, the white liberals, with the debatable exception of Garfield Todd at Hokonui Ranch and Guy Clutton-Brock at Cold Comfort Farm, did not join their black comrades.
My view is that this was because white liberals had not been against racism and colonialism per se, but rather had been against rogue racist colonialism.
They preferred to assimilate blacks that had reached their 'civilisation' threshold.
In conclusion, I say to call Terence Ranger a nationalist is perhaps stretching the eulogy.
Eminent Zimbabwean historian he certainly was.
Friend of some Zimbabweans he was indeed.
Comrade of our nationalist he was.
However, unlike fellow comrades of non-African descent like Fay Chung and Jeremy Brickhill, Terence Ranger was neither communist nor terrorist, a label shared by our nationalists.