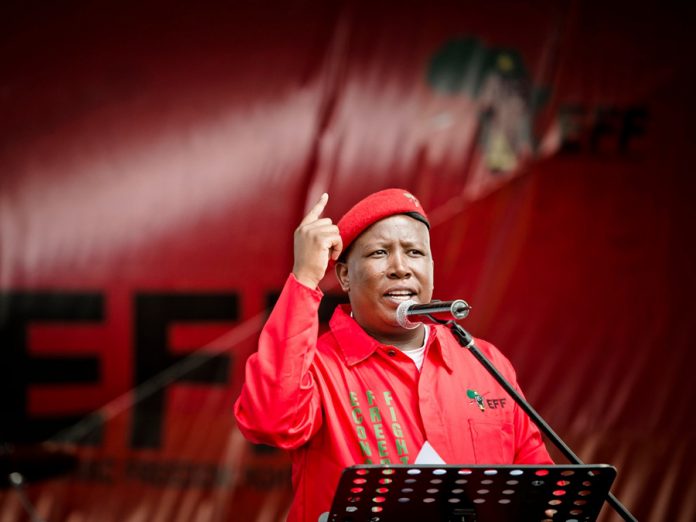 IT seems things are going south in South Africa.
The land issue is now taking precedence in that country and not everyone in the world is happy about it.
Julius Malema, leader of the opposition Economic Freedom Fighters (EFF), wants South Africans to acquire their land.
He has shown bravery and patriotism by urging people of his nation to unite and fight for their rights.
This is something that you will rarely find in Zimbabwe because of the nature of the opposition we have in our midst.
The ruling African National Congress (ANC) in South Africa also want people in that country to repossess their land.
Another South African opposition party, the Democratic Alliance, is conspicuous by its absence in discussions to do with land.
They represent certain interests which are alien to the aspirations of the South African majority and indeed those of the progressive world.
And these are contentious issues that have incurred the wrath of the West, particularly Britain and the US who are not hiding their disdain of land reform in South Africa.
History, especially when it comes to Zimbabwe, is important when unpacking the trouble that is about to visit upon South Africa.
This is where comparisons are drawn between the EFF and the opposition in Zimbabwe.
We have an opposition in Zimbabwe in the form of the MDC which is livid people given land are doing well with that revered asset.
Zimbabweans are happy, not because of what is about to visit the rainbow nation but, because Africa is becoming of age.
Serious trouble looms for South Africa and we fear we have every reason to be worried about our neighbours.
We live in a world where there are those who believe that real owners of the land must not be in control of same.
They call acquisition of land by its rightful owners 'undemocratic' and 'abuse of human rights'.
They also believe in punishing whoever acquires land from whites and, sanctions are the tool to 'whip such countries into line'.
Zimbabwe is currently grappling with the devastating effects of illegal economic sanctions which were renewed and extended by the Donald Trump administration a fortnight ago.
Let us get deeper into that issue.
Last month, South African President Cyril Ramaphosa announced the ANC's plans to change the Constitution to explicitly allow expropriation of land without compensation.
These are part of efforts to put to an end deep inequalities in land ownership in that country, which won its independence in 1994.
The move by President Ramaphosa was also the first serious interrogation of the Native Land Act of 1913 which set aside 90 percent of land for whites who made up less than a third of its people.
There are damning statistics which make the issue of land emotive, just as it was in Zimbabwe before the year 2000.
In Zimbabwe, 87 percent of the country's land was owned and controlled by five percent of whites.
Across the Limpopo, white South Africans, who make up around eight percent of the country's population, still own 83 percent of agricultural land, according to estimates from farmers association Agri SA.
As was the case with Zimbabwe, land reform in South Africa has been hampered by purported 'voluntary' sales by white farmers and other property owners to the government at 'market' prices under a policy known as 'willing-seller-willing-buyer.'
In Zimbabwe, there was a clause inserted in the Lancaster House Constitution that deterred Government from embarking on the Land Reform Programme during the first 10 years of Harare's independence.
It was also called the 'willing-buyer-willing-seller policy'.
The South African clause has yielded eight percent of agricultural property from white into black ownership against a target of 30 percent that the ANC had set for the first five years of independence.
South Africa's history of colonialism is heart-breaking.
Under apartheid, black South Africans were not allowed to own property and were condemned to so-called 'Homelands or Bantustans.'
Moving outside the Homelands entailed a black person to carry officially designated 'pass books'.
And today Trump is angry with black South Africans.
Last week, he posted an ominous tweet to South Africa in the dead of the night, claiming that white farmers were being killed over land.
"I have asked Secretary of State @SecPompeo to closely study the South Africa land and farm seizures and expropriations and large-scale killing of farmers," Trump said.
Mike Pompeo is the US Secretary of State.
And South Africa's rand fell 1,3 percent against the US dollar after Trump's tweet.
But South Africa is unmoved.
EFF national spokesperson Mbuyiseni Ndlozi responded in kind saying they were not moved by Trump's threats.
"We are not scared," he said.
"We are not moved!
We know that Britain will follow with the same madness; because for them black people in this country must remain landless in the country of their birth.
Imperialism will not succeed this time!
The world is no longer the one of Bush and Blair.''
Even pro-Western institutions like the World Bank, which remained mum when Zimbabwe was being punished by the US for taking back its land, is supporting land reform in South Africa.
In its latest report, the international financial institution said South Africa's tran­si­tion remained incomplete because "…the highly skewed distribution of land and productive assets is a source of inequality and so­cial fragility, fu­elling con­tes­ta­tion over re­sources."
The South African Government has been equally adamant on the land issue.
"South Africa totally rejects this narrow perception which only seeks to divide our nation and reminds us of our colonial past," it said.
"South Africa will speed up the pace of land reform in a careful and inclusive manner that does not divide our nation."
It is our hope that South Africa will not be cowed into abandoning land reform.
Let those with ears listen.