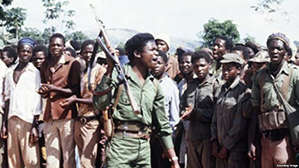 1978 and 1979 experiences of Cde Charles Pfukwa
IN 1978 and 1979 rose a wave that impressed even us, battle-hardened guerillas.
At this stage of the war, I was operating east of Rusape near Christe Mambo in the then Manica Province.
The ZANLA forces coming to the front, mostly from Nachingwea, were different from those that preceded them.
I had trained in Mozambique, where our training was three months long.
The new crop of Nachingwea-trained forces, on the other hand, had undergone an intense six-month training exercise.
Their professionalism and efficiency were incredible.
They did not operate in typical guerilla fashion.
They moved in large numbers.
They sought out the enemy.
They were prepared to engage the enemy in broad daylight.
They were young, enthusiastic fighters.
And while we camped, they did drills.
This was interesting.
They operated like a regular army.
They were highly trained.
The fighting spirit was surely different from their predecessors.
This force was largely made up of thousands of high school and university students who left the country in droves, mostly in 1975.
All the great armies in history had special units; the Romans had the Praetorian Guard and Napoleon Bonaparte had the Imperial Guard.
In battle, these made a difference.
ZANLA's forces coming from Tanzania and trained at Nachingwea brought with them an extra sting.
They were just special.
I do not take anything away from my compatriots who had been at it for some time and had gained invaluable experience at the front.
But these fighters, I had the fortune to witness and fight alongside, were a special breed.
They took to heart the 1979 Cde Robert Mugabe's New Year message.
The year 1979 was the 'Year of the People's Storm'.
Out of the 11 important tasks for the year, one called for people to take risks and make sacrifices.
I remember, it was task number seven.
This task was frightening.
It implored the guerrillas to become more aggressive as the protracted armed struggle had stretched long enough.
From the front, we could see that the attacks were getting more daring by the day.
And these fighters from Nachingwea took the instruction to be more daring and make sacrifices to heart.
Where the typical guerilla unit would wait to hit the enemy under the cover of darkness, the Fanya Haraka and Maliza Maliza would opt to sniff out the enemy and engage them in open combat, without retreating.
They would simply change positions and return fire to the enemy.
At times, when you would find yourself fighting next to a Nachingwea-trained cadre, you would notice that they would empty their magazines way before you would have finished yours.
These fighters turned on the heat for the Rhodesian regime and from 1978, Rhodesia was under serious siege.
Feeling the heat, the Rhodesians became increasingly desperate, engaging in cowardly acts like bombing helpless women and children refugees in a bid to thwart the unstoppable wave of the liberation movement, but all to no avail.
Traditionally, the hotbed for the war were the rural areas.
But by the end of 1978, we had already liberated many zones in the rural areas; these were now no-go areas for Rhodesians.
They steered clear of them.
A 5 000-strong deployment came from Nachingwea in 1978 known as Fanya Haraka which was Swahili for 'hurry up'.
In previous years, forces deployed to the front were coming in much smaller numbers; at times maybe a force of 400 or 500 men would be deployed, but a whopping 5 000-strong force was something else.
This lethal force was in no time followed by another 5 000 known as the Maliza Maliza which meant 'finish' or 'wind up' in Swahili.
They brought renewed vigour to the front.
And true to their name, they carried out their mandate diligently.
The comrades were going to fight, right up to the last man, if that was the cost to get independence.
And following many failed attempts to lure the ZANLA forces to the negotiating table to gain independence, the guerillas became increasingly agitated when they heard that there was going to be talks.
They had grown tired of them.
We even had a slogan at the front, 'pasi nema talks'.
We were tired of these talks about talks that did not yield positive results.
So we decided to take the fight to the doorstep of the Rhodesian citadels.
I recall how the detachment of forces moved from Manica Province to Salisbury.
Detachments began to move from Makoni, Chiduku, Wedza, Svosve and Chihota.
By August 1979, there was a Seke detachment, operating at the fringes of Salisbury.
This was unheard of two years prior.
But the comrades were determined.
It was due to this tidal wave of the liberation effort that forced the Rhodesians to eat humble pie by calling for the 1979 Lancaster House talks.
After we gained independence, I have often found it interesting that some comrades who trained in Mozambique and Zambia want to be associated with Nachingwea, sometimes throwing about a word or two in Swahili in a bid to be held in the high esteem accorded to the Nachingwea-trained forces.
There is no replicating these comrades. They were a breed apart.
Compiled by Nyasha Chabururuka and Evans Mushawevato