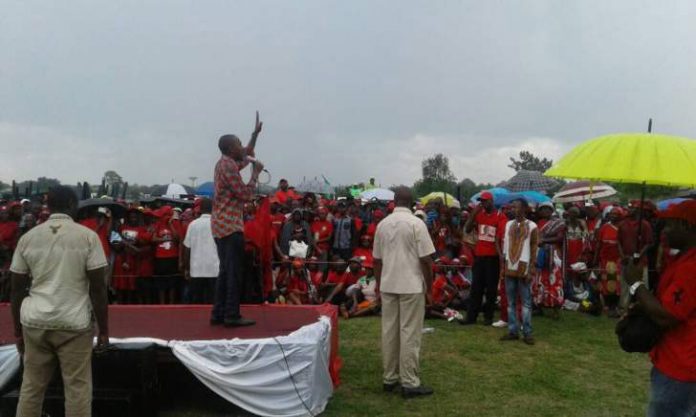 ONE morning, when I was still a young man in the then Rhodesia (now Zimbabwe), I was playing outside our house while my dear mother was busy preparing lunch when a man in tattered clothes suddenly burst on the scene.
He was misery personified.
He came to where my mother was, after which he began to dance robustly, singing a miserable song which told us the story that he was a beggar ('rombe' in Shona) who had been cursed for wronging his mother.
He was asking my mother to give him some food.
When the man had finished his singing and dancing, my mother gave him a bucket of maize grain and he vanished into a nearby thicket.
I asked my mother whether the single bucket of maize grain she had given the poor beggar was going to be enough for the man and his family put together.
In response, my mother said, a 'rombe' never got married and had no family because he wouldn't be able to support it.
All a 'rombe' did was move from place-to-place, dancing and begging for food.
This brings us to our topic this week – the poverty of the MDC Alliance.
Professor Welshman Ncube, one of the principals of the MDC Alliance recently confessed that their Alliance was broke and therefore miserably poor as a political organisation.
This reminded me of the 'rombe' of my childhood.
Yes, Professor Ncube, in typical 'rombe style', said the MDC Alliance was now poverty itself.
They have no money to print posters, buy motor vehicles and advertising space in newspapers, radio and television stations.
In short, the MDC Alliance is now a political 'rombe', but despite being poor, the MDC Alliance still wants to take part in the forthcoming elections.
In view of the above, Zimbabweans are entitled to ask whether there is no danger in allowing political parties who are, for all practical purposes, bankrupt to take part in elections.
There are generally problems of allowing a bankrupt outfit like MDC Alliance taking part in elections.
Below we highlight some of the problems.
The law orders the national broadcaster ZBC to let political parties advertise their political messages on radio and television for a fee.
However, because the MDC Alliance is poverty-stricken, they have not bought any advertising time on ZBC.
ZBC chief executive officer Patrick Mavhura said the MDC Alliance was among the motley of parties that have failed to take up the national broadcaster's call.
Only ZANU PF has been able to pay while other parties are struggling.
We have all seen ZANU PF adverts on television recently but other political parties are in no show.
Now, the danger this poses is, ZANU PF, after paying their hard-earned money to advertise, are then accused by the poverty-stricken parties of being favoured by ZBC.
MDC Alliance are lying to the public, wherever they are holding their election rallies, that they are not being given airtime by ZBC to broadcast their messages.
They don't tell the public that the airtime is not given, but bought and because they are poor, they can't afford it.
Then there is the issue of protests.
Due to poverty, the MDC Alliance can't advertise and get to the people.
What do they do to cover up their failure to advertise?
They make noise through organising demonstrations, and in the process, hopefully attract the attention of voters.
Recently, MDC Alliance organised a demonstration in central Harare.
They staged another one again this week, but what these demonstrations have achieved is simply to foul the peaceful election atmosphere in Zimbabwe.
Furthermore, the peace-loving people of Harare have been disturbed by noisy crowds unleashed on them all in the name of covering up the poverty of the MDC Alliance who can't advertise their messages in a civilised way.
The Alliance can't mount a professionally and competently-run election campaign and so they think the best way they can win is by besieging the Zimbabwe Electoral Commission (ZEC) day and night by intimidating them.
Ask yourself dear reader: Why does the MDC Alliance want the face of President Emmerson Mnangagwa hidden in the ballot paper so that voters won't find where it is?
Let us clarify this issue regarding where the President should be on the ballot paper and what position he must occupy on the ballot paper.
President Mnangagwa must be on the first position because the law and convention demands it.
Our law and convention is very clear.
The President takes precedence before anyone else.
He is number one.
As long as the President is in office, he takes precedence in public affairs.
Therefore, when positioning candidates on the ballot paper, ZEC have no choice but to place him on position number one.
If ZEC places the President on some position, not number one, ZEC will have violated the law and convention.
Therefore, the poverty of the MDC Alliance should not be allowed to foul the election atmosphere in this election year.