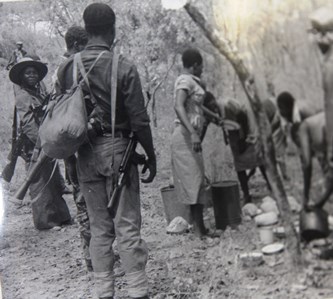 THERE are many painful memories of Zimbabwe's liberation struggle that our parents and grandparents still harbour and these usually come to the fore when we celebrate Heroes and Defence Forces days.
There are memories of surviving for days without food and water.
Others will never forget friends dying.
And many do not voice these painful memories.
They bottle them up, playing havoc on the psych.
Comrade Jekanyika Munetsi remembers failing to find water for three days after surviving when their base, Zhento in Mozambique, was attacked.
They survived on urine as it was the only 'liquid' available.
According to Wikipedia, 'urophagia' is the consumption of urine and while it was used in several ancient cultures for various health, healing, and cosmetic purposes, it is not advisable because of the high sodium and mineral content.
Comrade Munetsi said that fateful October morning they saw a spotter plane doing rounds at 4am.
While food was being prepared at the camp which was hosting some FLERIMO soldiers, it was surrounded by Rhodesian forces.
A battle that lasted the day ensued.
He later escaped after running out of ammunition in the company of base commander, Sarudzai Chakanaka, sectorial logistics commander Cde Makwarimba and Cde Chiurutsa Hondo.
They got to Seguranca Base at 11pm and at 3am it was attacked again. He managed to escape in the company of two other comrades.
The high temperatures disoriented them and thirst began to take its toll.
Thirsty, hungry and filled with thoughts of an enemy in pursuit, Cde Munetsi and his colleagues dragged themselves through the hot Mopane bushes.
Faced with imminent death the comrades resorted to drinking urine.
Already another comrade had died.
However, drinking the urine made the thirst worse and the two seemed to be moving in circles.
They ended up thinking of handing themselves over to the Rhodesians who would give them water and food.
Their torture they imagined would be better compared to their ordeal, but the Rhodesians never showed up.
At dawn when they had resigned themselves to their fate they heard a cock crow.
Cde Munetsi went towards the sound and got to a homestead that was deserted and after searching for water, he could not find any, instead he found traditional beer which he drank to energise himself.
His senses, he said, began to normalise and that is when he saw a pot filled with water which he quickly drank and vomited.
That is when the owners of the homestead walked in to find him lying helplessly on the floor with no shoes and ammunition.
He managed to convince them to go and fetch his colleague whom he had left in the bush.
After rescuing him, the family cooked for them before communicating with the FRELIMO forces to take them to Chitima Base which was close to Cabora Bassa.
It is these horrible memories, of comrades that lie unburied, that make him sad and angry when people belittle the liberation struggle.