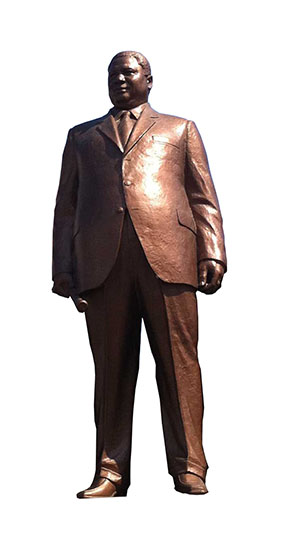 On entering the Matopos the excitement is palpable as families and school parties look for the directional arrow to "World's View", Cecil John Rhodes's burial place. By the time they climb the rock outcrop-turned-colonial-cemetery the excitement would have reached a crescendo. At the summit and gasping for breath, they marvel at the graves of Rhodes, Jameson, Coghlan and the Allan Wilson patrol.
On the way back they take with them a bit of colonial-worshipping history; the gallantry of our colonial masters. It appears this is no place for the Pupu story. No one tells them they are in the midst of Malindidzimu. Or that this is Matonjeni, the abode of Mwari. There are no directional arrows from here to Mzilikazi's Entumbane or to the numerous rainmaking shrines here. Perhaps among the visitors no one is interested in the over two thousand-year old ancestral history fossilised here pre-Rhodes.
Over 500kilometres away from this madness another school party has descended on the National Archives grounds in Harare. The single file drill is quickly broken as children rush to the Alfred Beit statue. It's time for a photo shoot with ear-to-ear smiles. They caress the statue. Some attempt to sit on the bronze lap. They love Beit and his philanthropy, their school hall is named after him. From Beit they visit the imposing Rhodes and Physical Energy statues. "Wow" is all the awe-stricken pupils can say. Save for indoor statues of Nehanda or Kaguvi, there are no striking images of liberation icons here. There is no Mugabe, Nkomo or Chitepo statue here.
The visit to the National Archives represents a brush with real, visual history. It is a history of colonial conquest and domination obscenely celebrated through statues. These statues are often the lasting images children visiting the National Archives retain long after the visit.
The colonial regime, very early in its life, recognised the critical role that pioneer heritage would play in shaping the psyche of both the ruling Europeans and ruled Africans. This heritage was memorialised through establishing Rhodesian Archives, museums and statues of their heroes like Rhodes, Beit and Jameson. What the colonial architects perhaps never imagined was how the images would, nearly four decades after the fall of colonialism, continue to shape the psyche of African children.
Alfred Beit was a wealthy German and like Jameson, was a special of Rhodes. He became a director and financier of the BSA Company. He died in 1906 having willed his fortune to a trust fund that supported scholarships, schools and bridges construction grants and a Professorial Chair in Colonial History at Oxford University. A statue was commissioned in his memory and hosted at different sites in the then Salisbury. Rhodes was the architect of a British imperial "Cape-to-Cairo" colonial dream. This country was named Rhodesia in his memory. In 1928 a statue of him was completed and given a home near today's corner Samora Machel/Third Street. The Physical Energy Statue was renamed the Horse and Rider statue in the 1960's, for being visual representation of Rhodes's racist imperial adventure. The Horse representing blacks and the Rider whites. The statue was completed in 1903 and donated to Lusaka with casts in London and Cape Town. The original was later pulled down from Lusaka on attainment of Zambian independence and donated to Harare, then Salisbury.
The statues of these Rhodesian/British icons of colonial occupation of this country were placed in strategic locations in cities like Harare and Bulawayo. Here they played a key role in representing, sustaining and celebrating Rhodes's dream.
At independence the repugnance of the above to the new state of Zimbabwe was very clear and some of these symbols were removed from streets and dumped at the museum in Bulawayo and at The National Archives in Harare with the Rhodes and Beit statues going to the National Archives grounds.
Unfortunately our speed to remove colonial statues was not matched by similar speed in erecting statues that publicly honour our heroes. While Zimbabwe acknowledged Rhodes's place in history, his being a key archive and artifact of our tortuous march to freedom, visually we have failed to do the same for our liberation icons. We have consequently created an unbalanced visual history that is poisoning our children's minds.
Since independence, and until recently, only two statues were erected in the two largest cities but both shied from celebrating liberation heritage. One was of Safario Madzikatire (Mukadota) in Harare and the other was a nude statue entitled Looking into the Future in Bulawayo which then Local Government Minister Chikowore found offending. We now have a statue of Joshua Nkomo in Bulawayo. Harare is still crying out for not only a Nkomo statue but for the many luminaries of our struggle for self-determination.
At symbols of national history, like at the National Archives, statues of our own heroes should tower prominently and provide the right context and balance to the statues of pioneer Rhodesians. When visiting children leave such places they must take with them visuals of our triumphant struggle. Zimbabwe is celebrated for its great artists who include stone sculptors. There is great potential to tap into these resources in giving our children the memories and heritage they deserve.
An often repeated excuse is that we do not have the resources. The Rhodesians erected these statues within four decades of conquering us. These were statements of intent, symbols of arrival. Resources will always be short. It is all about prioritising celebration and memorialisation of our story. The time is now!